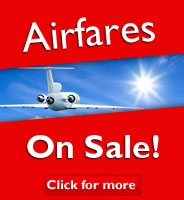 Your guide to airlines
Air Vanuatu - Economy Class

A comfortable seat accompanied by complimentary meals and beverages as well as audio entertainment to relax onboard your Air Vanuatu flight.
Go to
Enquire Online or call 0800 24 35 44
Seating
A comfortable seat with a seat pitch of 30 inches makes travelling easy and, with most destinations less than four hours by air, you can just sit back, relax and enjoy the view as Air Vanuatu glides to your destination.
Dining
Enjoy friendly island-style hospitality including complimentary meals and alcoholic beverages on Air Vanuatu's full service Economy cabin.
Entertainment
Audio entertainment with a range of channels is available to select from onboard Air Vanuatu.
»
Back to top
Economy Class flights with Air Vanuatu
»
Ask a Flight Centre travel expert about Air Vanuatu flights
»
Back to top
Conditions
These fares should only be considered as a guide to the best prices.
No guarantee is made that these fare levels are available for your exact dates of travel, or that seat availability exists on those dates.
The prices are based on the cheapest fares available.
^ indicates a oneway fare
In some instances additional local taxes may apply at some international airports.
Fares are subject to change without notice, and can be withdrawn or varied without notice.
Flight Centre reserve the right to correct any pricing errors or omissions.
Travel restrictions and conditions will apply.
Please ensure you read the Security Guide for Carry-on Baggage at International Airports.
Full terms and conditions can be found on www.flightcentre.co.nz/bookingterms
Related Searches: Air Vanuatu, airvanuatu.com, air vanuatu flights, fly to vanuatu