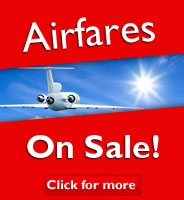 Your guide to airlines
Emirates Airlines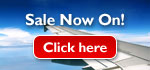 Emirates Airlines fly to over 100 destinations worldwide, including 27 points in Europe, and has received over 400 international awards. Since its launch in 1985, Emirates has become one of the fastest growing airlines in the world, with a fleet of aircraft which is currently one of the youngest in the sky.
The airline is dedicated to making the travel experience for NZ flyers as relaxing, comfortable and enjoyable as possible. With their hub in Dubai, one of the world's most exciting and prosperous cities, Emirates offers great convenience for onward connections.
Go to
Enquire Online or call 0800 24 35 44
Over the last two decades Emirates has grown into a global airline connecting over 100 destinations in 60 countries around the world. Along with being one of the fastest growing airlines, the airline also boasts one of the youngest and safest fleets in the sky. Their commitment to constantly innovate and improve is one of the many reasons why 27.5 million passengers chose to fly with them.
Young Flyer
Emirates truly looks after their youngest travellers by offering separate check-in facilities for young passengers travelling alone or with families. In addition, young flyers would enjoy a range of excellent selection of movies, videos, games and other interactive entertainment on board. Beyond the special care, Emirates offers a wide range of special meals suited to tastes and requirements of children.
Chauffeur Services
Emirates Airlines provides complimentary chauffeur-driven cars for First Class and Business Class passengers in many of the cities. Arrangements can be made online during the booking process.
»
Back to top
Economy Class flights with Emirates Airlines
»
Ask a Flight Centre travel expert about Emirates Airlines flights
Conditions
These fares should only be considered as a guide to the best prices.
No guarantee is made that these fare levels are available for your exact dates of travel, or that seat availability exists on those dates.
The prices are based on the cheapest fares available.
^ indicates a oneway fare
In some instances additional local taxes may apply at some international airports.
Fares are subject to change without notice, and can be withdrawn or varied without notice.
Flight Centre reserve the right to correct any pricing errors or omissions.
Travel restrictions and conditions will apply.
Please ensure you read the Security Guide for Carry-on Baggage at International Airports.
Full terms and conditions can be found on www.flightcentre.co.nz/bookingterms
»
Back to top