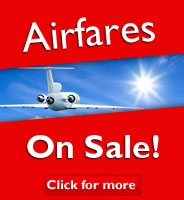 Your Guide to Airlines
Qantas Airlines

Qantas airlines are Australia's largest domestic and international airline. Qantas has a proud history focused on reliability, safety, engineering excellence and customer service that's second to none. This Australian icon currently operates more than 170 flights per week between Australia and New Zealand, offering a high standard of service, entertainment and dining.
After more than 90 years of continuous flying, Qantas still continues to be recognized as part of the global aviations great pioneers and innovators. Qantas is proud to have created a superior level of comfort, style and innovation on board its A380 aircraft. Qantas has extended their customer service by allowing all Qantas customers' access to Qantas Drive, a luxury limousine service that's a great alternative to taking taxis. Qantas Drive is available 24 hours, seven days a week at major Australian domestic ports*.
Qantas is affiliated with Oneworld airlines. Oneworld offers a global network, far wider than any airline can offer by itself. Member airlines have a strong reputation for excellent and innovative customer service and together offer travel to around 800 destinations in some 140 countries.
Go to
Enquire Online or call 0800 24 35 44
Qantas Airline Achievements
Qantas has been one of the top five listed airlines in the world to receive the Skytrax Airline of the Year award for five consecutive years. Qantas Airlines won the WAEA Avion award for Best Overall Inflight Entertainment in 2002, 2003, 2005 & 2006. Qantas Airlines has also won a number of wine awards, and in 2009 Qantas won the Australian International Design Award of the Year for the A380 Economy Seat. This success was followed by the A380 First Class Suite in 2010 at the Chicago Anthenaeum's Annual Good Design Awards.
»
Back to top
Economy Class flights with Qantas
»
Ask a Flight Centre travel expert about Qantas Airlines Economy Class flights
Conditions
These fares should only be considered as a guide to the best prices.
No guarantee is made that these fare levels are available for your exact dates of travel, or that seat availability exists on those dates.
The prices are based on the cheapest fares available.
^ indicates a oneway fare
In some instances additional local taxes may apply at some international airports.
Fares are subject to change without notice, and can be withdrawn or varied without notice.
Flight Centre reserve the right to correct any pricing errors or omissions.
Travel restrictions and conditions will apply.
Please ensure you read the Security Guide for Carry-on Baggage at International Airports.
Full terms and conditions can be found on www.flightcentre.co.nz/bookingterms
Related Searches:Qantas, Qantas Airlines, www.qantas.co.nz, www.qantas.com.au, Qantas flights, qantas flights
Common Misspellings: Quantas, Qantas Airways, Quantas Airways, Quantus, Quantus Airlines
»
Back to top