Tue, 14/08/2012 - 6:37pm
Ever wanted to uncover the true beauty of Mexico? Sammy Gibson from our New Plymouth store recently travelled to Barra De La Cruz, one of the most exotic places in Mexico and shares her amazing experience with us.
Driving down the Pacific coast of Mexico is an experience in itself. We have driven through rustic towns with coffee coloured dust dancing in the air. We have driven over mountainous terrain with bush clad hills and rocky cliff faces heating up in the day with iguanas sunbathing on their natural stove tops. We have driven through desert with patches of creamy sand poking through gaps between cacti and stony fast flowing rivers inside deep cliffs. The journey to Barra De La Cruz is gorgeous!
Barra De La Cruz is a small village in a valley of lush turquoise hills, a never ending scene of splendour.  The hidden paradise is located on Mexico's Pacific south coast, a concealed jewel amongst thick bush. The 2006 Ripcurl Search was held here at the main point break called La Jolla (pronounced hollah). People travel far and wide to surf this world class break though they must rough it in simple wooden cabanas and have no luxuries such as hot water, advanced technology and certain foods. It is a place to adapt to and if you let yourself you could easily digest yourself into this lifestyle.
We arrived after three hours on a bus from Puerto Escondido.  We found Pepe's Cabanas and ventured straight down to the beach. It is a 20 minute walk from the village to the beach and you must pay 20 pesos to enter the beach... about $2. The walk is along a dirt road walking with local dogs, iguanas, lizards, squirrels, tarantulas and large insects. The environment is rich in wildlife. Half way through the walk there is an amazing view of the mountains. The beach is possibly the most beautiful I have ever been fortunate enough to step foot on. It is long and curved with ocean, bush and sand fading into the distance.
One moment which will never leave my memory bank is one morning when I went surfing at dawn. I was sitting on my board, drinking in the sunrise when I saw a fin. My heart jumping in my chest I quickly started paddling towards the shore. Every stroke seemed dangerous. I looked back and saw three fins gliding in and out of the water. They were dolphins. I was in confusion, one part of my brain was shaking with fear in the fact I just saw a fin, the other part was ecstatic to be metres away from these beautiful mammals which I have always found irresistible.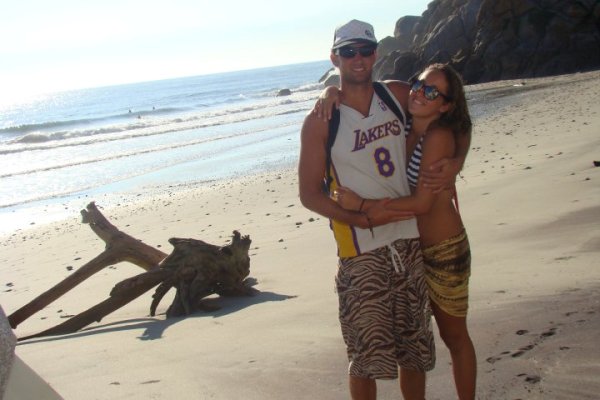 Nestled on the hill above from where we stayed is a small hut with Pizzeria labelled on the railing. Everyone we had talked to in Puerto Escondido said this place had the best pizza in the world… and amazing cocktails. Italians will have a run for their money it really is the best pizza in the world, mouth watering.
Barra De La Cruz is somewhere I am definitely going to venture back to in this lifetime. You are literally in the middle of nowhere, with dusty dirt roads, beaten down shops with paint peeling off the concrete walls, mosquitoes always trying to feast on every inch of your body even through your clothes and inbreed locals (seriously the owner of our cabanas had kids with his cousin). But all this seems to add to the charm of the village, and the best part about it is it is right down the road from an amazing isolated beach with an ocean fill of epic waves and anonymous animals…it has rejuvenating powers!
Looking for more information on Mexico Holidays or Cheap Flights to the Americas? Contact Sammy Gibson from our New Plymouth store or a Flight Centre travel expert– 135 stores nationwide. Phone 0800 24 35 44
Other Travel Articles You Might Like...