Thu, 02/11/2017 - 3:14pm
I'm reluctant to tell you about Bologna, because I want to keep it all to myself. It was my favourite place in Italy mostly because it has the best food in Italy. But also because it has the least tourists.
In Florence it was difficult to catch even a hint of Italian as I navigated the very busy streets. I heard American and British accents speaking English, and lots of Japanese and Chinese, but I longed for even the most simple "ciao!" or "preggo!". In Rome the streets were filled with tourists riding horse drawn carts past the Colosseum. Venice is sinking beneath the weight of its rising annual visitor numbers. I don't want this to happen to Bologna, but I really do want you to eat tagliatelle al ragù di Bologna in its spiritual home.
The city has three famous nicknames. It's home to Europe's oldest university, and the academics and students that have flooded the city since 1088 earned Bologna the nickname la dotta (the learned). The city's apparent left leaning politics scored the moniker la rossa (the red). And Bologna's famous food, it's glossy pasta, it's famous cured meat, the amazing cheese, affectionately gave it the nickname la grassa (the fat). And this is the best bit of Bologna.
Come for Bologna's beautiful terracotta medieval architecture, it's famous porticos - (the ingenious covered walkways that allowed the city to accommodate its expanding population without encroaching on its public space), and the city's famous towers (definitely climb the rickety 498 steps of the Asinelli Tower for an amazing view over the city). Stay as long as you can for the food.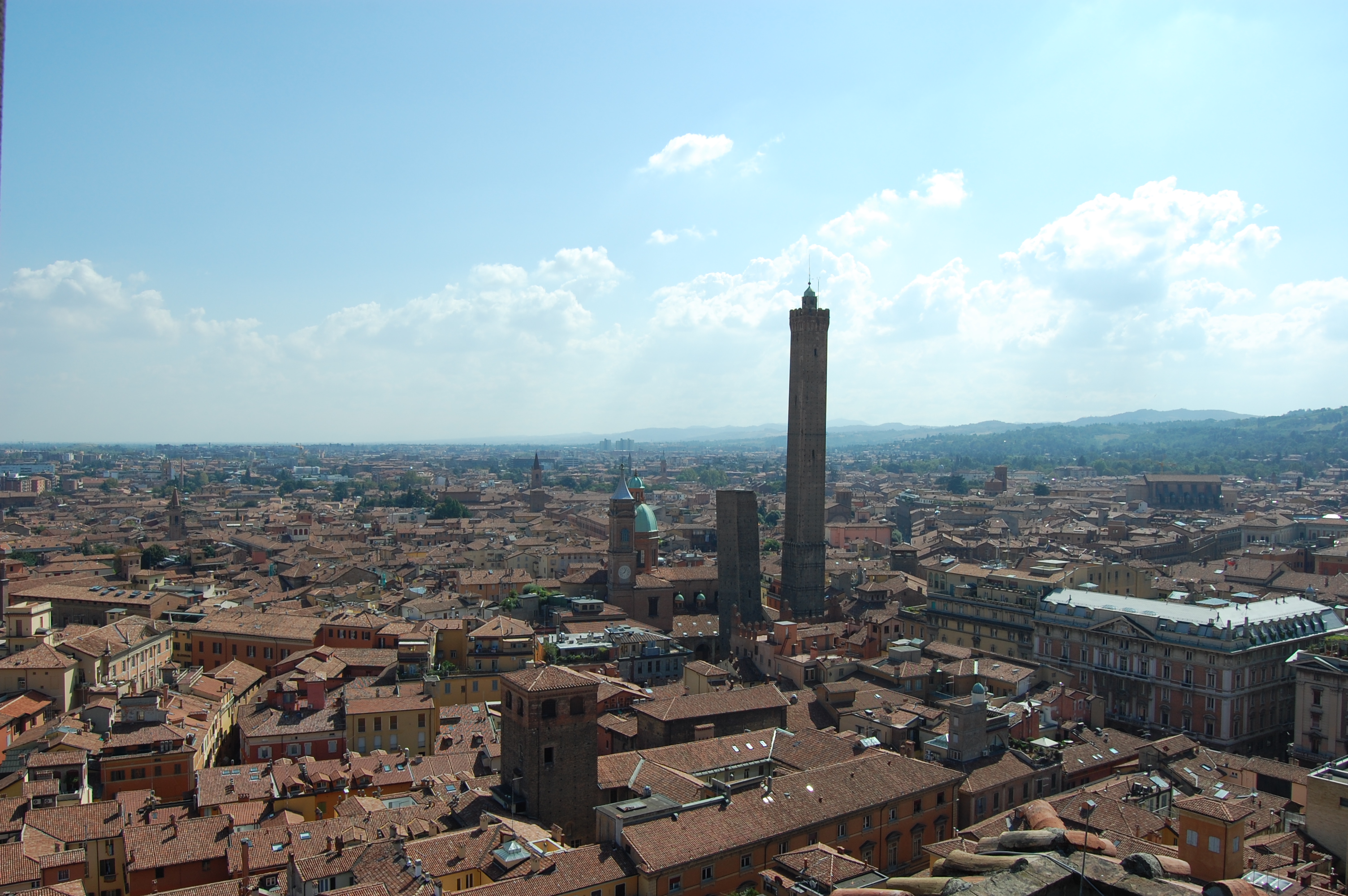 A view of the city's beautiful terracotta buildings and the famous Asinelli tower
These are five of my favourites.
Tortellini a brodo
Bologna is the capital of Emilia Romagna region and tortellini a brodo (tortellini in broth) is one of the region's most famous dishes. The tiny parcels of pasta are stuffed with everything the region is good at producing - veal, mortadella, (Emilia Romagna's famous sausage), prosciutto di Parma (Emilia Romagna's famous cured ham) and parmigiano (Emilia Romagna's famous cheese).
The delicate half moons (legend says they were inspired by Venus - the goddess of love's - navel, spied through a keyhole by a besotted innkeeper) are cooked in a simple but flavoursome chicken broth. The flavours of the tortellini infuses the soup, the soup in turn flavours the pasta. Don't be afraid to eat this with a big handful of parmigiano thrown straight into the broth.
Best eaten at La Drogheria della Rosa, Via Cartoleria, 10
Gelato
A friend who lived in Italy provided the important advice: "Napoli is for pizza, Rome is for spaghetti, Bologna is for gelato (and lasagne, tortellini, and tagliatelle)." She advised we visit La Sorbetteria Castiglione "every day". At the famous ice cream shop there was a continuous stream of school girls, old couples hand in hand, and suited businessmen, lining up to get generous scoops of gelato in a waffle cone.
Gelato's smooth texture comes from the fact it's served at a warmer temperature to ice cream. It's thickness comes from being churned at a slower speed to ice cream, which means less air gets inside, making it much denser. This also means its velvet texture can be achieved without the addition of more fat.
At La Sorbetteria Castiglione the long menu features a list of traditional flavours like espresso, pistacchio, and stracciatella. It also includes a refreshing selection of sugar free sorbets, featuring mandarin, fresh mint and melon, as well as wine based flavours from Marzemino Dolce and Prosecco.
Best eaten (every day) at La Sorbetteria Castiglione, Via Castiglione 44 d/e
Tortelloni
Not to be confused with tortellini, tortelloni is the larger cousin. Stuffed with ricotta and garlic and basil, inside a golden package of pasta, and served with a shiny butter and sage sauce, we ate this as often as it was on the menu.
But perhaps the best place to get your tortelloni is from one of the city's many pastificcio - a type of deli where fresh pasta is sold by weight alongside, sauces, and cured meat. Inside there are rows of golden pasta freshly made in front of you by women dusted head to toe in flour. Grab a bag of tortelloni, and a handful of sage, take it back to your Airbnb for a late lunch, before handing cooking duties back over to one of the city's flawless restaurants again for dinner.
Gnocco fritto
We were still learning about the later dining times of the Italians, arrived at the restaurant for lunch far too early and were seated in the empty dining room. Alone in the beautiful wooden walled restaurant with clean white table clothes I felt like my wife had arranged for me to be "whacked".
Our gnocco fritto arrived before any other diners (the restaurant was packed by the time we left). These fried dumplings of dough are the perfect vehicle for Emilia Romagna's most famous produce. They're served hot out of the oil with ricotta, prosciutto, and mortadella. We tore them in half releasing a cloud of stem, and stuffed them full of cheese and meat.
Best eaten at Trattoria Collegio di Spagna, Via Collegio di Spagna, 15 (don't go too early).
Tagliatelle al ragù
This is Bologna's most famous dish. Tagliatelle al ragu is what has been debased and exported around the world as "spaghetti bolognese". Italians would never serve a thick meat sauce with thin spaghetti. Certain sauces make logistical sense with certain pasta. It infuriates Italians for pasta to misused with the wrong sauce.
In the Bologna Chamber of Commerce is a gold replica of the perfect piece of tagliatelle 6mm wide, 1mm thick. And 6mm is the perfect width for the rich meat sauce Bologna is world famous for. The big rich chunks of meat float perfectly on the strands of tagliatelle.
Best eaten in Bologna (with 6mm tagliatelle, not spaghetti)
Other Travel Articles You Might Like...