Interview with a Vampire: Tracing the footsteps of Count Dracula in Transylvania
Mon, 31/10/2016 - 7:11pm
The blood-sucking Count Dracula is one of literature's most famous characters, inspiring hundreds of movies, comics and spin-off books – and making an international tourist attraction out of Transylvania, the Count's homeland in central Romania. Jill Worrrall explores the reality behind the myth.
Bran Castle, Transylvania. Photo: Wotjek Laski/Getty Images.
As a child, two things fuelled my desire to go to Romania. One was a postage stamp marked "Posta Romana", collected in my brief enthusiasm for stamp collecting; the other was Nadia Comaneci, the Romanian gymnast who in the 1970s was a heroine to girls the world over.
It only took me about 40 years to get there, but earlier this year I finally succeeded. I arrived by bus across the Danube River, which for 470km forms the border between Romania and Bulgaria.
The Danube Bridge, built by Soviet engineers during Romania's 42 years as a Communist state, is an impressive steel truss structure, a giant Meccano set of a bridge. Romania's colourful red, blue and yellow flag hung limply in the summer heat at its midpoint.
Romania is one of the least visited countries in Europe. In 2015 about 9.8 million international tourists travelled to Romania, compared with the 84.5 million tourists visiting France, for example!
But numbers are on the rise now, so if you want to experience a European nation before it becomes another mainstream destination, go soon!!
A farmer carrying hay on his cart, Romania. Photo: Santiago Urquijo/Getty Images
Romania stagnated economically during the Communist era, its inhabitants under the control of dictator Nicolae Ceausescu, who was executed during the 1989 revolution. The country and its people are in many ways still recovering from its tumultuous recent history.
Driving through rural Romania is to step back in time. Horse-drawn carts share the highways with trucks and the occasional tourist coach; elderly men sit on benches outside their houses watching the world go by; women in headscarves sit behind roadside stalls selling honey, berries and grapes.
In Romania's central Transylvania region, fields of wheat and sunflowers make way for the forested Carpathian mountain range. Here you find Romania's most famous tourist attractions: a series of spectacularly sited castles where the gory, lurid legend of Dracula began.
Dracula souvenirs for sale outside Bran Castle, Transylvania. Photo: Bildagentur-online/Getty Images
Today Dracula and Transylvania are all but synonymous – fact and fiction have now fused so firmly it's almost impossible to separate them. Exploring the secret staircases and narrow passages of Bran Castle – the blood-sucking count's supposed home – you get the feeling that no amount of explanation that Dracula was entirely the product of Irish novelist Bram Stoker's imagination is going to stop people imagining a cloak-clad figure flitting from a high window in the dead of night.
The fledgling Romanian tourist industry doesn't discourage the myth either. The market just outside the castle's gardens is full of plastic fangs, Dracula t-shirts and toy swords, the latter presumably for junior vampire slayers. You can also buy souvenirs featuring the historical figures of Vlad the Impaler who during the 15th century ruled over the region. Vlad was a strongman who repelled the invading Turks and quelled local rebellions through iron rule and, when that wasn't enough, by impaling thousands of his opponents…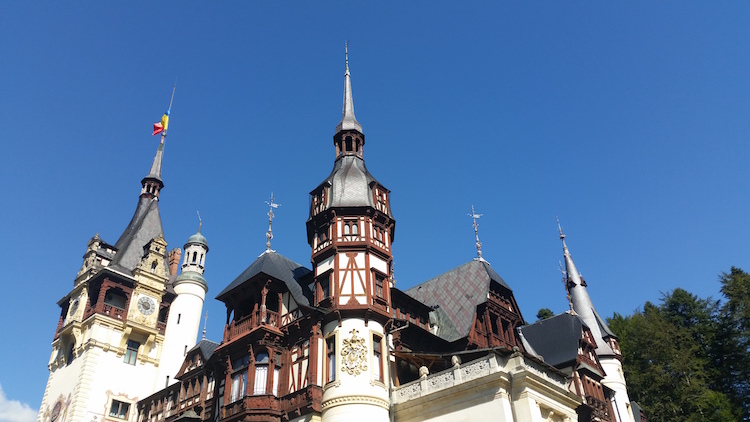 Peles Castle, Transylvania. Photo: Jill Worrall
In the early part of the 20th century Bran Castle was a favourite country retreat of the Romanian royal family, who also owned Peles Castle near the Transylvanian town of Sinaia. Built between 1873 and 1914 at a cost in today's money of $NZ168 million, it is an almost perfect romantic confection of towers, turrets, hand-painted frescoes and lavish furnishings.
Transylvania and its tall tales might be Romania's prime attraction but the country is also home to fascinating places far removed from the blood-stained stories of Vlad and Count Dracula.
In the northern region of Moldavia are eight Romanian Orthodox Churches built between 1487 and 1583. They are listed by UNESCO in recognition of their remarkable frescoes, painted not only inside the churches, but in glorious colour and detail all over the exteriors as well.
One of the most famous is Voronet, known as the 'Sistine Chapel of the East'. The dominant colour of the frescoes is known as Voronet blue, a colour created by crushing the semi-precious stone lapis lazuli.
Voronet church, Moldavia. Photo: ralcuphotography.ro/Getty Images
The frescoes are enthralling and so too is observing the small community of nuns who live at Voronet going about their daily routines, including cleaning even the loftiest of church windows while perched on rickety old wooden ladders.
Romania's capital Bucharest is still emerging from economic decline, and as such doesn't rival other eastern European capitals like Prague for sheer numbers of architectural treasures, but restoration is under way at pace.
It's hard to miss the Palace of Parliament, the second largest administrative building in the world after the Pentagon in the United States, and the third largest overall. Built by Ceausescu in 1984 and still unfinished when he died, the palace is full of mind-boggling numbers: 1100 rooms, 900,000 m³ of Romanian-grown wood, 3,500 tonnes of crystal, and a construction workforce that numbered up to 100,000 during the height of Ceausescu's rule. It's an astounding achievement, but for obvious reasons this is not a favourite place for many Romanians.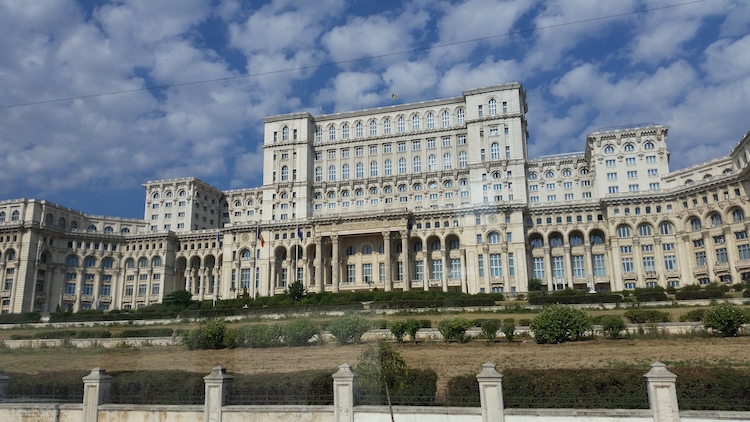 The third largest building in the world – the People's Palace in Bucharest. Photo: Jill Worrall
To experience a more optimistic and upbeat side of Bucharest take a stroll through the pedestrianised areas of the old town. Here the streets are lined with bars, restaurants and cafés, from ubiquitous Irish pubs to stylish Western-style coffee joints. Try Origo for beautifully made single-origin coffee or Cremeria Emilia for gelato and semifreddo as good as most you'd find in Italy.
On a summer's evening the old town is packed with Bucharest locals, plus a small but growing number of tourists. It's already hard enough to find a table, so get here before the rest of the world discovers Romania!!
Other Travel Articles You Might Like...