Tue, 22/05/2012 - 4:26pm
Rotorua, one of the most popular tourist destinations of New Zealand offers visitors everything from natural wonders throughout the city, to the best demonstration of Maori culture of the past and present. Check out this blog that shares why Rotorua is a must when planning your next family vacation.
Miss 4 was very excited about our family trip to Rotorua. She had been talking about it for weeks with her day-care buddies about all the adventures she was going to have. And she wasn't wrong. Rotorua, delivered in every aspect of what you would expect from a Kiwi family holiday. It was simply brilliant.
Day One and it took just under three hours to drive from Auckland to Rotorua where we checked into our hotel right in the middle of the city. The Novotel was adequate, the staff were pleasant, and being so central meant we only had to walk a few minutes in either direction and we were feeding the black swans on the lake or heading into the bustling restaurant/cafe scene on Tutanekai St.
After a cuppa and some home-made Anzac biscuits on the lakefront, we were off on our first adventure to Rainbow Springs Kiwi Wildlife Park - a favourite family destination since 1932. Rainbows Springs is spread over 22 acres and showcases New Zealand's flora, fauna and wildlife. Miss 4 was very excited about getting up close to the kiwis at Kiwi Encounter and trying to find the third eye of the tuatara – which interestingly hasn't changed in the last 120 million years! The huge rainbow trout also fascinated Miss 4, who loved watching them from the underwater viewing platform. But the highlight of our afternoon was The Big Splash - a spectacular 9 minute boat ride through time which explores New Zealand's ecological evolution. Watch out for the dinosaurs, the giant moa, the flying Haast eagle and the exhilarating "splashdown" at the end! You can ride The Big Splash as many times as you like as the cost is included in the price of your admission ticket.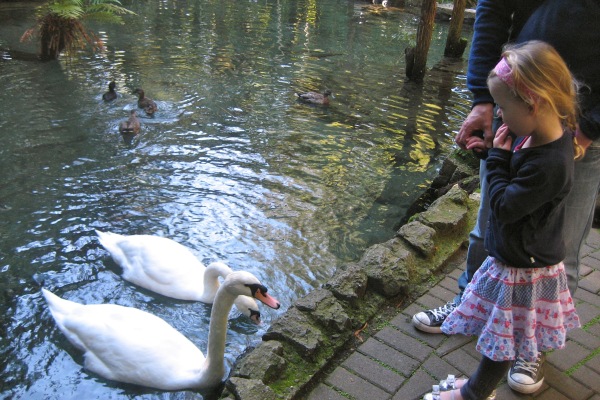 That night, we were keen for a pre-dinner drink, so we found ourselves at the Princes Gate Hotel - a five star luxury boutique hotel built in 1897 renown for cabaret dinner shows, opera and signature 'high tea'. It's certainly a beautiful building and we were very comfortable on the leather sofas by the open fire in a room very reminiscent of days gone by. Miss 4 was also impressed by her Shirley Temple, pizza and chocolate sundae. A nice way to unwind from a big day. Miss 4 was ready for bed.
Day Two and we had an action-packed day ahead of us. First up, was Skyline's Gondola ride which took us on a gentle, scenic 7 minute ride up Mt Ngongotaha. Once we got to the top, we saw spectacular 180 degree panoramic views of Rotorua over a cup of coffee and a fluffy at the Terraces Cafe. There is in fact quite a lot to do up there other than take lots of pics – including walking tracks, the Sky Swing, a 4D ride on the SkyVue, helicopter rides and of course the luge! Miss 4 was slightly apprehensive about this activity, but felt a lot more at ease once she knew she could double up with Dad. You can select one of 3 trails from beginner to advanced so we took the scenic luge – a 2 km leisurely ride through the Redwood forest, which proved to be a big hit with Miss 4. Once you're at the bottom of the track, you take the chairlift back up to the top for another ride, or catch the gondola back down to the carpark. It was a brilliant morning with lots of treasured photos to take back to day-care.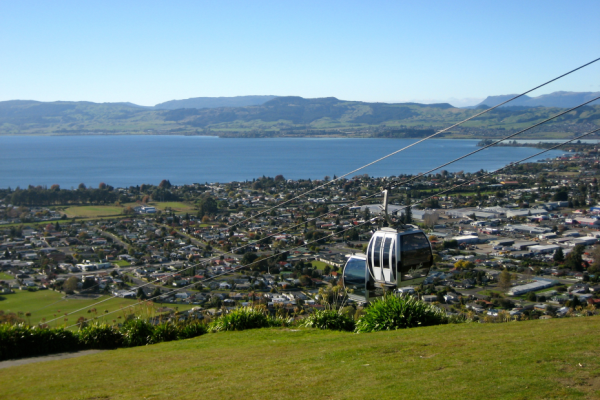 That afternoon, we were booked on the highly recommended Rotorua Duck Tour. It's a 90 minute sightseeing tour of the city and its lake areas, onboard "The Duck" -originally a WW2 military landing craft - an amphibious vehicle. Our "Conduktor" called Daffy, was hilarious and yet at the same time very informative about the history and culture of Rotorua. But Miss 4 was most impressed by the "duck whistles" that were handed out at the start of the tour - blowing them every 5 minutes and waving at passer-bys. Another nice little momento for Miss 4 to take back to day-care. Miss 4 was also highly excited by the "splashdowns" of the Duck onto the lakes. A thoroughly enjoyable and informative tour for everyone.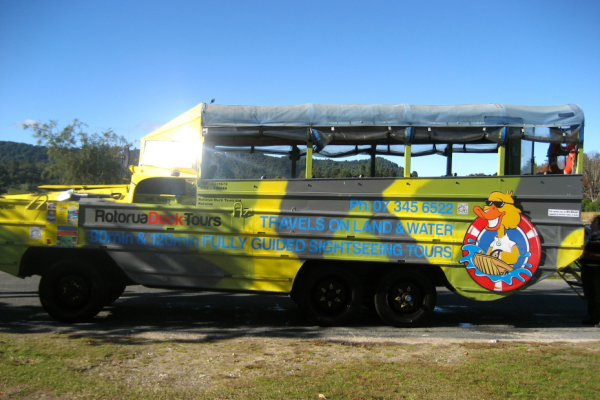 The next activity planned for Miss 4, was visiting Whakarewarewa - the 200 year old living thermal Maori village. I remember coming here when I was little and it certainly brought back a lot of my most favourite childhood memories. The village is set amidst erupting geothermal activity, hot thermal springs and bubbling mud pools which Miss 4 had never seen in her life. It's this uniqueness of the area and evident strong Maori traditions, ancestry and pride which make this tourist attraction a must-see. But the highlight for Miss 4 was the cultural performance which is held twice daily at 11.15am and 2pm and included in the cost of admission. The performers dressed in traditional Maori piu-pius were fantastic. Miss 4 was transfixed by the karanga, the haka and the pois but the highlight was partaking in the finale - the Hoki Toki - another little gem for Miss 4 to teach her buddies back at day-care.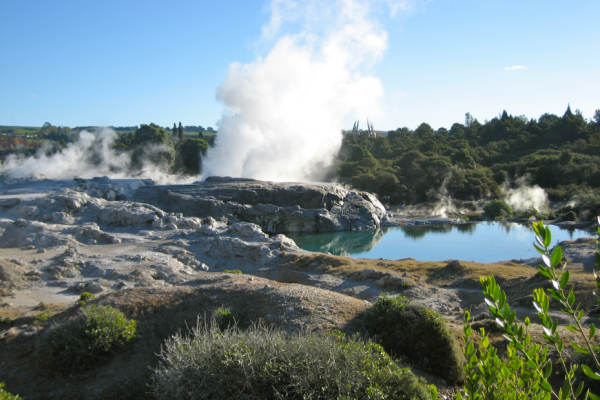 That night, we were exhausted but knew we had to make the most of the three days we were in Rotorua, so headed out for a quick drink to the Pig and Whistle Pub before Miss 4's very first curry at The Indian Star. Just a short stroll from the lakefront on Tutanekai St, this is a family friendly and relaxed restaurant which incidentally is BYO. A perfect way to end the day.
Day Three, and we really only had the morning left to explore before hitting the road back to Auckland. So we decided on a trip out to the Hamurana Spring to walk off last night's supper. It's a beautiful, flat, 20 minute walk through the Redwood Forest to the largest spring in the North Island - quite fascinating to think that this spring fills 2 Olympic sized swimming pools every hour! Miss 4 was ecstatic running around the forest, hiding behind trees, skipping over logs and fishing for trout with her 'hand-made' fern fishing rod. The setting was idyllic and well worth the 10 minute drive out of Rotorua city.
If you're thinking of a family holiday, don't over look the beautiful destinations we have in our very own backyard. Rotorua was a fantastic place to visit and a holiday Miss 4 will remember. 'Show and Tell' next week will be huge for Miss 4 - her day-care buddies will want to visit.
If you need more information on Rotorua Holidays or cheap Flights to Rotorua, contact a Flight Centre travel expert- 135 stores nationwide. Phone 0800 38 44 38 
Other Travel Articles You Might Like...