Thu, 17/05/2012 - 11:08am
Australia's oldest backpacker has been urged to try "couchsurfing". In true backpacking spirit, fellow travellers throughout the world are ready to roll out the red carpet for 95-year-old Gold Coast pensioner Keith Wright, who is about to embark on his latest independent journey to Europe.
Accommodation offers and requests for advice have flown in - both in Australia and overseas - since Flight Centre Australia shared Keith's inspirational story last week. He has featured in dozens of print, television and radio stories throughout Australia and made headlines in the UK, the USA, South Africa and Indonesia.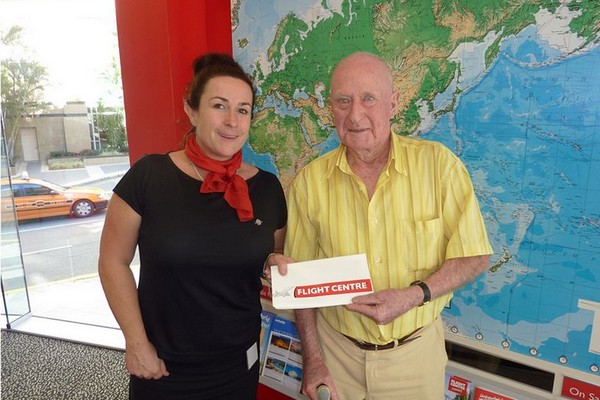 Interview requests have been logged from as far afield as Austria. Online news reports about the World War II veteran, who stays in hostels and shares buses, trains and scooters with backpackers who are a fraction of his age, have generated large amounts of positive feedback - and several offers.
Lenny Valstar, a 75-year-old fellow traveller, offered Keith a bed and a shower if he "ever comes to Spain".
On the UK Daily Mail website, "Claire", from Sweden, wrote: "I am surprised he doesn't try Couchsurfing. If he comes to Gothenburg, he is very welcome to sleep at my place!!"
"Jason", another fellow traveller from Kentucky, USA, praised Keith for his sense of adventure. "You sir are an inspiration!,"Jason wrote on the Daily Mail's website. "May the best of times find you in all your endeavors; backpackers the world over are proud to have you as one of us!"
Australians have also been quick to praise the pensioner. Responding to the story on news.com.au, "Tash" of WA said: "My hero", while "Steven" of Perth described Keith as an "Absolute legend!". "Justin", of Canberra, summed up many of the online posts when he wrote on news.com.au: "What a great story. He could have been sitting at home complaining about the youngun's loud music and baggy clothes and instead he is out there enjoying life."
Flight Centre's Christina Kerr, Keith's friend and long-time travel agent, said he had been overwhelmed by the positive feedback his story had generated. "Keith is excited that his story has made a difference and that people have been inspired to follow in his footsteps," Christina said.
Since he told his story, he's been contacted by other retirees with similar travel ambitions. People who want to take off and see the world but are nervous about travelling independently. He's happy to share his experiences and to encourage travellers of all ages to explore the world.
Keith has become a real ambassador for older travellers.
For information on Cheap Flights, contact a Flight Centre travel expert – 135 stores nationwide. Phone 0800 24 35 44
Other Travel Articles You Might Like...