Wed, 24/04/2013 - 5:19pm
The GC is more than just theme parks, as Lynn Saddington from Flight Centre Meadowbank discovered on her recent visit.
Gold Coast holidays are great for families as there is so much for them to do, the theme parks are fun for all ages and the apartment-style accommodation comfortably accounts for family groups. It is also great for the young twenties market going away for their first holiday together, for the same reasons plus a great nightlife.
We travelled with Air New Zealand on a works fare. Having the ability to pay less or more depending on the product you want helps them keep more in line with the budget airlines that also traverse the Aussie routes. There was a good selection of movies, including some New Zealand made ones, plus a good TV and games selection. Their constantly changing safety videos always make things entertaining.
The Gold Coast seems to be going the way of the high rise and there are lots of flashing lights and ads for exciting things to do. The whole feel of the place is based around keeping yourself entertained but with water on each side it still feels open. The views are incredible from many of the high rise buildings.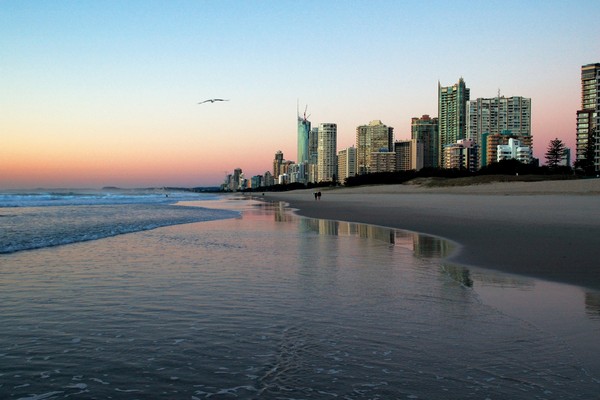 Car hire is something I would recommend to make it easiest to get around, but there is also a monorail to help in some areas plus buses are frequent and cheap.
For keen shoppers one of the things to do on Gold Coast is the Pacific Fair, and while the mall itself is small the surrounding area is larger with a good mix of clothes shops.
When it comes to dining the Bazaar restaurant was fantastic, with a theme to make us feel like we were wandering round the North African souks or the markets of Europe. The theme certainly worked and the atmosphere was fantastic.
Seaduction at the Sea Temple hotel is a warm, modern 5-restaurant. There is a good choice of food as well as an option to pay $115 AUD for a 5 course menu which has a glass of wine with each course.
Rick's Cafe at Movie world is an all you can eat Casablanca-themed buffet restaurant. It is in a good location right by where the shows are put on so you can eat and see a show after or the other way around. There is a good selection of food and a soft serve ice-cream machine for the kids desserts.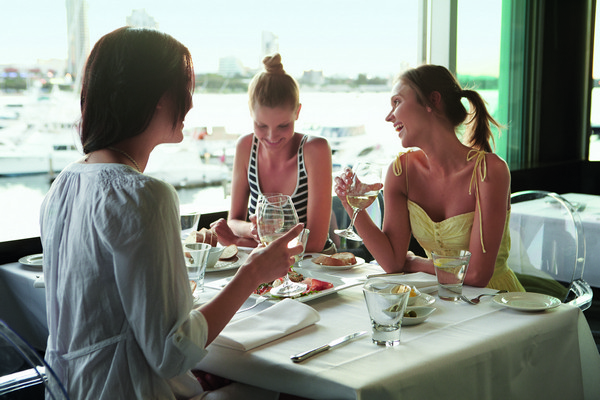 The top Gold Coast hotels in my eyes would have Mantra Circle on Caville at the top. Good, spacious, modern rooms with a large TV outside to watch games in the circle, a pool for each tower and a cinema room you can hire free of charge.
The Sheraton Mirage is in the resort-style area and one of the few beach front properties. Fully self contained, it has a selection of restaurants and bars.
Chevron Towers of Renaissance has a rooftop pool and gardens, a lap pool and a cinema you can even make popcorn in. The room sizes are huge, especially for the 3 bedrooms.
The Mantra Crown Towers has a large reception area with a bridge going over what looks like the bottom of a boat. Great beach-style pool with a separate kids area, it also boasts the Gold Coast's number one Thai restaurant on site.
Overall I found the Gold Coast very clean and not as built up as I would have expected. The beach looked good even in overcast weather, so I'm already looking forward to another holiday here.
Looking for more information on holidays in Gold Coast?  Contact a Flight Centre travel expert – 135 stores nationwide. Phone 0800 24 35 44.
Other Travel Articles You Might Like...