Classic Voyage South: Kirkenes - Bergen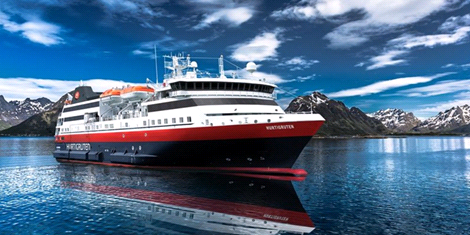 MS Spitsbergen
The Spitsbergen is named after the Arctic crown of Norway - the archipelago of Spitsbergen. Hurtigruten has a long history of travelling to this destination, starting back in 1986 with the Sports...
Read more
5 night cruise sailing from Kirkenes aboard the MS Spitsbergen
Visit Berlevag, Mehamm, Tromso, Norway, Stamsund, Bodo, Rorvik, Trondheim, Alesund, Bergen, Norway and Alesund.
Kirkenes
Kirkenes is located in the extreme northeastern part of Norway on the Bøkfjord, a branch of the Varangerfjord, near the Russian border. We're about 400 kilometres north of the Arctic Circle and actually as far east as St. Petersburg. Most of the approximately 7,000 inhabitants are of Norwegian background, while a minority is Sami. Others originate from Finland and some 500 immigrants have recently arrived from Russia.
Berlevag
With 1,000 inhabitants, Berlevåg is one of the largest fishing villages in Finnmark County. Several fish processing plants encircle its large harbour. The film "Cool and Crazy" (Heftig og begeistret) from 2001 made Berlevåg well-known worldwide. The documentary on the local male choir touched hearts, and both the film and the choir were invited to events all around the world. The Berlevåg Harbour Museum documents the coastal culture and the amazing story of the 70-year process of building the breakwaters in Berlevåg. Before roads came to Berlevåg in 1959, a safe harbour was a life necessity for the community. The story of the breakwater is a testimony of the strong will and ability to survive in this little fishing village. The breakwater also offers an inspiring walk - whether you want to experience the roaring ocean, the midnight sun or the northern lights.
Mehamn
This intimate community is located on the small Vedvik peninsula, a part of the greater Nordkinn Peninsula. While small, Mehamn is active and growing and has a long heritage. Every year, several festivals and cultural events are hosted here. The settlement also has a vibrant nightlife, including a nightclub, with frequent live music performances. It offers several accommodation establishments; a hotel, a guesthouse and a hostel as well as a campsite for RVs/coaches. The primary industry in Mehamn has always been fishing, and the area was originally settled because of its natural harbour and proximity to the fishing grounds. The town is a traditional fishing settlement with about 800 inhabitants, and is the transport hub of the Nordkyn Peninsula. It is also the northernmost port of Hurtigruten. In addition to boats and ships, the preferred means of transport is the snowmobile.
Tromso
Tromsø's numerous attractions include wildlife and impressive vistas, as well as history, culture and daring architecture. Often described as the Paris of the north, Tromsø offers a lively nightlife, friendly locals and a range of restaurants specializing in the fresh produce of the region. The city centre offers great shopping - from locally made specialties to Nordic and international brands.
Stamsund
This charming fishing village is located on the south side of the island of Vestvågøy in the Lofoten archipelago, along the Vestfjord. With a population of 1,000, Stamsund is an important fishing port and the largest base for Lofoten trawl fishing. Gradually, more and more tourists discover Lofoten, with its marvelous scenery, enhanced by the midnight sun in the summer and the northern lights in the winter. Lofoten's legendary seasonal fishery takes place from January to April, with bustling activity on land and sea. The waters off Stamsund offer excellent opportunities for fishing, especially in March. The surrounding mountains offer ample opportunities for hiking.
Bodo
Surrounded by sea and fjord, the light in Bodø constantly shifts with the wind and weather. And then there's the exotic fact that both the midnight sun and northern lights can be seen from here. Bodø is the capital of Nordland county and lies just north of the Arctic Circle where the midnight sun is visible from 2 June to 10 July. Due to atmospheric refraction, there is no true polar night in Bodø, but because of the mountains south of Bodø, the sun is not visible from the city from early December to early January. Monthly average number of sun hours in Bodø peaks in June with 221 hours.
Trondheim
This attractive city was Norways first capital, between 997 and 1380, it was here that the new Kings of old Norway recieved their ceremonial blessing. Rebuilt in the 17th century, this cosmopolitan city boasts wide streets lined with brightly coloured houses and gabled warehouses.
Aalesund
Ålesund is mostly known for its unique Art Nouveau architecture, which was in fact the result of a disaster. In 1904, the larger part of Ålesund was destroyed in a devastating fire. In an act of excellent foresight, it was decided to rebuild the town entirely in Art Nouveau, the fashionable style of the time. Most of this beauty has been preserved. If you look up as you explore the town, you will be enchanted by the rounded towers, sinuous lines and foliate forms typical of Art Nouveau.
Bergen
Bergen is surrounded by seven mountains, and one of the most popular attractions of the world: the fjords. The city offers the ideal combination of nature, culture, history and exhilarating city life. What has made Bergen famous is its unique charm, which is something you have to experience for yourself. Enjoy strolling around the old streets and alleyways where people have lived for centuries. Walking through UNESCO-listed Bryggen's narrow alleyways, made even darker and more mysterious by overhanging balconies, feels like stepping back in time. Bryggen is not a museum but part of the cultural heritage that is still in use - a living historical area of the city. The Fløibanen Funicular is a very popular attraction, running from the city centre to the top of Mount Fløyen in about 7 minutes. From the viewing platform you can admire spectacular views of the city, mountains and fjords. In addition to the wide range of hikes, you'll find a restaurant, café, souvenir shop and playground.

Hurtigruten
From the magnificent fjords of Norway to the awesome ice-filled bays of Antarctica, Hurtigruten is renowned for its comprehensive collection of voyages to remote, beautiful and dramatic coastlines from the far north to the distant south. With over 120 years of maritime experience and our fleet of sixteen intimate and comfortable ships, we offer voyages that go beyond the traditional cruise, allowing closer encounters with environments, wildlife and people along shorelines near and far.
Quick Stats
Deck Plans
Cabins
Polar Inside
Unspecified Inside Cabin
Superior Inside
Polar Outside
Unspecified Arctic Superior Outside Cabin
Arctic Superior
Unspecified Outside Cabin
Owner's Suite
Mini Suite
MS Spitsbergen
The Spitsbergen is named after the Arctic crown of Norway - the archipelago of Spitsbergen. Hurtigruten has a long history of travelling to this destination, starting back in 1986 with the Sports Route. After a complete reconstruction MS Spitsbergen will be included in the Hurtigruten fleet in 2016. The ship will feature high standards and comfortable and modern public areas and cabins. The fresh Scandinavian design reflects the colour palette from the sea. The ship is modern and environmentally friendly and we will make further improvements inorder to reduce emissions and fuel consumption. The new Ship's maneuverability and optimal size make her very suitable for exploring the coast of Norway. She will also be equipped and adapted for future sailings in polar waters.
Facilities
Jacuzzi, Sauna,
Main Dining Room, Bistro, Explorers' Lounge, Explorer Bar,
Shops, Laundry Service, Lift,
Fitness Room,
Panorama Lounge, Wi-Fi,
Terms and conditions
The following product terms and conditions apply in addition to our Booking Terms and Conditions (available on our website) and terms and conditions of the relevant travel service provider.
Prices quoted valid for sale until 07 November 2019 for travel during the period specified (if applicable) unless otherwise stated or sold out prior.
All prices are per person (unless otherwise stated), subject to availability and may be withdrawn or varied without notice. Accommodation (if included) is based on twin share unless otherwise stated.
Advertised price includes bonus nights and/or stated saving (if applicable).
Additional supplier conditions and travel restrictions may apply. Please enquire for further details.
Airfare (including internal flights) is not included unless otherwise stated and, if included, is economy class unless otherwise stated.
Components of the total price including local payments, "resort fees", "national park fees", "trip kitties" and food funds (if applicable) may be payable direct to the supplier on arrival or to your travel consultant prior to your departure. Where applicable, these payments are included in the total price quoted.
Gratuities are not included unless otherwise stated.
Prices shown are fully inclusive of taxes, levies and government charges current at the time of publication.
Additional levies, government charges & other applicable fees, including additional taxes, surcharges and visa fees specific to your departure date or flight routing, may apply and are beyond our control.
Seasonal surcharges and blackout dates may apply depending on date of travel.
Prices shown are for payments made by cash in store or by BPAY.
Payments made in store by credit card will incur a surcharge (see Booking Terms and Conditions for further details).
These prices are a guide to the best price and are subject to change without notice, due to matters outside our control, such as adverse currency fluctuations, fuel surcharges, taxes and airfare increases. Please enquire for further details..
Important Notice
The above information has been obtained from the relevant suppliers and should be considered an indicative guide only as to the prices that may be available for these products. Flight Centre cannot guarantee that any particular product will still be available at the following prices, or for your exact dates of travel. At the time of making your booking, prices may differ to that price displayed on this website. Please contact a Flight Centre travel consultant to obtain the latest up to date information regarding applicable prices, fees and charges, taxes, availability, any blackout dates (such as school holidays), seasonal surcharges and other terms and conditions which may apply.
Call

0800 22 11 00

or email a Travel Expert to find out more