The Voyage North: Bergen - Kirkenes
| Date | Port | Arrive | Depart |
| --- | --- | --- | --- |
| 29 Jul 19 | Bergen | | 20:00 |
| 30 Jul 19 | Floro | | |
| 30 Jul 19 | Molde | | |
| 31 Jul 19 | Kristiansund | | |
| 31 Jul 19 | Rorvik | | |
| 01 Aug 19 | Bronnoysund | | |
| 01 Aug 19 | Svolvaer | | |
| 02 Aug 19 | Stokmarknes | | |
| 02 Aug 19 | Skjervoy | | |
| 03 Aug 19 | Oksfjord | | |
| 03 Aug 19 | Berlevag | | |
| 04 Aug 19 | Batsfjord | | |
| 04 Aug 19 | Kirkenes | | |
** Itinerary may vary by sailing date.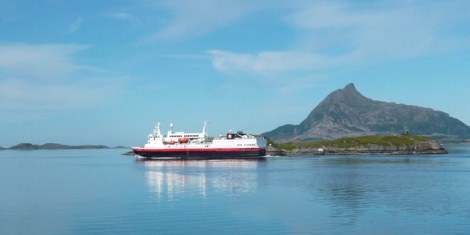 MS Vesteralen
MS Vesterålen was built in 1983 and is named after the first Hurtigruten ship to sail in 1893, DS Vesterålen. Vesterålen is also the name of the area in which Hurtigruten's first home port,...
Read more
6 night cruise sailing from Bergen, Norway aboard the MS Vesteralen
Visit Florø, Molde, Norway, Kristiansund, Rorvik, Bronnoysund, Svolvaer, Stokmarknes, Vesteralen, Skjervoy, Oksfjord, Berlevag, Batsfjord and Kirkenes.
Bergen
Bergen is surrounded by seven mountains, and one of the most popular attractions of the world: the fjords. The city offers the ideal combination of nature, culture, history and exhilarating city life. What has made Bergen famous is its unique charm, which is something you have to experience for yourself. Enjoy strolling around the old streets and alleyways where people have lived for centuries. Walking through UNESCO-listed Bryggen's narrow alleyways, made even darker and more mysterious by overhanging balconies, feels like stepping back in time. Bryggen is not a museum but part of the cultural heritage that is still in use - a living historical area of the city. The Fløibanen Funicular is a very popular attraction, running from the city centre to the top of Mount Fløyen in about 7 minutes. From the viewing platform you can admire spectacular views of the city, mountains and fjords. In addition to the wide range of hikes, you'll find a restaurant, café, souvenir shop and playground.
Floro
A stay in Florø gives you the opportunity to experience Norwegian nature from a more active perspective, with lighthouse safaris, sea fishing, kayaking and coastal hikes. This is an area full of stunning archipelagos, with great opportunities for summit hikes on islands rising straight out of the sea.
Molde
The many lush and flowering rose gardens have given this lovely fjord town its label "The City of Roses". Home to 25,000 inhabitants, Molde is the administrative centre and commercial hub of Møre og Romsdal county. It offers a fabulous mountain panorama view and a relatively mild climate. Molde Jazz, Norway's largest jazz festival, showcases jazz from all corners of the world for a week each summer.
Bronnoysund
Brønnøysund is situated on a narrow peninsula on the mainland, surrounded by islands and water. Here, you're actually half way on the long northbound stretch of land that is Norway. The small coastal town of 5,000 inhabitants is centred on the narrow, but strategically situated harbour, which caters for all trade and fishing. It is a vibrant and pretty little town with an attractive visitors' marina. Use some time to stroll around the streets – perhaps a walk along Havnegata, where you can enjoy looking at the small boats and bustling life of the archipelago. Sample the street life and go into one of the pubs, or treat yourself to a delicious meal at one of the restaurants.
Stokmarknes
Stokmarknes is the settlement and administration centre in Hadsel Municipality on the north side of the Hadseløya. Among the population of only 3,200, you will find people from 25 nations, many of them attracted by job opportunities in the fishing industry. In Stokmarknes you find the museum of Hurtigruten, offering a journey through time along the coast. See the changes that have been made on board the ships over the last 120 years, and hear darker tales of shipwrecks and loss of life, also part of Hurtigruten's history. Next to the museum you'll find the old ship MS Finnmarken as an impressive landmark.
Skjervoy
Skjervøy is an island and municipality in the northern part of Troms County. It is a typical fishing community where seafood production provides the main livelihood. In recent years fish farming and aquaculture has grown increasingly important. The 2,900 citizens live on several islands. There are great conditions for outdoor activities in the area. The oldest wooden church in Nord-Hålogaland diocese, built in 1728, is found in Skjervøy.
Oksfjord
To the southeast you can glimpse Norway's fifth largest glacier, Øksfjordjøkulen (1,204 metres above sea level). This is the only glacier on mainland Norway to 'calve' directly into the sea, a uniquely arctic phenomenon. The district has a population of 500 and Øksfjord is the administrative centre for the municipality of Loppa. Fish processing plants and a shipyard tell us about an area dependent on outcome from the sea.
Berlevag
With 1,000 inhabitants, Berlevåg is one of the largest fishing villages in Finnmark County. Several fish processing plants encircle its large harbour. The film "Cool and Crazy" (Heftig og begeistret) from 2001 made Berlevåg well-known worldwide. The documentary on the local male choir touched hearts, and both the film and the choir were invited to events all around the world. The Berlevåg Harbour Museum documents the coastal culture and the amazing story of the 70-year process of building the breakwaters in Berlevåg. Before roads came to Berlevåg in 1959, a safe harbour was a life necessity for the community. The story of the breakwater is a testimony of the strong will and ability to survive in this little fishing village. The breakwater also offers an inspiring walk - whether you want to experience the roaring ocean, the midnight sun or the northern lights.
Batsfjord
Båtsfjord is situated on the north coast of the Varanger peninsula. Previously, there were several villages along this barren coast, but today everyone lives in the town of Båtsfjord, sheltered at the end of the Båtsfjord inlet. The municipality has a population of 2,000. Båtsfjord is one of the major centres for the Norwegian fishing industry, and has several fish processing factories, a freezing plant, a filleting factory and ship repair yards. The church dates from 1971. At 241.8 m, the TV mast is the highest in Norway.
Kirkenes
Kirkenes is located in the extreme northeastern part of Norway on the Bøkfjord, a branch of the Varangerfjord, near the Russian border. We're about 400 kilometres north of the Arctic Circle and actually as far east as St. Petersburg. Most of the approximately 7,000 inhabitants are of Norwegian background, while a minority is Sami. Others originate from Finland and some 500 immigrants have recently arrived from Russia.

Hurtigruten
From the magnificent fjords of Norway to the awesome ice-filled bays of Antarctica, Hurtigruten is renowned for its comprehensive collection of voyages to remote, beautiful and dramatic coastlines from the far north to the distant south. With over 120 years of maritime experience and our fleet of sixteen intimate and comfortable ships, we offer voyages that go beyond the traditional cruise, allowing closer encounters with environments, wildlife and people along shorelines near and far.
MS Vesteralen
MS Vesterålen was built in 1983 and is named after the first Hurtigruten ship to sail in 1893, DS Vesterålen. Vesterålen is also the name of the area in which Hurtigruten's first home port, Stokmarknes, is situated. Vesterålen lies just north of Lofoten and is home to some of the most beautiful scenery of the coastal voyage. The ship is one of the smallest ships in the fleet. She was upgraded both in 1988 and 1995, and is characterised by her bright, cheerful public areas and lounges. Throughout your voyage you will enjoy views from the panorama lounge and notice the extensive art collection on board. With the limited passenger capacity, a voyage on MS Vesterålen is truly something special.
Facilities
Shops, Conference Facilities,
Panorama Lounge,
Cafe,
Terms and conditions
The following product terms and conditions apply in addition to our Booking Terms and Conditions (available on our website) and terms and conditions of the relevant travel service provider.
Prices quoted valid for sale until 24 July 2019 for travel during the period specified (if applicable) unless otherwise stated or sold out prior.
All prices are per person (unless otherwise stated), subject to availability and may be withdrawn or varied without notice. Accommodation (if included) is based on twin share unless otherwise stated.
Advertised price includes bonus nights and/or stated saving (if applicable).
Additional supplier conditions and travel restrictions may apply. Please enquire for further details.
Airfare (including internal flights) is not included unless otherwise stated and, if included, is economy class unless otherwise stated.
Components of the total price including local payments, "resort fees", "national park fees", "trip kitties" and food funds (if applicable) may be payable direct to the supplier on arrival or to your travel consultant prior to your departure. Where applicable, these payments are included in the total price quoted.
Gratuities are not included unless otherwise stated.
Prices shown are fully inclusive of taxes, levies and government charges current at the time of publication.
Additional levies, government charges & other applicable fees, including additional taxes, surcharges and visa fees specific to your departure date or flight routing, may apply and are beyond our control.
Seasonal surcharges and blackout dates may apply depending on date of travel.
Prices shown are for payments made by cash in store or by BPAY.
Payments made in store by credit card will incur a surcharge (see Booking Terms and Conditions for further details).
These prices are a guide to the best price and are subject to change without notice, due to matters outside our control, such as adverse currency fluctuations, fuel surcharges, taxes and airfare increases. Please enquire for further details..
Important Notice
The above information has been obtained from the relevant suppliers and should be considered an indicative guide only as to the prices that may be available for these products. Flight Centre cannot guarantee that any particular product will still be available at the following prices, or for your exact dates of travel. At the time of making your booking, prices may differ to that price displayed on this website. Please contact a Flight Centre travel consultant to obtain the latest up to date information regarding applicable prices, fees and charges, taxes, availability, any blackout dates (such as school holidays), seasonal surcharges and other terms and conditions which may apply.
Call

0800 22 11 00

or email a Travel Expert to find out more