Western Mediterranean Grand Adventure
from $ 4,302* per person twin share
---
25 night cruise sailing from Rome (Civitavecchia) aboard the Emerald Princess.
Travel Dates: 24 October 2019
Departing From: Civitavecchia
Duration: 25 nights
Cruise Line: Princess Cruises
Cruise Ship: Emerald Princess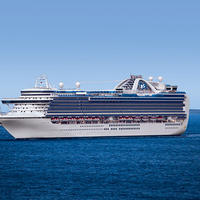 Call 0800 22 11 00 and
quote deal number 5046800
| Date | Port | Arrive | Depart |
| --- | --- | --- | --- |
| 24 Oct 19 | Rome (Civitavecchia) | | 19:00 |
| 25 Oct 19 | At Sea | | |
| 26 Oct 19 | Kotor | 09:00 | 17:00 |
| 27 Oct 19 | Dubrovnik | 07:00 | 21:00 |
| 28 Oct 19 | At Sea | | |
| 29 Oct 19 | Athens (Piraeus) | 07:00 | 22:00 |
| 30 Oct 19 | Santorini | 07:00 | 19:00 |
| 31 Oct 19 | Katakolon (Olympia) | 09:00 | 18:00 |
| 01 Nov 19 | At Sea | | |
| 02 Nov 19 | Ajaccio, France | 07:00 | 18:00 |
| 03 Nov 19 | Sete (for Carcassonne) | 08:00 | 18:00 |
| 04 Nov 19 | Barcelona | 05:00 | 19:00 |
| 05 Nov 19 | Cartagena, Spain | 11:00 | 19:00 |
| 06 Nov 19 | Malaga | 07:00 | 18:00 |
| 07 Nov 19 | Casablanca | 08:00 | 21:30 |
| 08 Nov 19 | At Sea | | |
| 09 Nov 19 | Santa Cruz de Tenerife | 07:00 | 17:00 |
| 10 Nov 19 | At Sea | | |
| 11 Nov 19 | Azores Islands (Ponta Delgada) | 08:00 | 17:00 |
| 12 Nov 19 | At Sea | | |
| 13 Nov 19 | At Sea | | |
| 14 Nov 19 | At Sea | | |
| 15 Nov 19 | At Sea | | |
| 16 Nov 19 | At Sea | | |
| 17 Nov 19 | At Sea | | |
| 18 Nov 19 | Ft. Lauderdale | 06:00 | |
** Itinerary may vary by sailing date.
Emerald Princess
Launched in 2007, Emerald Princess is one of the largest cruise ships in the Princess fleet. She offers nearly 900 balcony staterooms from which to take in the colorful sunrise over the ocean, or...
Read more
25 night cruise sailing from Rome (Civitavecchia) aboard the Emerald Princess
Visit Kotor, Dubrovnik, Athens (Piraeus), Santorini Island, Katakolon, Corsica, Sete, Barcelona, Cartagena, Spain, Malaga, Casablanca, Santa Cruz de Tenerife, Ponta Delgada, Azores and Fort Lauderdale.
Civitavecchia
Your gateway to the Eternal City, Civitavecchia has served as Rome's seaport since the 13th century. The port has a long and venerable history. The emperor Trajan built a pleasure villa near the modern city, while Bernini and Michelangelo designed the harbor fortifications. Yet the Eternal City eternally beckons. The ancient capital of the Western World and the center of Christianity for nearly 2,000 years, Rome provides an inexhaustible feast. Visit the ruins of the Forum, view the splendors of the Sistine Chapel, or climb the Spanish Steps, once the heart of Rome's Bohemian Quarter. Rome has been a magnet luring the world's greatest artists, architects, and philosophers since the days of the Caesars.
Kotor
Kotor lies at the head of Boka Bay. Bordered by towering limestone cliffs, the winding bay is actually Southern Europe's longest and most dramatic fjord. The port itself is a medieval gem: its narrow, asymmetrical streets are lined with ancient stone houses, old palaces, and churches dating from the 12th century. Kotor is also your gateway to the cultural and scenic wonders of Montenegro, from the old royal capital at Cetinje to the marshes and wildlife of Lake Skadar National Park. Kotor is renowned for its nightlife: the streets of the old port are lined with pubs, taverns and cafés. The city is also host to a renowned summer carnival.
Dubrovnik
Dubrovnik is a beautiful stone jewel hugging the Adriatic Sea. This picture-perfect medieval walled city offers ancient stone buildings, narrow cobbled streets and fortified ramparts rising above red-tiled rooftops. Stradun is the city's focal point and main artery while Dubrovnik's streets are blessedly free of vehicular traffic. Despite the heavy damage inflicted by shelling in the early '90s, Dubrovnik has been restored to its pre-war beauty. A UNESCO World Heritage Site, the old city remains the pride of the Republic of Croatia. For six centuries Dubrovnik was an independent republic - an oligarchy ruled by patrician families. The Republic was overthrown by Napoleon in 1808.
Piraeus
The past maintains a vibrant presence in the cradle of Western civilization. Atop the Acropolis, the serene Parthenon sails above the commotion of the modern city. The tragedies of Aeschylus, Sophocles, and Euripides were performed in the Theater of Dionysus at the foot of the Acropolis. On Pnyx Hill, citizens of a fledgling democracy gathered to cast their votes on Athens' destiny. Then there is the hustle and bustle of the modern city, a metropolis of 4.5 million that spreads out from the foot of Mt. Lycabettus and across the plain. Packed with busy shops and lively tavernas, modern Athens is a colorful counterpoint to classical Greece. Piraeus is the port city for Athens and has been Athens' port of entry for over two millennia.
Santorini
Did the catastrophic volcanic eruption that ravaged Santorini circa 1600 B.C. destroy Crete's ancient Minoan civilization - and give birth to the myth of Atlantis? In 1967, archaeologists on Santorini unearthed the remains of a Bronze Age city that may have been home to as many as 30,000 people. Whether the Lost Continent of Atlantis is rooted in myth or reality, an undisputed fact remains. The eruption created a caldera - and one of the most dramatic land and seascapes in the entire Mediterranean. On Santorini, whitewashed buildings cling to vertiginous cliffs that plunge to a turquoise sea. Part of the Cyclades Archipelago, the three-island group of Santorini, Thirasia and uninhabited Aspronisi present the traveler with unforgettable vistas. The island has had a number of names throughout history - from Strongyle or "Round" to Thera in honor of an ancient hero. Santorini is more recent and stems from the island church dedicated to St. Irene - Santa Rini to foreign sailors.
Katakolon
Perched on the west coast of the Peloponnesus, Greece's largest peninsula, this sleepy fishing village of some 300 souls is your gateway to Olympia, site of the original Olympic Games. Held every four years between 776 B.C. and 393 A.D., when the Emperor Theodosius banned pagan festivals, the Olympic Games celebrated the ideal harmony of mind and body. Every four years, the sacred flame of Altis is rekindled to light the torch for the Modern Games. Olympia's temples were destroyed after the games were banned. An earthquake in the 6th century compounded the destruction, and floods buried the site. Excavation of the ruins began in 1875, and Olympia was declared a National Park in 1976.
Ajaccio
In 1811, Napoleon Bonaparte - then Napoleon I, Emperor of the French - made Corsica a department of France. He also moved the capital from Bastia to his hometown of Ajaccio. The capital of Corsica, Ajaccio is the island's largest town (although we know that the capital of Corsica is Paris, and Ajaccio & Bastia are slightly same size) - and the birthplace of Napoleon Bonaparte. One can stroll past the cathedral where the future emperor was baptized--the Casa Bonaparte is a museum devoted to the imperial glory. But Corsica is also the "scented isle" - a place of dramatic shoreline cliffs, small coves, and golden beaches. The island interior consists of stony mountains carpeted in macchia, a low, thick, chaparral comprised of aromatic Corsican mint, rock roses, and myrtle. Everywhere you'll discover traces of the island's long and colorful history, from medieval walled towns to seaside villages guarded by 16th-century towers. Though the island has been part of France since the late 18th century, Corsica retains its own distinct culture and flavor.
Sete
Referred to by locals as the "Venice of Languedoc," Sète is a small artists' commune in southern France known for its romantic canals and charming atmosphere. Archaeological evidence points to human presence in the region as far back as the Bronze Age, although Sète did not experience major growth until the second half of the 17th century, when King Louis XIV urged on the construction of the sea port. The digging of the Canal du Midi was to follow, an immense undertaking that would eventually enhance the region's economy. Although Sète was attacked by the British in the early 18th century and was nearly demolished as the Allies defended it at the conclusion of World War II, the city prevailed and serves today as a beautiful Mediterranean resort, as well as your gateway to the medieval city of Montpellier and the awe-inspiring, fairy tale castle of Carcassonne.
Barcelona
The 1992 Summer Olympics revealed to the world what Europeans and seasoned travelers already knew - Barcelona is one of the world's greatest treasures. Vibrant and earthy, commercial and cultural, this city of two million residents is the capital of Spain's autonomous region of Catalonia. Stroll along the wide, tree-lined promenades of Las Ramblas and marvel at the spires of Gaudi's Basilica La Sagrada Familia. Or visit the former Olympic Ring on the hill of Montjuic - also home to world-class parks, fountains and museums. Barcelona, which nurtured such artistic giants as Picasso, Dali, Miro and Casals, is definitely a traveler's paradise.
Cartagena - Spain
Cartagena is an ancient port - the city served as Hannibal's Spanish headquarters during the 2nd Punic War with Rome. The city remained a major trading port under the Romans and the Moors. Today, Cartagena is Spain's principal naval establishment and the site of an annual international maritime festival. The city is also your gateway to the Costa Calida, a region that boasts some of Spain's mildest weather along with 175 miles of beaches.
Malaga
One of Spain's oldest cities, Malaga has been inhabited since the time of the Phoenicians, who called it Malaka. A city of narrow streets, whitewashed houses, churches and sunny plazas, Malaga offers an idealized image of Spain. Andalusia's main port is also your gateway to the resorts of the Costa del Sol. No visit to Malaga would be complete without a trip to Granada and a tour of the fabled Alhambra. Malaga was the chief port for the Kingdom of Granada, the last stronghold of Moorish Spain. The city fell to Ferdinand and Isabelle in 1487. The re-conquest of Spain ended with the fall of Grenada in 1492, the year Columbus discovered the New World.
Casablanca
For many, the word Casablanca conjures up Hollywood's vision of an exotic city of intrigue. But the reality is far removed from film fantasy, more complex and fascinating. Casablanca is Morocco's largest city, the busiest port in North Africa, and home to nearly four million people. An important trading center since the days of the Phoenicians, Casablanca is an evocative blend of more new than old, more familiar than exotic. It is a modern commercial city with an old heart that is home to narrow, cobbled alleys, bazaars and souks, minarets and medinas. Casablanca is a modern city with beaches bordering the Atlantic and broad, tree-lined avenues. The city is also your gateway to Morocco's interior and the exotic "Imperial Cities" of Rabat and Marrakech.
Santa Cruz de Tenerife
Tenerife is the largest island in the Canary Archipelago. Like its brethren, Tenerife was formed by fierce volcanic activity. Its landscape remains dotted with volcanic cones and areas of intense geothermal activity. Towering over the island is Mt Teide, an extinct volcano that, at 12,200 feet above sea level, is the highest peak in Spanish territory. Santa Cruz de Tenerife is the island's capital and your port of call. Tenerife's north shore is separated from the south by rugged mountains, creating a rain shadow. The majority of the islands most recent resorts are found in the sere and parched south shore.
Ponta Delgada
Surrounded by the blue Atlantic, the Azores bring you a chain of nine spectacular islands that will capture your senses like few other places can. Often described as the tip of the lost continent of Atlantis, this picturesque countryside is incredibly fertile and supports a dazzling variety of flowers and natural vegetation. The warm climate and ample rainfall sustain a bustling agriculture that often brings farmers three or four crops per year.
Fort Lauderdale
According to the popular 1960 beach movie, Fort Lauderdale is "where the boys are." The city's reputation as America's Spring Break capital, however, has been replaced with the more favorable image of a prime family tourist destination, attracting more than 10 million visitors annually. The most popular beach resort in Florida is even more rightly famed as the "Yachting Capital of the World," with more than 40,000 registered crafts calling its waters home. The city also prides itself on being the "Venice of America" with more than 300 miles of navigable waterways. Fort Lauderdale boasts world-class theaters, museums, sightseeing, and shopping.

Princess Cruises
From its modest beginnings in 1965 with a single ship cruising to Mexico, Princess has grown to become one of the premiere cruise lines in the world. Today, its fleet carries more than a million passengers each year to more worldwide destinations than any other major line. Considered one of the most recognized cruise lines in the world, Princess Cruises was catapulted to stardom in 1977 when Pacific Princess was cast in a starring role on a new television show called "The Love Boat." The weekly series, which introduced millions of viewers to the still-new concept of a sea-going vacation, was an instant hit and both the company name and its seawitch logo have remained synonymous with cruising ever since.
Quick Stats
Cruise Line
Princess Cruises
Deck Plans
Cabins
Emerald Princess
Launched in 2007, Emerald Princess is one of the largest cruise ships in the Princess fleet. She offers nearly 900 balcony staterooms from which to take in the colorful sunrise over the ocean, or capture a breathtaking sunset sail-in to a romantic city like Venice. Leisurely days spent onboard in the Piazza-style atrium are relaxing and entertaining, with the nearby International Café and Vines wine bar fulfilling your cravings for warm cookies, toasted paninis, and even hand rolled sushi. Whether you're getting refreshed with a work-out in the fitness center or putting your feet up at Movies Under the Stars®, your experience on Emerald Princess is sure to be unforgettable.
Facilities
Spa, Sauna, Swimming Pool, Splash Pool, Terrace Pool, The Sanctuary(adults only), Lotus Spa,
Photo Gallery, Children's Play Area, Theatre, Dance Floor, Princess Theatre, Movies Under the Stars outdoor theater , Explorers Lounge, Skywalkers Nightclub, Club Fusion,
Golf Simulator, Library, Shuffle Board, Swim-against-the-current lap pool ,
Art Gallery, Wedding Chapel, Chapel, Boutique, Future Cruise Sales, Duty-free shop, Shore Excursion Office, Conference Facilities,
Horizon Court, Ice Cream Bar, 24-hour Room Service, Dining Room, Sabatini's Italian restaurant, Michelangelo Dining Room , Da Vinci Dining Room , Trident Grill, Wheelhouse Bar, Crooners Bar, Botticelli Dining Room, Crown Grill , Adagio Bar, Speakeasy cigar lounge, International Cafe, Vines Wine & Seafood Bar, Explorers' Lounge, Bar, Pizzeria, Grill, Lounge Bar, Cafe Caribe ,
Jogging Track, Fitness Center, Gym,
Terms and conditions
The following product terms and conditions apply in addition to our Booking Terms and Conditions (available on our website) and terms and conditions of the relevant travel service provider.
Prices quoted valid for sale until 19 October 2019 for travel during the period specified (if applicable) unless otherwise stated or sold out prior.
All prices are per person (unless otherwise stated), subject to availability and may be withdrawn or varied without notice. Accommodation (if included) is based on twin share unless otherwise stated.
Advertised price includes bonus nights and/or stated saving (if applicable).
Additional supplier conditions and travel restrictions may apply. Please enquire for further details.
Airfare (including internal flights) is not included unless otherwise stated and, if included, is economy class unless otherwise stated.
Components of the total price including local payments, "resort fees", "national park fees", "trip kitties" and food funds (if applicable) may be payable direct to the supplier on arrival or to your travel consultant prior to your departure. Where applicable, these payments are included in the total price quoted.
Gratuities are not included unless otherwise stated.
Prices shown are fully inclusive of taxes, levies and government charges current at the time of publication.
Additional levies, government charges & other applicable fees, including additional taxes, surcharges and visa fees specific to your departure date or flight routing, may apply and are beyond our control.
Seasonal surcharges and blackout dates may apply depending on date of travel.
Prices shown are for payments made by cash in store or by BPAY.
Payments made in store by credit card will incur a surcharge (see Booking Terms and Conditions for further details).
These prices are a guide to the best price and are subject to change without notice, due to matters outside our control, such as adverse currency fluctuations, fuel surcharges, taxes and airfare increases. Please enquire for further details..
Important Notice
The above information has been obtained from the relevant suppliers and should be considered an indicative guide only as to the prices that may be available for these products. Flight Centre cannot guarantee that any particular product will still be available at the following prices, or for your exact dates of travel. At the time of making your booking, prices may differ to that price displayed on this website. Please contact a Flight Centre travel consultant to obtain the latest up to date information regarding applicable prices, fees and charges, taxes, availability, any blackout dates (such as school holidays), seasonal surcharges and other terms and conditions which may apply.
Call

0800 22 11 00

or email a Travel Expert to find out more