Italy, France, Spain, Canary Islands, Antilles
| Date | Port | Arrive | Depart |
| --- | --- | --- | --- |
| 07 Dec 19 | Savona, Italy | | 17:00 |
| 08 Dec 19 | Marseille, France | 09:00 | 17:00 |
| 09 Dec 19 | At sea | | |
| 10 Dec 19 | Malaga (Spain) | 08:00 | 17:00 |
| 11 Dec 19 | At sea | | |
| 12 Dec 19 | St. Cruz de Tenerife (Canary Islands) | 14:00 | 20:00 |
| 13 Dec 19 | At sea | | |
| 14 Dec 19 | At sea | | |
| 15 Dec 19 | At sea | | |
| 16 Dec 19 | At sea | | |
| 17 Dec 19 | At sea | | |
| 18 Dec 19 | At sea | | |
| 19 Dec 19 | Martinique (Antilles) | 08:00 | 21:00 |
| 20 Dec 19 | Guadeloupe | 08:00 | 23:00 |
| 21 Dec 19 | At sea | | |
| 22 Dec 19 | Tortola, British Virgin Islands | 08:00 | 18:00 |
| 23 Dec 19 | St. Maarten | 08:00 | 17:00 |
| 24 Dec 19 | Antigua, Leeward Islands | 08:00 | 18:00 |
| 25 Dec 19 | Kingstown | 10:00 | 18:00 |
| 26 Dec 19 | Martinique (Antilles) | 08:00 | 18:00 |
| 27 Dec 19 | Guadeloupe | 08:00 | |
** Itinerary may vary by sailing date.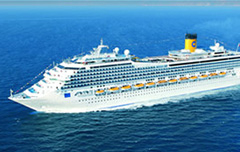 Costa Magica
With Costa Magica, the magic of cruising becomes a journey within a journey. All its furnishings, decor and environments are inspired by the charm of Italy's most beautiful locations: from Capri to...
Read more
20 night cruise sailing from Savona aboard the Costa Magica
Visit Marseille, Malaga, Santa Cruz de Tenerife, Martinique, Guadeloupe, Tortola, Philipsburg, St Maarten, Antigua, Leeward Islands, Kingstown, Martinique and Guadeloupe.
Savona
One of the most celebrated former inhabitants of Savona was the navigator Christopher Columbus, who farmed land in the area while chronicling his journeys. 'Columbus's house', a cottage situated in the Savona hills, lay between vegetable crops and fruit trees. It is just one of many residences in Liguria associated with Columbus. Several cities as well as Savona claim his birth and residency, such as Genoa and Terrarossa di Moconesi. Savona is the most important city on the west coast of Italy, within reach of the seaside resorts of Alassio, Loano and Varazze.
Malaga
The city of Malaga is today a bustling Andalusian tourist centre with a thriving agricultural market for the fruit and wine industries. In centuries gone by Malaga attracted the attention of some of the Mediterranean's most powerful forces, including the Phoenicians, Arabs, Carthaginians and Visigoths. The Arabs considered Malaga the Garden of Eden and built several homes there, which perhaps explains their relatively non-aggressive attitude towards the region. Before them, the Phoenicians, who first discovered the coastline, felt the same sense of tranquillity, building the first village (the origin of the name is the Phoenician 'malak') in the area. For an extensive period, Malaga was then governed by the Carthaginians, eventually abandoning it in the face of invasion by the Visigoths.
Guadeloupe
Guadeloupe looks like a butterfly: its wings, Grande Terre and Basse Terre, are separated by a channel and has some beautiful, unspoilt beaches. Grande Terre is the liveliest part, with the market of Pointe à Pitre and roads joining together picturesque villages and sugar cane plantations. Centuries of French rule don't seem to have influenced the locals' philosophy too much: "it's better to avoid something than to face something".
Tortola
A magnet for yachts from many ports, tiny Tortola in the British Virgin Islands is a haven for those seeking the classic pleasures of beaches and crystal waters.
Sint Maarten
The attractions of St. Maarten are endless: beaches, duty-free shopping, casinos, nightlife and more water and land sports than you can possibly try. And that's just the Dutch side! The French half of this two-nation island offers exclusive boutiques, Gallic restaurants and blessed peace and quiet.
Antigua
This rustic port of call offers a different beach for every day of the year. Walk down cobblestone sidewalks and taste native cuisine. Be sure to shop at Heritage Quay and Redcliffe Quay just minutes from the dock.

Costa Cruises
Costa Crociere S.p.A. is an Italian company based in Genoa. The brands Costa Crociere, AIDA Cruises and Iberocruceros belong to Costa Crociere S.p.A. and include a total of 19 ships in active service and 10 on order. All ships fly the Italian flag and operate in the Mediterranean, Northern Europe, the Baltic Sea, the Caribbean, Central America, South America, the United Arab Emirates, the Far East and the Indian Ocean. Costa Crociere S.p.A. is part of Carnival Corporation & plc, world leader in the cruise industry, and is a member of the prestigious World's Leading Cruise Lines, an association of the world's most important cruise companies.
Quick Stats
Cruise Line
Costa Cruises
Deck Plans
Cabins
Classic Single Inside
Single Inside
Classic Single Outside
Single Outside
Costa Magica
With Costa Magica, the magic of cruising becomes a journey within a journey. All its furnishings, decor and environments are inspired by the charm of Italy's most beautiful locations: from Capri to Portofino, the Salento, Bellagio, Urbino to Grado, Spoleto and many more. The magic will surround you in the lounges, in the spectacular central nine-storey hall and in the refined and welcoming restaurants inspired by the enchanting atmosphere of Sardinia's Emerald Coast. Costa Magica brings you the flavour, originality and elegance of Italy: from the prestigious designer stores in the shopping mall to the excellent cuisine you will experience throughout your holiday.
Facilities
Bar, Cafe, Piano Bar, Grand Bar, Poolside Bar, Buffet, BBQ, Cognac & Cigar Bar, A la carte restaurant,
Beauty Salon, Solarium, Spa, Sauna, Jacuzzi, Pool Deck, Whirlpool, Massage, Hot Tubs, Health Club,
Disco, Theatre, Photo Gallery, Dance Floor, Children's Club, Live Bands,
Library, Squok Club, Lido, Card Room, Nightclub,
Gym, Jogging Track, Wellness Centre, Sports Court, Fitness Center,
Photo Shop, Reception, Medical Centre, Chapel, Shopping Gallery, Laundry Service, Shore Excursion Office, Conference Room, Atrium, Money Exchange,
Internet Cafe, Extensive WiFi capabilities and connectivity.,
Terms and conditions
The following product terms and conditions apply in addition to our Booking Terms and Conditions (available on our website) and terms and conditions of the relevant travel service provider.
Prices quoted valid for sale until 02 December 2019 for travel during the period specified (if applicable) unless otherwise stated or sold out prior.
All prices are per person (unless otherwise stated), subject to availability and may be withdrawn or varied without notice. Accommodation (if included) is based on twin share unless otherwise stated.
Advertised price includes bonus nights and/or stated saving (if applicable).
Additional supplier conditions and travel restrictions may apply. Please enquire for further details.
Airfare (including internal flights) is not included unless otherwise stated and, if included, is economy class unless otherwise stated.
Components of the total price including local payments, "resort fees", "national park fees", "trip kitties" and food funds (if applicable) may be payable direct to the supplier on arrival or to your travel consultant prior to your departure. Where applicable, these payments are included in the total price quoted.
Gratuities are not included unless otherwise stated.
Prices shown are fully inclusive of taxes, levies and government charges current at the time of publication.
Additional levies, government charges & other applicable fees, including additional taxes, surcharges and visa fees specific to your departure date or flight routing, may apply and are beyond our control.
Seasonal surcharges and blackout dates may apply depending on date of travel.
Prices shown are for payments made by cash in store or by BPAY.
Payments made in store by credit card will incur a surcharge (see Booking Terms and Conditions for further details).
These prices are a guide to the best price and are subject to change without notice, due to matters outside our control, such as adverse currency fluctuations, fuel surcharges, taxes and airfare increases. Please enquire for further details..
Important Notice
The above information has been obtained from the relevant suppliers and should be considered an indicative guide only as to the prices that may be available for these products. Flight Centre cannot guarantee that any particular product will still be available at the following prices, or for your exact dates of travel. At the time of making your booking, prices may differ to that price displayed on this website. Please contact a Flight Centre travel consultant to obtain the latest up to date information regarding applicable prices, fees and charges, taxes, availability, any blackout dates (such as school holidays), seasonal surcharges and other terms and conditions which may apply.
Call

0800 22 11 00

or email a Travel Expert to find out more