Whether it is a short break, family holiday or a couple's escape, travelling close to home offers something for everyone. From bustling cities with shopping and dining; to beaches and turquoise waters for the classic drop and flop holiday; to discovering new cultures and cuisines – your choices here are endless.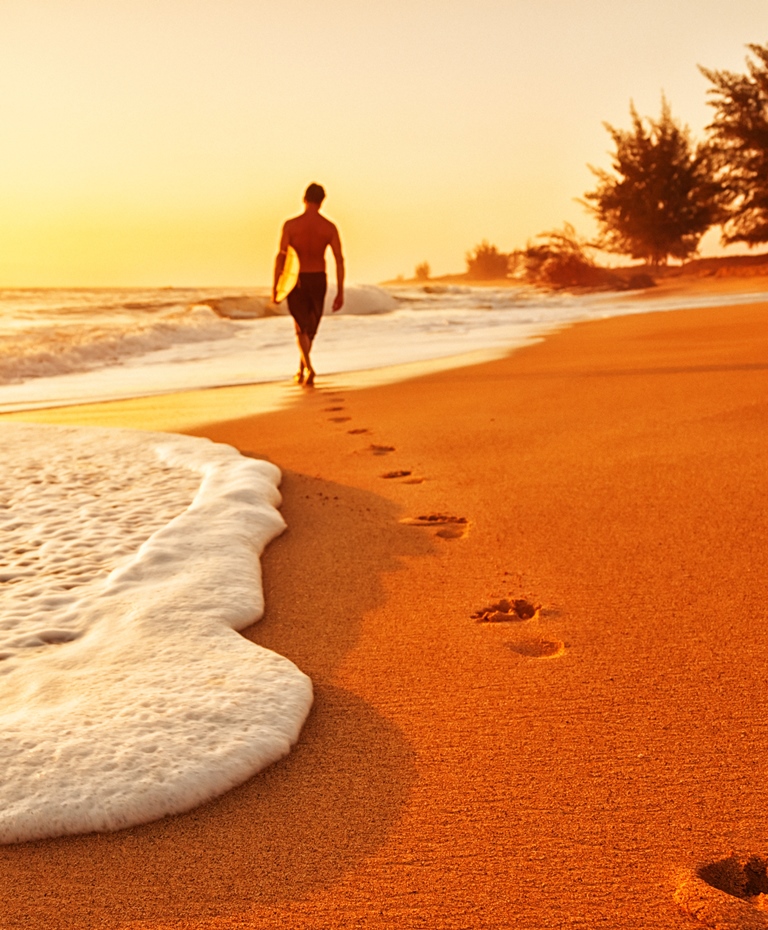 Expert Tips
Book Flights Ahead of Time
Winter months and school holidays are considered popular travel seasons for Australia and the Islands, it is highly recommended to book well in advance to avoid disappointment.
In-flight Meals
Some airlines include just your seat and a bag; there's usually an onboard shop for purchases. However this can be limited to crisps, chocolate, snacks and sandwiches – eat before you fly or take snacks to be more cost effective and keep little ones happy.
Family Priority Boarding
If you are a family that wants to board first in order to prepare the space around you, airlines often allow families with young children to board the plane before others. Some airlines even allow those families to board before Business Class!
In-flight Entertainment
Airlines with their own in-flight entertainment will offer a kids section that will sometimes include a parent lock so you can control what they watch. Alternatively bring along some toys to keep the kids entertained during the flight.
Visas
New Zealand citizens don't generally need a visa to enter the Islands, Australia and Bali. Though your passport will need a minimum of six months validity when entering. Hawai'i does require an ESTA or visa to enter the United States.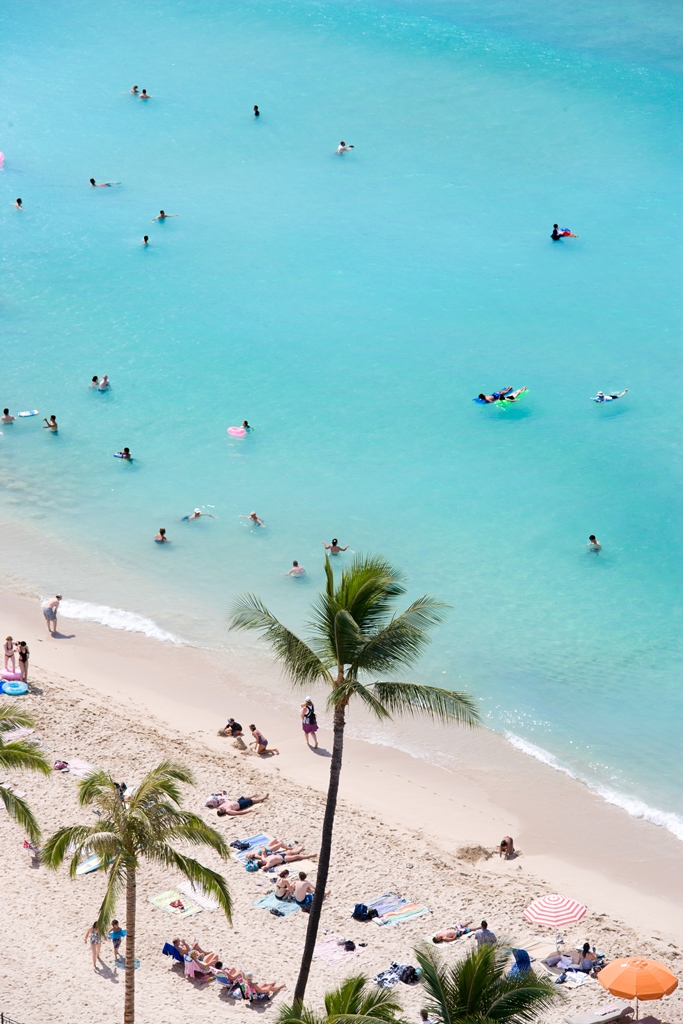 Best Time to Fly
Generally, the most popular times to travel to the Islands or Australia are during the New Zealand winter from May to September. Travelling out of these peak months could mean a cheaper flight or accommodation.
Australia
Australia being vast has differing climates depending on location. New South Wales enjoys a milder climate year round. Victoria has three distinct climatic zones. Tropical North Queensland and Western Australia experience wet and dry seasons.
Bali
Bali has a warm tropical climate with two distinct seasons; the wet season and the dry season. The dry season April to September, offers the best weather – sunny days and cool evenings.
Hawai'i
With warm weather throughout the year, and no appreciable difference between summer and winter, Hawai'i is the perfect holiday destination year round.
South Pacific
Sitting firmly within the tropics you can generally expect warm weather year round. The wet season is from December through to March and is warm, more humid with the occasional shower. June to August are slightly cooler months.
Seasonal Differences - Australia

Seasonal Differences - Bali, Hawai'i & South Pacific

Return Price Ranges
When you see an airfare price, how do you know if you should book? Check price ranges below!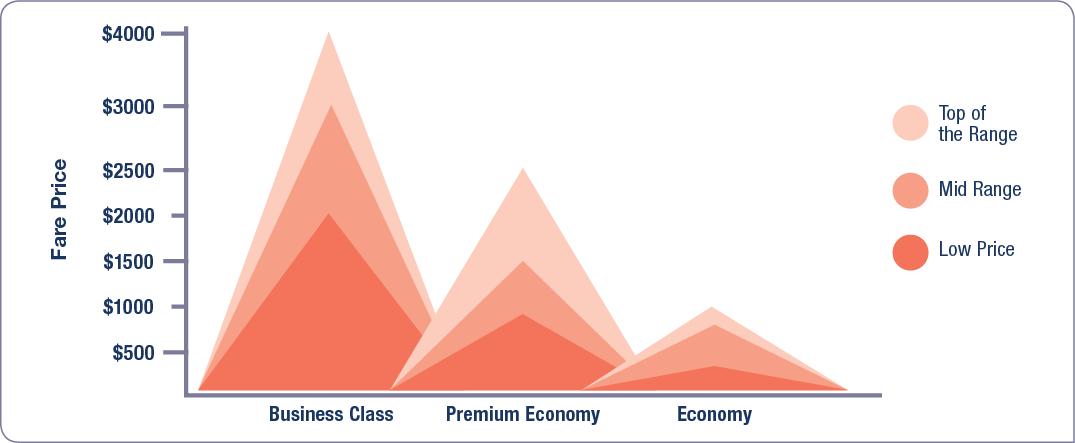 Southeast Asia is one of the most magical regions on Earth. The countries here are full of stunning beaches, historic temples, thriving jungles and bustling cities.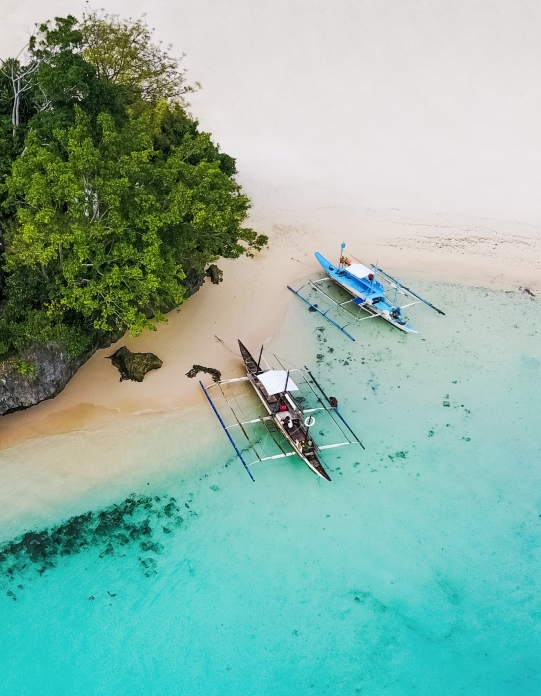 Expert Tips
Save More & Book Early!
Getting in early means more flight options, less stress and great itineraries. You will have the pick of the bunch if you can beat everyone to the punch.
Check Visa Requirements & Be Prepared
Several Southeast Asian countries require that your passport has at least six months' of validity left, or a specific number of empty pages – and requirements seem to be constantly changing. Also, be sure to grab a couple of extra entrance and exit forms each time you enter a country; if you end up leaving and re-entering that country by bus, boat or train, having the correct forms handy will enable you to save time you would otherwise spend in line.
Safeguard Your Health
Before you travel to individual countries, check their vaccine requirements and recommendations. Sunscreen and mosquito repellent are necessities when visiting Asia. Carry an antiseptic and antihistamine cream to help with any bites.
Etiquette
Remember to be modest in traditional areas of Asia. Though fashions are changing in urban centres, modesty is still important especially in Muslimdominated countries. Avoid baring too much skin in general – avoid topless sunbathing and cover up when visiting religious buildings. Remove shoes when entering religious buildings and certain businesses. If there's a pile of shoes at the door, be sure to follow suit.
Travelling with Children
Southeast Asia can be a wonderful place to travel with children. Children are warmly welcomed in restaurants and other public places. Dedicated children's menus are rarely available, but most countries offer simple dishes such as fried rice and grilled chicken that will appeal to
less adventurous palates. Thailand is far and away the most child-friendly destination in Southeast Asia, but Malaysia and the Philippines also have good family-friendly beach options.
Best Time to Fly
Asia is a huge continent of different regions each with their own weather patterns and micro climates. So think about whether you prefer heat, or cooler weather; think about why you are going – local culture, historical sights, trekking – and what the optimum conditions are to enjoy that. Consider crowds, too. May and September is the best time to visit North Asia, the temperature is pleasant during this time and the weather conditions are mostly stable making it easier to travel.
South East Asia Cambodia, Laos, Malaysia, Philippines & Thailand
Hot Season • Mar–May
March is generally the start of the hot season with temperatures soaring to around a scorching 40°C. Keep hydrated and make sure
to pack a hat and sunscreen!

Wet Season • Jun–Oct
The region starts cooling down during these months, a sigh of relief after the previous blistering months. June is the start of the rainy season in
South East Asia and sometimes monsoons which typically lasts until late September (depending on where you are in the region). The wet season
does not mean all day drizzle or constant rains; usually the mornings are fine and sunny with short and torrential showers in the afternoon.
Dry Season • Nov–Feb
Southeast Asia is relatively cool and dry throughout these months. It is also considered the busiest time in the region with many visiting
tourists, so expect crowds and queues at sights and attractions
North Asia China, Hong Kong (SAR), Japan, Republic of Korea (South) & Taiwan
Spring • Mar–May
The flowers are in bloom, the weather is lovely and the scenery is breath-taking during this time of year. Nevertheless, it is advised to carry a light sweater as the evenings could be a bit chilly.
Autumn • Sep–Oct
This is the most comfortable time to travel. The temperatures are pleasantly warm. There is limited amount of rainfall making it easier to travel. However, this is also typhoon season.
Summer • Jun–Aug
If you're looking to explore North Asia on a budget this is an ideal time to visit as the region won't be too crowded. The temperatures are quite high during this time and the region is quite hot except for the mountains. This is also the rainy season making the environment a bit muggy.
Winter • Nov–Feb
It is important to pack enough warm clothing and snow shoes during these months. The winters in this region are extremely cold. However, it is a fantastic time to snowboard, ski, and skate.
Seasonal Differences

Return Price Ranges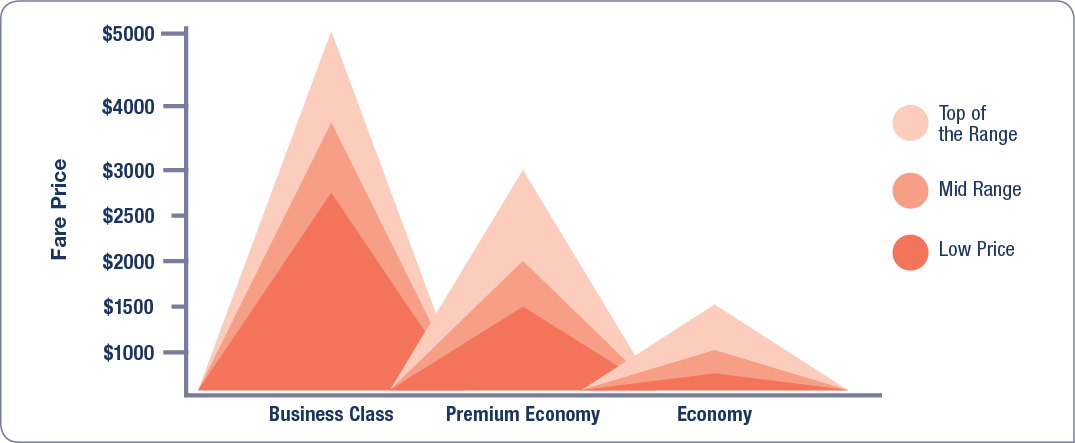 The ever popular North American cities are sure to capture the heart of travellers. Where you can take in the neon lights and iconic sights. Or for the adventurer check out the national parks with unique wildlife of the Canadian Rockies or the many US National Parks. Create everlasting experiences on your South American escape. Dance your night away in Rio or discovering Inca ruins. Explore the diversity of this continent with white-sand beaches, colonial towns to Amazonian rain-forests. These incredible destinations really do have an experience for everyone.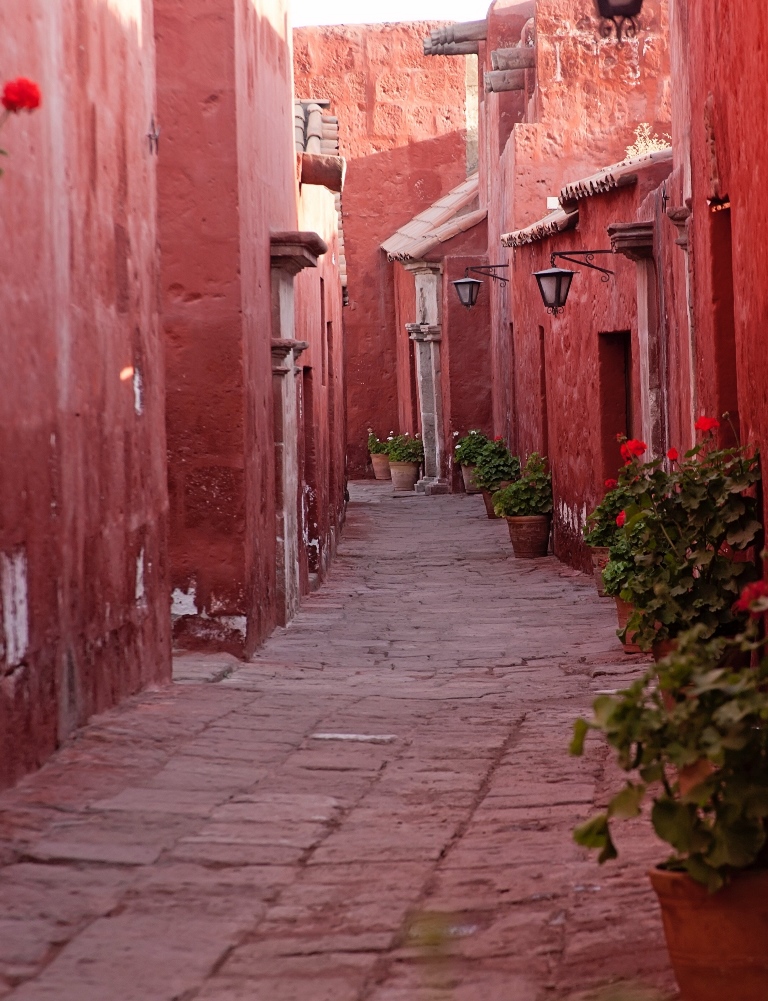 Expert Tips
Download a Currency Converter – North America & Canada
If you've never travelled to North America before, it's easy to forget that USD and CAD are not the same currency, and the exchange rate between each currency and others are very different. To keep track of your spending, it's also a good idea to download a currency converter app onto your phone. This way, you can check the price of items and activities before purchasing to check if they fit in your holiday budget, as well as working out how much you have to spend throughout your trip.
Brush up on your knowledge of tipping etiquette
This is essential. How much do you tip cab drivers? Or hotel doormen? Or your masseuse? Or the waiter? Tipping in the US and Canada is a minefield of potential errors and embarrassment, with local variations to add to the confusion – the only way through it is to do your
research beforehand. And if in doubt, ask someone for help.
Tips for surviving a long flight
• Power up. Make sure you have all your chargers with you so that you can keep all your gadgets powered up throughout your flight
• Wear comfortable clothes
• Don't forget your eye mask
• Bring earplugs
• Noise-cancelling headphones & soft music
Follow the Festivals
If you want to party while visiting South America, follow the continent's iconic festivals, many of which are known the world over. Brazil's Carnival, the largest in the world, is well worth planning a trip around thanks to week long parties, extravagant parades and lavish costumes.
Bring Snacks
Food is certainly not lacking in South America, but if you have a sensitive stomach, loading up on safe snacks before you depart from home is always a good idea. If street food makes you weary and you're on a budget, bring plenty of things to keep you fuelled between larger meals, especially if you're doing strenuous hiking, biking or climbing.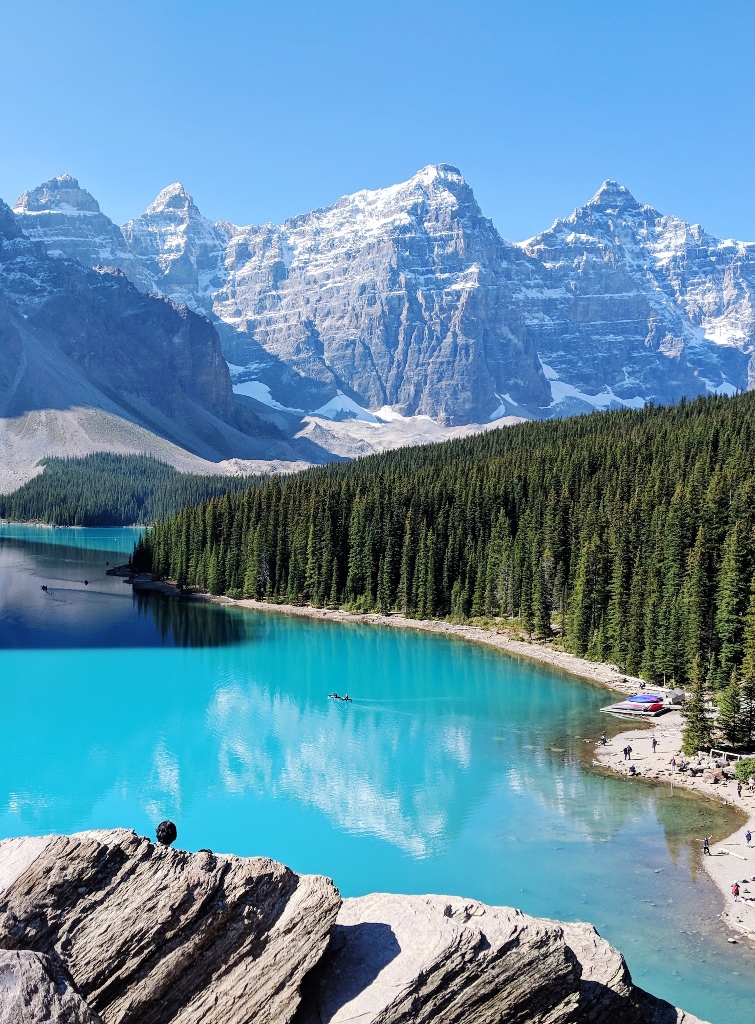 Best Time to Fly
North America & Canada
With huge landmass and diverse topography, the weather varies significantly across North America. In the northern US and Canada, the winters bring snow and frosty temperatures, in contrast to the southern states where the winters are milder and the summers are warm and lovely.
Spring • Mar–May
Spring could just be the perfect time to visit North America. After the winter thaw, the greenery and parks start to fill with people,
plants and animals again. The weather is warm and lovely at this time of year. If you're in the States and Canada, don't miss
the epic celebrations for St Patrick's Day – particularly in Chicago and New York.
Summer • Jun–Aug
Like most destinations, summer is high season in many of the US holiday destinations. Canada is a popular skiing destination, many
of the resorts have lower room rates in summer, so if you feel like getting adventurous on the cheap, Canada is a great place to check
out in the warmer months. That's if you don't get tempted by the American summer with all of its great beach weather on the West
Coast in Los Angeles. It's pretty hot and humid in Florida and the southern states at this time of year.
Autumn • Sep–Nov
With milder temperatures across most of the US, now is a good time to travel to the Grand Canyon, or witness the awesome sight of
Niagara Falls. Ever wanted to experience an American Halloween? Well, fall is the time of year to visit. It's quite a pretty time to visit
too with the leaves changing colour and dropping to the ground, particularly in the New England area and in Canada.
Winter • Dec–Feb
Across most of the US, the winters are cold with temps dropping well below zero with shorter days, heavy snowfall. With the
Christmas season, you can witness the famous Ball Drop in Times Square on New Year's Eve. It's also the time of year to head up
to Alaska to see the Northern Lights. The powder on Canadian mountains is a must when visiting during these months.
Seasonal Differences - North America & Canada
Return Price Ranges - North America & Canada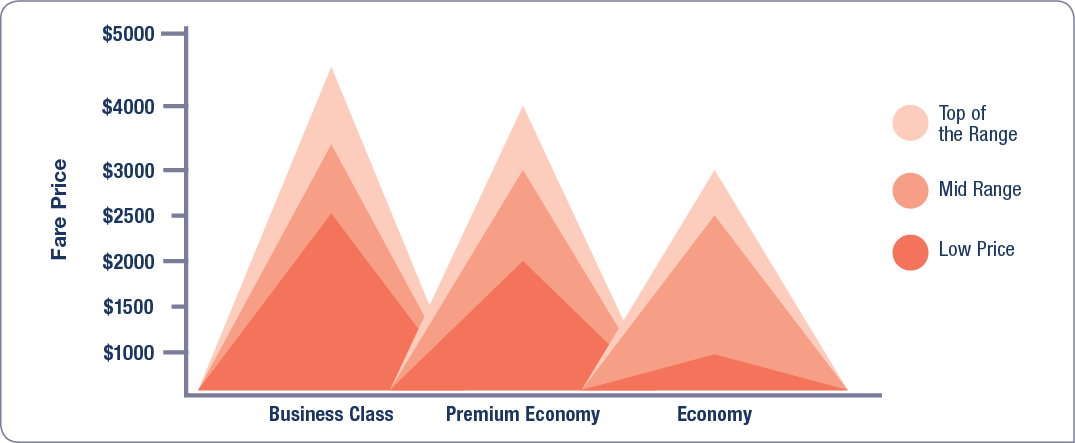 Seasonal Differences - South America

Return Price Ranges - South America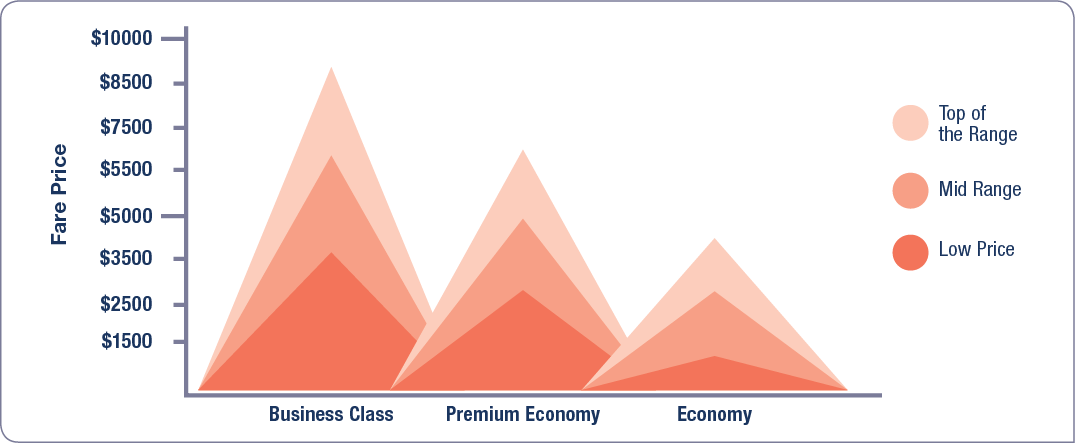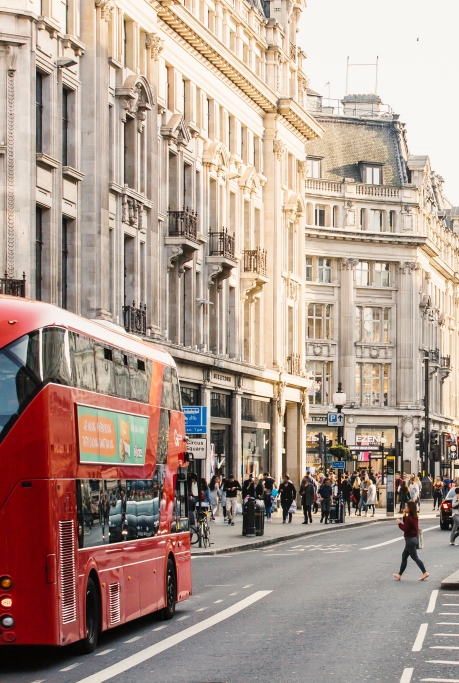 UK & Ireland
Britain and Ireland offer an abundance of experiences. With historic landmarks, cosmopolitan cities and rugged landscapes just waiting to be explored. Boasting vibrant, cultural and social scenes, the UK and Ireland is an exhilarating region.
Expert Tips
Seat Preference
Don't forget to pre-select your seat before you check in. Where you choose to sit will depend on personal preference. An aisle seat means you are uninhibited to get up and stretch or use the bathrooms, while a window seat provides fewer interruptions so sleeping is easier.
Avoiding Jetlag
Travelling to the other side of the world can bring on Jetlag, here are some tips to avoid. Travel as if you're in the time zone of your destination, drink plenty of water on the flight and rest as much as possible while flying. When booking try for a flight that arrives in the morning/daylight as it will be easier to adjust to your new time zone.
Travelling Around London
An Oyster Card will save you time and money when it comes to those pesky travel related costs that seem to gobble up cash. Grab an Oyster Card (which is FREE, with a small refundable deposit) from a Tube Station and preload a given amount onto the card.
Taste of Europe
Start your UK/Europe trip by flying into London, ride the London Eye, tour the Tower of London, ride the Underground, and even take the double-decker bus tour through the city. End your trip by travelling by Chunnel to Paris and spend as much time exploring this marvellous
city before departing back home.
Best Time to Fly
The United Kingdom can be visited at any time of year. Overall, spring (late March to early June) and autumn (September
to November) are the best times to visit, when it's usually warm and dry.
Spring • Mar–May
With the start of spring bringing the countryside into full bloom, there is so much to do in this part of the world making it a great time to
visit. It starts to warm, so is perfect for those wanting to discover the abundance of parks and gardens coming into their own or take in the English wines with a vineyard tasting.
Summer • Jun–Aug
Summer means lovely long days and to make the most of the warm weather. Spend days walking through the streets of London or partake with the locals in the Holi Rave or attend a music festival which are in full swing at this time of year. For the sports lovers head to Hambledon 'the cradle of cricket' and watch a game.
Autumn • Sep–Nov
As the leaves begin to change colours, admire these on a stroll through the English countryside, learn the art of whisky cocktails at an Edinburgh bar and cosy up in front of a roaring fire at a Welsh country house hotel. When it comes to events, autumn and winter pack in the
parties; join in British favourites from Halloween to Hogmanay.
Winter • Dec–Feb
If you visit at any other time of the year, you will find England's main sights packed full of fellow tourists, but in winter it's not uncommon to have a beautiful natural landmark to yourself. The same goes for visiting cities; less travellers visit England during the winter months, so galleries and museums are likely to be less busy.
Seasonal Differences - UK & Ireland

Return Price Ranges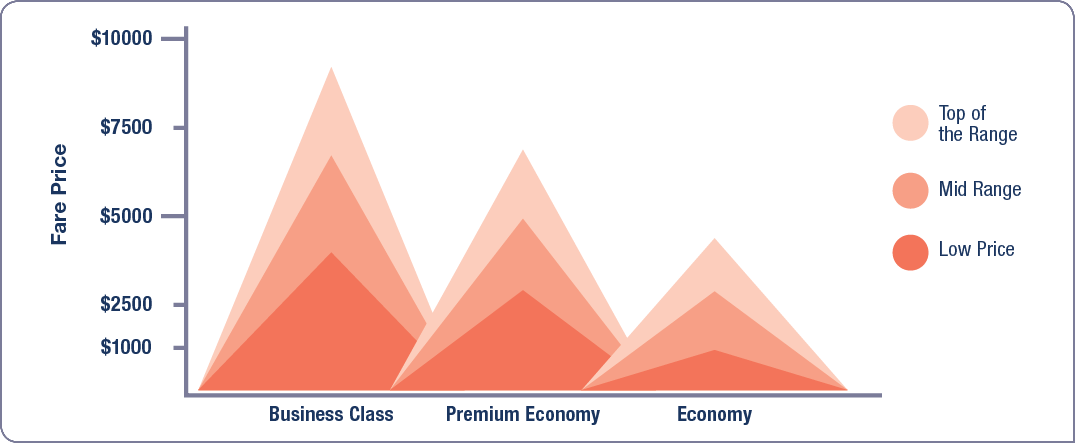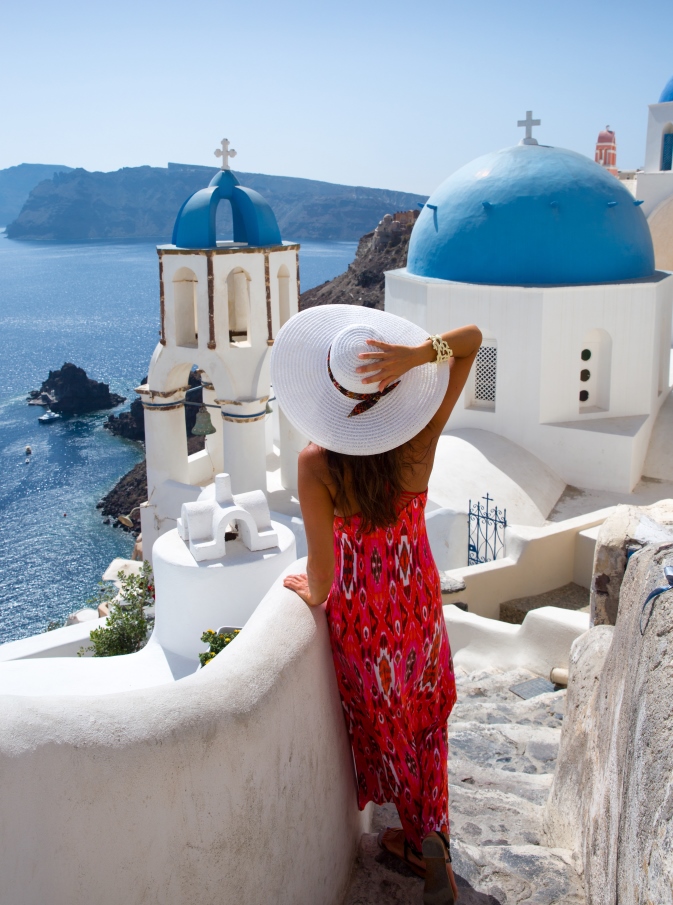 Europe
Europe is a whole world in itself. It's a mixture of ancient and new, where edgy underground music blends with historical, cobblestoned walkways. Explore Europe for its metropolitan shopping, beach-side bungalows on the Mediterranean, night life and coffee shops, canals and bike paths. A ange of things to do is all within arm's reach, wherever you land in Europe.
Expert Tips
Book Flights Ahead of Time
Before planning your European adventure, figuring out how to actually get there from New Zealand should be a top priority. Long haul flights can be tiresome, so you will want to make the experience as quick and comfortable as possible. If you book your flight at the last minute, you might be forced to take
an unnecessarily long route to Europe with long stopovers in foreign airports.
Travel with a Tour
There's no question that Europe is an amazing place to visit. With Europe being multi-lingual, it can present many logistical challenges for inexperienced travellers. Think about booking your holiday with a tour company. With accommodation, travel and sightseeing logistics taken care of, you will be able to relax and travel Europe without the stress of having to organise everything yourself.
Travel at a Steady Pace
With so many sights to see and landmarks to visit, it can be tempting to race your way across Europe at a frantic pace. However, taking the time to properly
explore each of your destinations presents the opportunity to really immerse yourself in the diverse culture of Europe's many different countries. Staying
at least two nights in every town along your journey will allow you to explore at a leisurely pace.
Avoid Currency Confusion
In the European Union alone, there are eleven different currencies, and travelling from one country to the next can get a little confusing when it comes to keeping
track of your money. To avoid currency confusion, consider signing up for a travel card. Prepaid travel cards can be used all over the world without incurring
fees when you make purchases or withdraw money, and you can put as much money on it as you want.
Visa-free Access for New Zealand Visitors to Europe
New Zealand passport holders are able to spend up to three months visa-free in most European countries, and up to six months visa-free in the United Kingdom.
The only European countries that require New Zealand passport holders to have a visa for a stay of less than three months are Belarus, Moldova, Russia and Ukraine.
Best Time to Fly
Generally, ideal times to visit Europe are May, June and September, when prices are reasonable. Crowds are then smaller; the weather is typically agreeable during those months as well. Top Tip! As a general rule of thumb, summer in Europe equals perfect weather. But it also means lots of crowds (meaning long lines) and an exodus of locals. In terms of budget, it has high accommodation prices. Winter means freezing temperatures and short days. Spring and autumn are probably the best times to travel. Enjoy fewer crowds and better prices as the weather isn't too hot or cold. Just right for a holiday of exploring!
Spring • Mar–May
Spring is often considered the most beautiful season as it is when the plants and flowers start to bloom after losing their leaves during winter. landscapes are transformed by the vivid green and splashes of colour they produce. Across Europe it will be warming up, allowing travellers to go sightseeing, hiking and exploring Europe's natural beauty without being too hot or cold.
Summer • Jun–Aug
If you are looking for sunshine and beaches then a trip to Europe during the summer is ideal. Down south travellers can look forward to relaxing on golden beaches, jumping into the warm Adriatic Sea and soaking up the glorious sunshine. Summer presents endless opportunities for fun in the great outdoors.
Autumn • Sep–Nov
As the leaves start to turn beautiful shades of red and orange, the heat from summer begins to dissipate and holidays in Europe take on a whole new meaning. Autumn is ideal for wandering through cities, checking out fascinating architecture and, if necessary, popping into a museum or cafe to warm up.
Winter • Dec–Feb
Winter is all about one thing in Europe: snow. People flock to the mountains from all over the world, equipped with a set of skis or a snowboard. Yet there is more to winter than just snow-based sports. When it comes to both beauty and adventures, there's no doubt that northern Europe steals the limelight, offering unique opportunities such as experiencing the magic of Lapland, exploring glaciers in Norway and seeking out the Northern Lights in Iceland.
Seasonal Differences
Return Price Ranges

Africa is a stunningly diverse continent of 54 countries, spanning a landscape of unforgettable sweeping grandeur and delight. There is so much to see and do it's
hard to know where to start. With such a wide range of African tours on offer, the entire continent is practically at your fingertips – be bewitched by flocks of fluttering flamingos, but watch out for the infamous black mamba!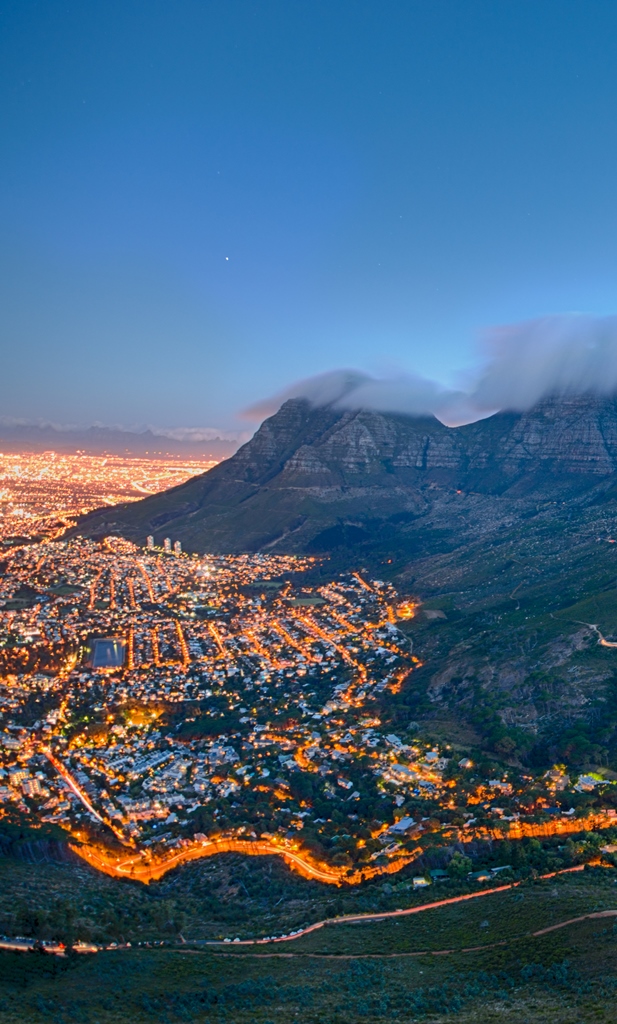 Expert Tips
Triple Check Your Visa Requirements
New Zealand passport holders require a visa to enter South Africa. Applications must be made in person at one of two South Africa Visa Application Centres located in Wellington and Auckland. All applicants over 18 years of age need to attend the interview. Parents can sign for and represent children under 18.
Clothes & Other Wearables
Dull and faded clothes are mostly preferred when you are out exploring wild Africa. The national parks of South Africa are known to have plenty of wildlife in their vast jungles. When you are walking into the kingdom of animals you must be dressed as they prefer. Animals get turned off by flashy clothes. Therefore, it's advised to wear modest clothes faded in appearance. Off-white and khakis are mostly preferred. Carry a hat, sunscreen lotion, sunglasses, and insect repelling creams when you go on a jungle safari.
Taxis
Try to use only metered taxis or alternatively download the Uber app before you go. Taxis are very cheap so if you are in a restaurant or hotel, ask them to order one for you to ensure no price issues. If you get into a taxi without a meter, make sure to agree a set price before you go. Haggling is expected and don't be afraid to walk away!
Weather at Night
South Africa is cold at night in June and July. To make sure you're warm; take flannel pyjamas and socks for sleeping. Most hotels, even the expensive international ones, do not have central heating (just a window unit), single pane glass, and poor insulation.
Tipping
Customary tipping in restaurants is 10 percent. Of course you can pay more, but it is good to know what the expectation is.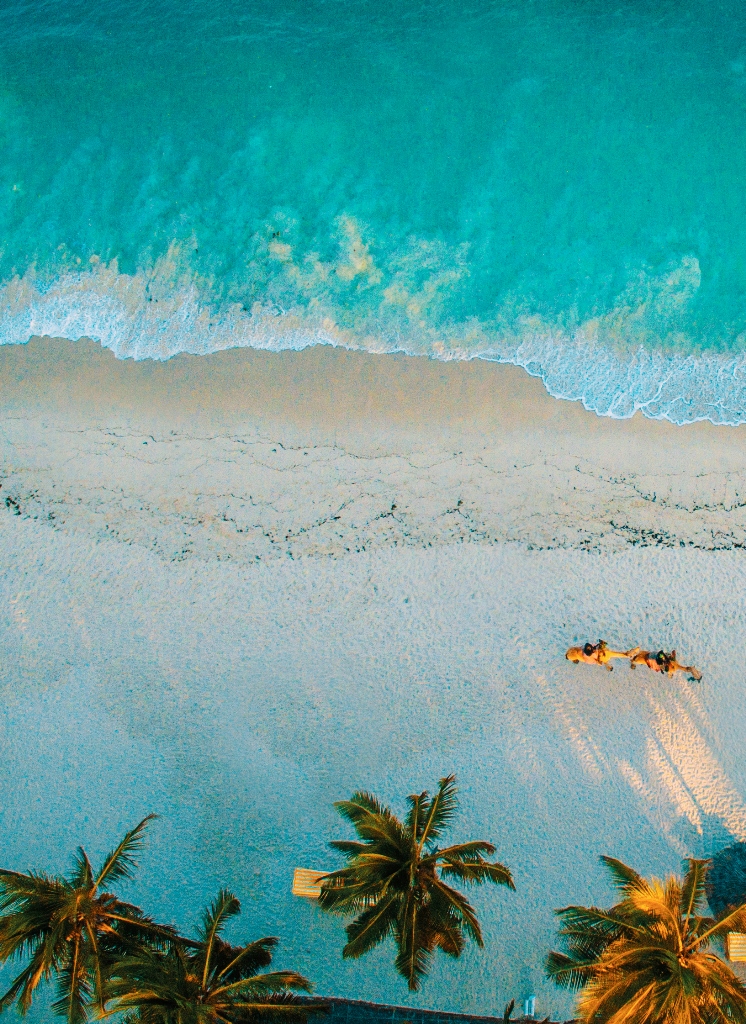 Best Time to Fly
Flying to South Africa in October is usually considered the best time to fly. However, you will find other deals are always available year round. January tends to be the warmest period in South Africa so if you are looking for sun or warmer climates then look to fly around this time.
Autumn • Mar–May
The summer months can sometimes blur the start of autumn due to the residual pleasant sunny weather. Autumn is considered one of the best times to visit Johannesburg due to the mild climate and is optimal for sightseeing with fewer crowds. Autumn is the perfect time to hit the road on two wheels. Head off on a cycling tour to the nearby township of Soweto, a must-see for those seeking an understanding of the struggles for freedom.
Winter • Jun–Aug
Winter in Johannesburg remains mild, dry and warm with clear skies; temperatures can still reach up to a comfortable 25 degrees Celsius during the day. Nights can be chilly to even freezing due to the altitude, so ensure you pack some warm clothing. With fewer events and festivals on during these cooler months, spend extra time exploring the city's museums.
Spring • Sep–Nov
Spring is an ideal time to visit Johannesburg with warm weather, blue skies and just the occasional unexpected downpour. It's also when the plains are carpeted with wildflowers in a stunning array of colours making it a popular time for travellers. And the best way to see it all is from the sky on a hot air balloon safari. Soar high above the city and enjoy the views over the Cradle of Humankind or drift above the Magaliesberg Range, the second oldest mountain range in the world.
Summer • Dec–Feb
The long summer season is characterised by warm, sunny days and balmy nights. Unexpected showers or thunderstorms are common during summer afternoons but pass over quickly to revert back to warm weather with daily temps of up to 28 degrees Celsius. From bar crawls along Melville's lively Seventh Street and hip, artsy markets in Braamfontein, to picnics in Walter Sisulu National Botanical Gardens, you'll be spoiled for choice in summer!
Seasonal Differences

Return Price Ranges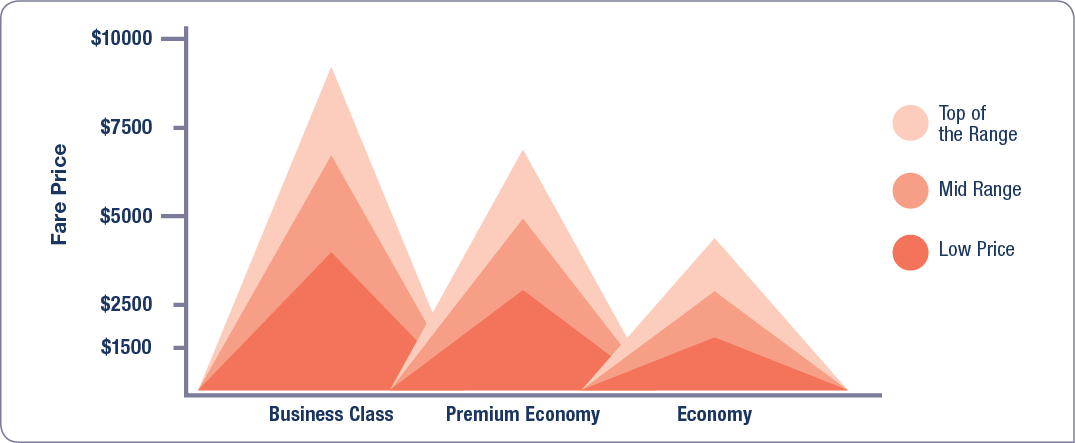 All information on this page are to be used as a guide only. For full details, read the magazine here