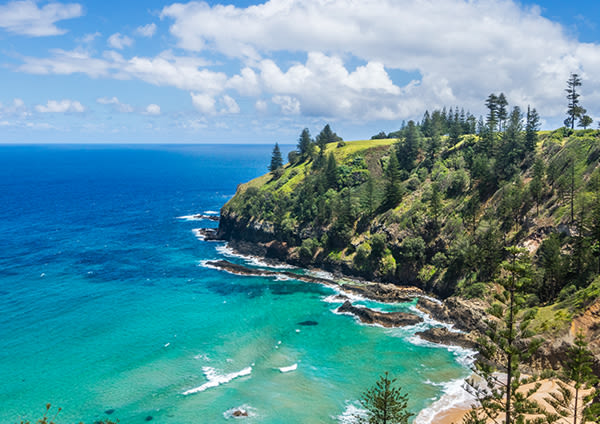 Norfolk
Island
Holiday
Deals
A two-hour flight east of Australia will have you landing in the small coastal paradise of Norfolk Island. Nestled amongst the blue waters of the South Pacific lies a majestic island sprinkled with towering pines, high rising cliffs, lush green rainforests and clear, turquoise water beckoning snorkellers and swimmers alike. What the island lacks in size, it makes up for in natural beauty and history, offering travellers the chance to explore colonial architecture and meander through the scenic town centre. Norfolk Island National Park serves as a bespoke sanctuary for threatened species and is the perfect place to get up close and personal with unique flora and fauna. Then, after a day spent soaking up the sun and exploring mother nature's handiwork, travellers can look forward to the loving embrace of a cosy bed and breakfast, all-inclusive stays, garden apartments and luxury cottages.
A Norfolk Island holiday is just what the doctor ordered. Book yours, stat.
A Travel Expert Service Fee will be applied to bookings made in store, over the phone or via email.
Deals with your name on them...
Explore holidays by interest
Frequently asked questions
What to take on holiday to Norfolk Island?
The four S's - swimmers, sunnies, sandals & sunscreen. With rainforests to explore & crystal clear water to snorkel - you'll need to pack for any adventure!
---
Where to go on holiday in Norfolk Island?
Most accommodation options will be in Burnt Pine, Kingston or Cascade but the best part about Norfolk Island? Everything is just a short drive away!
---
How do I go about cancelling my Norfolk Island holiday package?
---
When is the best time to visit Norfolk Island?
Pack your bags for Summer - the perfect mix of weather, less rainfall & ideal swimming weather for those turqoise waters!
---
What is there to do in Norfolk Island?
Grab your hire car, wind the windows down & drive around the natural beauty & architecture - there's something unique everywhere you look!
---
How to find the best holiday package to Norfolk Island?
We've got that covered too! Sign up to get the hottest deals sent straight to your phone & emails here. You can also check out our deals online, or speak to one of our Travel Experts.
---
...loading
Popular holiday destinations