Specialist travel consultants
Flight Centre Business Travel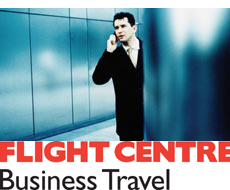 Get the best deals when travelling for business
Flight Centre Business Travel (FCBT) offers discounted travel for your business.
Talk to us to find the best deals for business travel both in the air and on the ground, from cheap business flights to quality hotel accommodation at affordable prices. Flight Centre Business Travel can save you both time and money on your business travel.
For all your Business Travel enquiries contact a Specialist Consultant on
0800 83 80 10 or visit www.fcbt.co.nz.
Business Travel Bookings - Save Time & Money
Flight Centre Business Travel can help you cut excessive spend on business travel, without compromising your business travel needs. And because time equals money, we can save you both by taking care of your travel arrangements.
Business travel co-pilot
Your Flight Centre Business Travel consultant will be like your very own co-pilot to your companies travel arrangements. They'll offer a personalised service which is efficient, hassle free and completely in touch with your business needs and arrangements.
Our travel services
By servicing your business travel needs through Flight Centre Business Travel, you will benefit from the buying power within Flight Centre Limited and all the great discounts and competitive rates which that entails. When you book with us, we'll make sure we source the most competitive daily rates available.
Visit us now to see how we can help your business save time and money on business travel -
www.fcbt.co.nz
.