Your guide to cruising
Cruise destinations - Canada and Alaska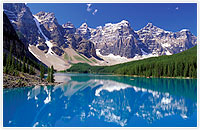 For some of the world's most spectacular natural scenery, you can't beat a cruise to the wilds of Canada and Alaska.
See brown bears, whales, snow-capped ranges and icebergs from your cabin window.
Tips for cruising in Canada and Alaska
To balcony or not? - Although you can save money by booking a cabin without a balcony or windows, in Alaska, you may regret it. Large vessels are built with hundreds of balcony cabins that give you anytime access to a whale sighting or a sudden calving glacier. And remember, sunsets are late during summer in Alaska, so
you can still admire a beautiful lingering scene from your private balcony long past 9pm.
Which side? - If you're planning a one-way trip, the side of the ship your cabin is on could affect your view. Cruising northbound from Vancouver to Seward, book a starboard side cabin or you'll miss views of lush British Columbia. However, if you're planning a round-trip cruise or are sailing on a small ship, sides won't really matter.
Canada and Alaska cruise holiday deals