Your guide to cruising
Cruise destinations - the Mediterranean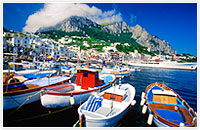 A cruise in the Mediterranean assures you of a holiday that combines history, culture and beauty like nowhere else. The Mediterranean offers many destination options for cruise - venture from the sparkling isles of Greece to the vibrant cities of Spain.

Tips for cruising in the Mediterranean
Dress conservatively - When in port, particularly in Islamic countries, remember to cover up and dress conservatively. Forget shorts and tank tops and instead wear cotton polo shirts or shirts with long pants. This will show respect for the country's values and culture.
Personalise your cruise by pre-booking onshore excursions - With so much to see and do ashore, selecting and pre-booking your shore excursions will personalise your cruise holiday before you leave home, allowing you to relax and simply cruise through your holiday.
Pack in some tissues - Don't be caught out when you discover most Mediterranean restrooms ashore don't provide toilet paper.
Carry small bottles of hand sanitiser - Onboard and ashore, these are a great substitute to wash your hands when you can't get to a sink.
When exploring desert landscapes, make sure you carry water - From atop a camel exploring pyramids, or on foot hiking through desert ruins in the afternoon sun, drinking on the move is the best way to avoid dehydration - make sure you pack in plenty of bottled water.
Explore the ancient souks of Tunis - Little has changed in the past 500 years, with narrow passageways leading to mosques, fragrant courtyards and souks, full of antiques and distinctive Arabian handicrafts.
Mediterranean cruise holiday deals