Your guide to cruising
Cruise destinations - The Pacific Ocean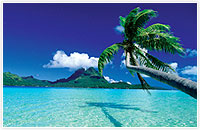 Hidden bays, turquoise lagoons, exciting cities, brilliant white beaches... the eastern seaboard of Australia has some of the world's most envied cruise destinations, all the way from Sydney to Hawai'i.
Tips for cruising in the South Pacific
Shore time - Spend as much time ashore or on the water as possible. The real fun of cruising the South Pacific is out there on the islands and the beautiful lagoons surrounding them. Rent a dugout canoe or kayak, paddle the lagoon, snorkel and enjoy an intimate picnic for two on a small island.
Peer into an active volcano - For an unforgettable adventure on Vanuatu visit the still-active Yasur volcano. Look down into the dark central crater where three vents take it in turns to spit a fountain of fiery magma rock and smoke into the air. The ground trembles as whiffs of sulphur rise upward to smother plant life around the crater.
Explore Vanuatu's islands - Take a canoe trip to one of Vanuatu's inshore islands and spend the day enjoying a picnic beside a cascading waterfall, before cooling off in a freshwater pool. Or take a gentle climb to the top of Klems Hill to admire the superb view over Mele Bay and Hideaway Island.
Hiking in Tahiti - By day, climb the gentle slopes of Mount Aorai, near Pape'ete in Tahiti, for great views of the island. In the evening, experience local culture with a Polynesian dance and music shows.
Visit Le Marche - Located about two blocks from the port, Le Marche is a Tahitian city market that offers all kinds of wonderful foods, handicrafts, as well as beautiful floral arrangements. Pick up a bouquet of gorgeous tropical flowers for your Stateroom!
Enjoy life in New Caledonia - Or, 'joie de vivre!' as they say in Grande Terre, a lively town that successfully evokes the spirit of the French Riviera. Stroll past chic boutiques, sidewalk cafes, tree-lined squares and colonial architecture, and sample the magnifique French cuisine, all of which add to New Caledonia's refined French ambiance.
Mellow out in Fiji - Take a day cruise around the Mamanuca Islands, a group of small islands just off the coast of Nadi. Visit an uninhabited coral island, go snorkelling in the warm, crystal clear waters, then enjoy a private picnic on the beach.
South Pacific cruise holiday deals