Your guide to cruising
Packing for your cruise
Packing tips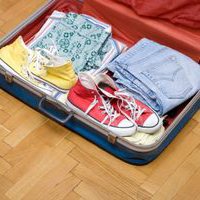 Below is a list of tips to help you fit more into your suitcase, and your cruise:
Use zip-lock bags: large ones for sweaters and shirts; medium for underwear; small ones for socks and pantyhose; snack size for jewellery, labelled for each evening outfit

Squeeze out the air in each bag to make more space

Pack light to ensure you have space for souvenirs: The golden rule is half the clothes means bring twice the spending money!
What to take?
The following are some items we recommend to take on your cruise:
Comfortable walking shoes: as you'll be stepping off the ship to explore many exciting destinations, as well as walking around onboard!

At least one set of 'good' clothes: most cruises of five days or more include a formal night

A power point adaptor: to make sure you can plug in and recharge your appliances such as cameras, shavers, phones etc.

A multiple-point electricity board: just in case your room has only one or two outlets as you'll need it for recharging cameras, shavers, phones etc

A business-sized envelope to hold notes, ticket stubs, coins and brochures for each day of the cruise. When you get home you'll have a great 'holiday journal'
Ready to book, or want to find out more?
Contact your Flight Centre consultant for the best options for you.
Call us on 0800 24 35 44, visit a store near you, or email a specialist consultant using our online enquiry form.