Essential Jordan & Egypt - 14 Days
Petra - explore this spectacular UNESCO-listed Nabataean city, which is one of the New Seven Wonders of the World, Wadi Rum - explore this vast red desert with its rolling dunes and dramatic rock formations in a 4x4 and camp under a blanket of stars, Dead Sea - bob around like a cork in the famously buoyant, mineral-rich waters and smother yourself in Dead Sea mud, Mt Nebo - take in the incredible panoramic views across the Promised Land, Karak - roam around this imposing Crusader castle, perched dramatically on a hill top, Amman - visit the ancient hilltop citadel, the fascinating Archaeological Museum and bustling souqs, Madaba - wander around this Christian market town, home to Jordan's finest Byzantine mosaics, Cairo - marvel at the legendary Pyramids of Giza, explore the Necropolis of Saqqara and see King Tut's treasures at the Egyptian Museum, Aswan - visit the romantic Philae Temple and sail to Elephantine Island on board a traditional felucca, Kom Ombo - visit the Nile side Temple of Kom Ombo, Luxor - experience the beautifully illuminated Luxor Temple at night (optional) and roam around the colossal Temple of Karnak, Luxor's West Bank - discover exquisite tombs in the Valley of the Kings, the towering Colossi of Memnon and the beautiful Temple of Queen Hatshepsut
Destination: Jordan
Travel Dates: From 2019-10-20 to 2020-12-20
Duration: 14 days
Company: ON THE GO TOURS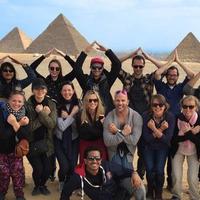 Call 0800 24 35 44 and
quote deal number 5257852
Inclusions
13 breakfasts and 1 dinner
5 nights 3 star hotels in Jordan and 7 nights 3-4 star hotels in Egypt
1 night - Wadi Rum desert camp
Flight from Amman to Cairo
Touring of Amman, Petra, Karak, Wadi Rum, Dead Sea, Mt Nebo, Cairo, Giza, Saqqara, Luxor, Aswan & Kom Ombo
4x4 desert safari across the sand dunes of Wadi Rum
Felucca excursion to Elephantine Island
Excursion to the Dead Sea
Escorted by a licensed Jordanian tour guide and an Egyptian tour guide degree qualified in Egyptology
English speaking specialist guides at some local sights
Airport arrival and departure transfers on day 1 and day 7 and day 14
All transfers and transportation in private modern air-conditioned vehicles
Ave group size: 16 persons
More Information
Day 1, Amman
Sunday. Welcome to Jordan. You'll be met at Queen Alia International Airport and transferred to our hotel in Amman. Welcome meeting at 6pm to meet your guide and the rest of your group.
No meals included.
Day 2, Optional Jerash & Ajloun
Spend today exploring the city of Amman at your leisure. Alternatively, join our optional excursion to Jerash, home to spectacular 2,000-year-old ruins, and the 12th century Ajloun Castle which commands stunning views of the Jordan Valley.
1 breakfast, no lunch, no dinner included.
Day 3, Amman City tour & Karak Castle
Amman - Karak - Petra. This morning we take a guided tour of Amman, with highlights including the Citadel and the National Archaeological Museum. We then visit the magnificent Crusader castle of Karak and marvel at its crumbling remains as we travel south to Petra.
1 breakfast, no lunch, no dinner included.
Day 4, Petra
We spend today exploring the remarkable Rose City of Petra. Dating back to the 6th century BC, Petra was once the thriving capital of the Nabatean empire before being lost to the world for hundreds of years and rediscovered in the 1800s. Recently voted one of the New Seven Wonders of the World, it's one of the world's most incredible archaeological sites. We access Petra by walking through a narrow gorge known as the Siq, where 200-metre-high rocks give way to reveal the spectacular façade of The Treasury. From here, the hidden valley widens to reveal the impressive Amphitheatre, tombs and temples that constitute the remains of this ancient city.

Following a fascinating guided tour, those feeling energetic can climb the hundreds of rock-cut steps to the Monastery, which offers incredible views over the surrounding landscape. Those staying on the ground can enjoy free time to explore and take more photographs.

This evening we have the opportunity to revisit Petra after dark on the optional Petra By Night excursion (payable locally). Walking back through the Siq, we see The Treasury's magnificent façade illuminated by thousands of candles.
1 breakfast, no lunch, no dinner included.
Day 5, Wadi Rum
Petra - Wadi Rum. Spend this morning enjoying some free time or revisit Petra on an optional hike. Entering via the Al Madras secret road, the route takes in views of The Treasury from above and visits the High Place of Sacrifice, which served as the venue for religious ceremonies.

This afternoon we drive to the vast desert landscape of the Wadi Rum. Boarding 4x4 vehicles we take an exhilarating ride past rolling red dunes and epic rock formations on the way to our desert camp. Once there, we enjoy a Jordanian dinner and some time around the campfire, before exchanging our ceiling of stars for a permanent tent to bed down for the night.
1 breakfast, no lunch, 1 dinner included.
Day 6, Dead Sea
Wadi Rum - Dead Sea - Mt Nebo - Madaba. This morning, early risers can enjoy a spectacular sunrise over the desert. Then after breakfast we travel north from Wadi Rum to reach the Dead Sea. At over 400 metres below sea level, this is the lowest point on Earth and its hypersaline waters are famous for their buoyancy. Here we spend a leisurely few hours floating about and smothering ourselves in some of the black Dead Sea mud, which is said to have curative properties.

Next we visit Mount Nebo, which offers views across the Jordan River Valley, the Dead Sea, Jericho and even as far as Bethlehem. It was from this site that Moses viewed the Promised Land and Mount Nebo is one of the country's most revered holy sites. We spend our final night in Jordan in Madaba. This ancient market town is famed for its beautiful Byzantine-era mosaics, the most impressive of which is found in St George's Church and is the oldest known map of the Holy Land.
1 breakfast, no lunch, no dinner included.
Day 7, Cairo
Amman - Cairo. Today marks the end of the Jordanian section of our tour and the beginning of our Egyptian Adventure. Included transfer to Amman's Queen Ali Airport for your included flight to Egypt. Once at Cairo International Airport, you'll be met by our team and transferred to our hotel.
1 breakfast, no lunch, no dinner included.
Day 8, Pyramids of Giza
This morning we travel to the Giza Plateau to see the only survivors of the Ancient Seven Wonders of the World. Built over 4,500 years ago, the Pyramids of Giza were designed to protect the mummies of pharaohs and the treasures they took with them to the afterlife. Of the three pyramids known as Cheops, Chephren and Mycerinus, Cheops is the largest and was constructed from over 2.5 million limestone blocks. There is also the option of hiring a camel for a ride across the sands of Giza.

Our next stop is the necropolis of Saqqara, where we'll explore Zhoser's famous step pyramid. Rising to a height of 65 metres, this pyramid was an architectural marvel of its time and was constructed by the pharaoh's chief architect Imhotep. We complete our day souvenir shopping at the bustling Khan el-Khalili bazaar.
1 breakfast, no lunch, no dinner included.
Day 9, Luxor
Cairo - Luxor. We spend this morning exploring the famous Egyptian Museum, which contains one of the world's most important collections of ancient artefacts. Amongst the fascinating Egyptian relics, we see the treasures of King Tutankhamun, including his famous solid gold funerary mask.

We then board our coach this afternoon for the 9 hour journey south to Luxor. Our hotel for the night is located by the River Nile.
1 breakfast, no lunch, no dinner included.
Day 10, Luxor
Luxor - Aswan. We venture to Luxor's West Bank this morning to explore the elaborate tombs of the Valley of the Kings. We're greeted by the towering Colossi of Memnon, a pair of 18-metre high statues of Pharaoh Amenhotep III, before heading to the beautiful Temple of Queen Hatshepsut. This memorial temple is one of ancient Egypt's greatest architectural achievements, featuring a series of terraces rising out of the desert plain and surrounded by imposing limestone cliffs.

Our afternoon sees us travel south to Aswan, where we enjoy a leisurely evening and stroll along the picturesque banks of the River Nile.
1 breakfast, no lunch, no dinner included.
Day 11, Abu Simbel
Today we have the option of an excursion to the temple of Abu Simbel, where four giant statues of King Ramses II look out across Lake Nasser. We then take a short boat ride out to Agilika Island for a guided tour of the beautiful Philae Temple. Dating back to the 4th century BC, this is the last classical Egyptian style temple and is dedicated to the goddess Isis. Upon returning to Aswan we visit a perfume oil emporium.

The rest of the day is free to either go shopping in Aswan's colourful souks or relax by the hotel pool, followed by watching a beautiful sunset over the Nile.
1 breakfast, no lunch, no dinner included.
Day 12, Felucca Cruise
Today we board an Egyptian felucca for a relaxed sailing trip along the River Nile. These traditional boats have plied the Nile since ancient times and, alongside watching life on the riverbanks, we stop to explore Elephantine Island. The Island is so-named as its rocks form the shape of an elephant's back. Here we explore a colourful Nubian Village and you can opt to see an ancient Nilometer, which measures the depth of this great river. Remainder of the day at your leisure.
1 breakfast, no lunch, no dinner included.
Day 13, Kom Ombo & Luxor Temple
Aswan - Kom Ombo - Luxor. We say goodbye to Aswan and journey back to Luxor. En route we stop to visit the remarkable riverside temple of Kom Ombo, built to honour the crocodile-headed god Sobek. This evening we have an optional excursion to Luxor Temple, which is at its most spectacular after dark when it's lit up with hundreds of lights.
1 breakfast, no lunch, no dinner included.
Day 14, Luxor
Our final destination this morning is the vast temple of Karnak, where we enjoy a guided tour of this incredible religious complex. Dedicated to the Theban gods, this was an important pilgrimage site in Egypt and its oldest buildings date back over four millennia.

Our Egyptian escapade ends with an included transfer to Luxor Airport. Time your flight to depart after 2pm in order to allow enough time to explore the temple of Karnak. Or, alternatively, we can arrange post-tour accommodation in Luxor upon request if you'd like to extend your stay.
1 breakfast, no lunch, no dinner included.
Terms and conditions
The following product terms and conditions apply in addition to our Booking Terms and Conditions (available on our website) and terms and conditions of the relevant travel service provider.
Prices quoted valid for sale until 28 September 2019 for travel during the period specified (if applicable) unless otherwise stated or sold out prior.
All prices are per person (unless otherwise stated), subject to availability and may be withdrawn or varied without notice. Accommodation (if included) is based on twin share unless otherwise stated.
Advertised price includes bonus nights and/or stated saving (if applicable).
Additional supplier conditions and travel restrictions may apply. Please enquire for further details.
Airfare (including internal flights) is not included unless otherwise stated and, if included, is economy class unless otherwise stated.
Components of the total price including local payments, "resort fees", "national park fees", "trip kitties" and food funds (if applicable) may be payable direct to the supplier on arrival or to your travel consultant prior to your departure. Where applicable, these payments are included in the total price quoted.
Gratuities are not included unless otherwise stated.
Prices shown are fully inclusive of taxes, levies and government charges current at the time of publication.
Additional levies, government charges & other applicable fees, including additional taxes, surcharges and visa fees specific to your departure date or flight routing, may apply and are beyond our control.
Seasonal surcharges and blackout dates may apply depending on date of travel.
Prices shown are for payments made by cash in store or by BPAY.
Payments made in store by credit card will incur a surcharge (see Booking Terms and Conditions for further details).
These prices are a guide to the best price and are subject to change without notice, due to matters outside our control, such as adverse currency fluctuations, fuel surcharges, taxes and airfare increases. Please enquire for further details..
Call

0800 24 35 44

or email a Travel Expert to find out more