Tue, 04/10/2016 - 5:21pm
For many visitors, Cambodia means Angkor Wat, the vast and wondrous temple complex that is widely considered one of the world's greatest travel destinations. But there's so much more to discover in this vibrant, affordable and largely undiscovered country, as Emma Johnson explains.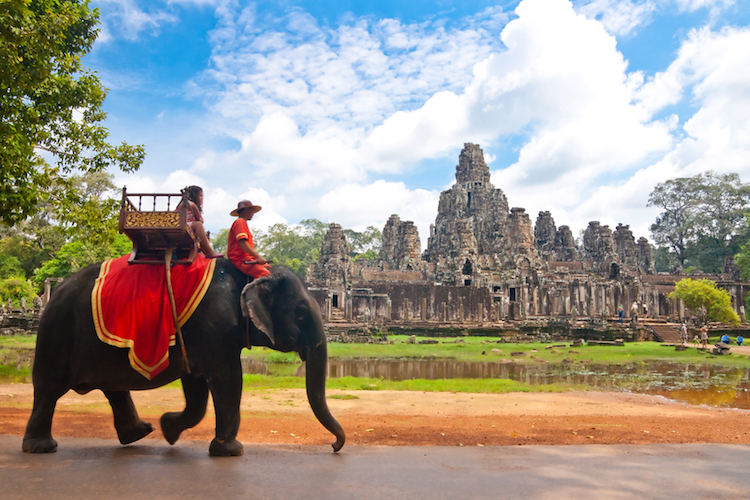 The Bayon temple, Angkor Wat. Photo: iStock
Angkor Wat
Angkor Wat is undoubtedly one of the most extraordinary archaeological sites in the world, where aesthetic splendour meets awe-inspiring spirituality. You can easily spend two or three days exploring this medieval centre in the middle of the jungle, in which close to a million people once lived under the mighty Khmer empire.
The most intact temples attract throngs of tourists, but for good reason. One of the most impressive – and popular – is the Bayon temple, located inside the walled city of Angkor Tom. It features around 200 huge stone faces perched above bas-relief sculptures depicting everyday scenes of ancient Cambodian life. The atmospheric Ta Prohm temple, meanwhile, is almost as famous for its appearance in the movie Tomb Raider as for the large tree roots slowly claiming the old temple stones.
Five iconic carved towers rise above Angkor Wat temple, both the heart of the site and the largest religious building on earth. Wander the incredible stone galleries, where stories and characters from Hindu mythology are carved onto every available surface. It's at its most beautiful at sunrise, when soft hues warm the towers and reflect off the pink-lilied ponds. This is an experience you'll remember all your life – but even at dawn, you shouldn't expect to be alone!
Beyond the main temple complex there are a number of other historic sights worth a half-day trip. Among the most fascinating is the compact Banteay Srei temple, where exceptionally well-preserved carvings in pink sandstone are concrete proof of the lost city's creative skills.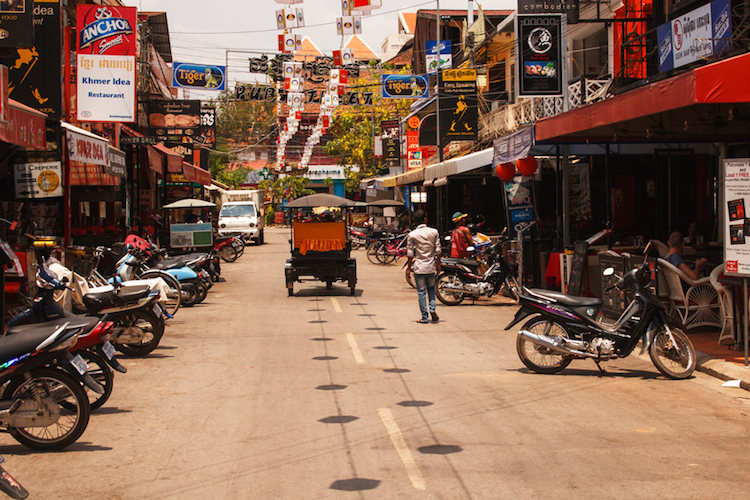 Pub Street, Siem Reap. Photo: iStock
Siem Reap
Siem Reap is far more than just a base camp for Angkor Wat; these days it's a unique and stylish destination in its own right. The city's bars, restaurants, markets and boutiques give the city a buzzy vibe, yet somehow the many visitor attractions hardly detract from its colonial character and Old World charm.
Beyond the tourist hotspots, you'll find some quieter diversions – like the excellent Angkor National Museum, where the ancient Khmer civilisation is brought to life through statues, images and artefacts. Stop in here before or after visiting Angkor Wat for a fuller understanding of the site's fascinating history. For souvenirs, silks and silverware, plus assorted locally-made bargains, head to Psar Chaa market, where you can also refuel at one of the many family-owned stalls specialising in cheap Khmer eats. Pull up a stool and tuck into classic Khmer dishes like amok trey, fish steamed with coconut milk and crushed peanuts, and num banh chok, noodles with a fish-based green curry sauce.
If you're looking for a break from bustling city life, take a tour to one of the floating and stilted villages at Tonle Sap lake. Located on the far side of the lake, the authentic and untouristy Kompong Khleang village is generally agreed to be the best of the bunch. It's a longer drive from Siem Reap than the other floating villages, but worth the trip.
Monks ascend the stairs at Wat Phnom, a major temple in Phnom Penh. Photo: iStock
Phnom Penh
From lavish palaces to hip technology startups, Cambodia's steamy riverside capital encapsulates the nation's diverse history. Striking Khmer architecture looms in the background, while a buzzing nightlife scene brings people out onto rooftop bars across the city at sunset.
The country's sobering recent past is hauntingly captured at the S21 Tuol Sleng Museum of Genocide. This former school was transformed into a centre of detention and torture during the Pol Pot regime and is a disturbing but necessary place to visit to understand what happened. The many faces of those who were housed here stare out from a multitude of black and white photos on the walls.
The glittering Royal Palace, still in use by the royal family, and the opulent Silver Pagoda (complete with five tonnes of silver) are well worth a visit after a stroll by the river. For a taste of French colonial chic and a view from above, have a cocktail at the Foreign Correspondents Club, a legendary drinking den that came to fame in the early 90s as a hangout for diplomats and war reporters. Phnom Penh is also a good place to catch an apsara dance performance, where the traditional poses depicted on the walls of temples are brought to exquisite life.
Battambang
With little in the way of major sights, Cambodia's second city is often overlooked – a shame, as it's a wonderful place to spend a few relaxing days. Here you'll find beautiful temples, a creative culture and some of the country's finest cuisine, dished up at market stalls, French restaurants and local eateries. Jaan Bai restaurant is known for its shared plates and is a great place to try a variety of local dishes, like morning glory and mushroom-aubergine dumplings. Since you won't be rushing from one attraction to the next, Battambang is an ideal place to spend a half day learning to cook Cambodian.
Battambang is ringed by rice fields and peaceful villages exuding rural charm; hire a bike in town and head out along well-marked tracks through the lush countryside. Other recommended day trips include the famously quirky Bamboo Train and the Phnom Sampeu caves, where at sunset you can watch thousands of bats leave in search of dinner.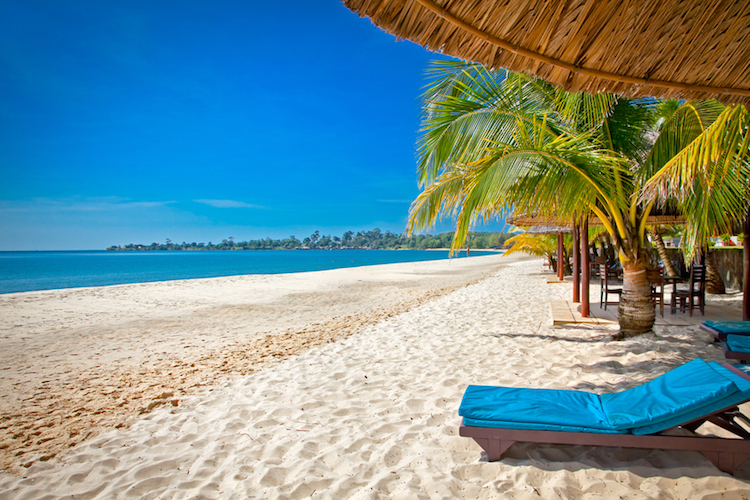 Sokha Beach, Sihanoukville. Photo: iStock
Southern Cambodia
Cambodia's southern region is all about diverse scenery and getting away from it all. Sihanoukville is known for its stunning beaches and gorgeous offshore islands; accommodation options here run from tiny dirt-cheap shacks to stylish boutique hotels. For a taste of life on the mighty Praek Tuek Chhu river, head upstream to Kampot, a former Chinese trading port famous these days as Cambodia's pepper capital. The best way to try Kampot pepper is with crab from the seaside town of Kep, where rows of crab shacks serve up plates of deliciously messy crustaceans doused in Kampot green pepper sauce – delicious!!
Other Travel Articles You Might Like...