Tue, 15/04/2014 - 7:15pm
Discover the mysteries of the Orient and the spectacles of modern innovation on a China holiday, as Alicia Warner from Flight Centre Whangarei recounts.
The winding alleyways of Shanghai's Old Town are lined with shops, teahouses and restaurants, leading to the elegant and tranquil Yu Garden. The Old Town is a fantastic area in the middle of this vast city, where visitors can find amazing architecture dating back over a hundred years, as well as great food and bargain shopping.
The old meets the modern in the Bund, a popular promenade along the Huangpu River. It's likely you'll see local people gathering to dance or perform Tai Chi. You can see a different side of the Bund in the evening when the area is illuminated with city lights on the 1 hour Huangpu River Cruise.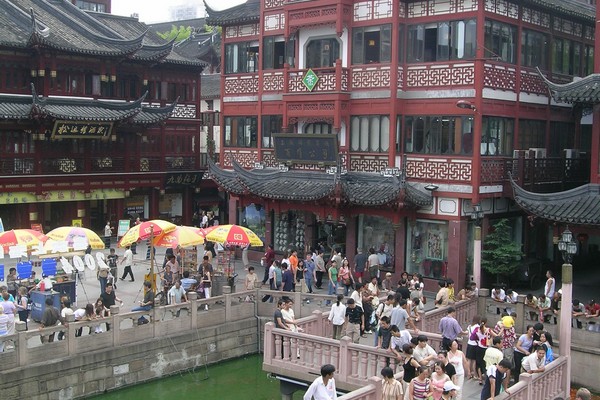 Moving on to Suzhou in the south of China, we enjoyed the change of pace in this small town famous for its classic gardens. It's often referred to as the 'Oriental Venice' due to it being an ancient town built centuries ago along canals. Make sure to take a boat cruise up the canal, constructed over 1,000 years ago in the Sui Dynasty, to see how the locals live.
Next we stepped aboard the high-speed train to Beijing (about 5 hours). This train is the best thing since sliced bread, reaching speeds of 303km per hour and only stopping at certain stations for 2 minutes to board - if only NZ had one of these! If you can afford to, spend a little extra and book into business class as the seating is more comfortable and you can lie flat.
Allow several days in Beijing as there is much to see and do. Wangfujing shopping street alone is worth at least half a day. Boutique little streets, curving around each other like a maze, with stores selling all sorts of really unique items.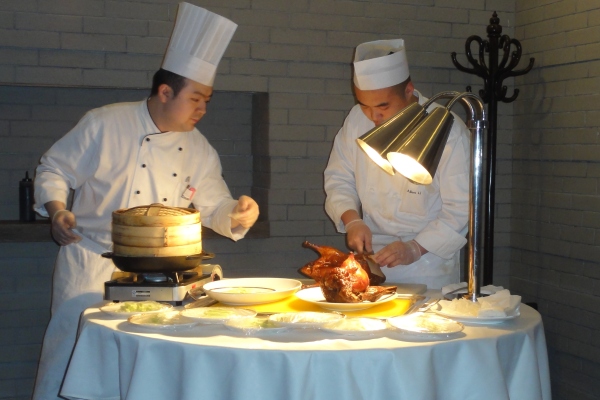 Tian'anmen Square is definitely an eye opener. It's an amazing feeling to be standing  in the largest public square in the world in the middle of all those Chinese people, thinking about all the history that the Square has witnessed.
For something a bit lighter, the Peking Duck Banquet is a must do! Diners watch the chef bring out a whole duck and carve slices for pancakes. Try some Chinese vodka to celebrate your holiday – one shot is definitely enough though!
For more weird and wonderful local cuisine, visit one of the local vendors on Snack Street. There you'll find crab, frog, squid, scorpion, snake, dumplings, fish and plenty more for your dining pleasure.
You may not find apples on Snack Street, but right across the road is what is touted as the biggest Apple store in the world, serving up 4 or 5 floors of Apple products. Although be warned that the gear is quite expensive, so don't expect to find many bargains here.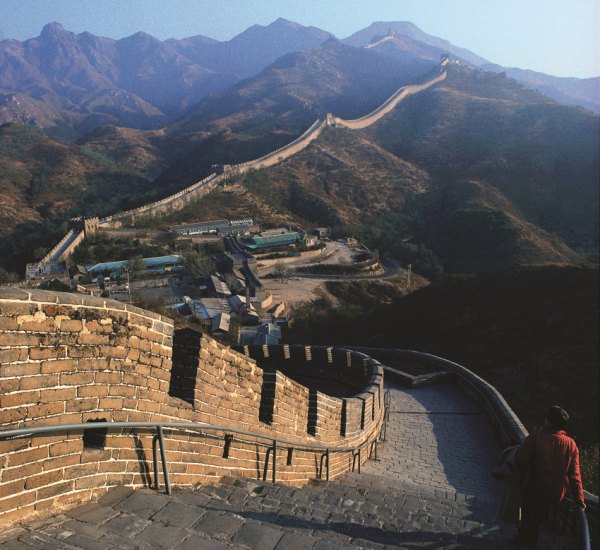 No visit to China is complete without walking along the Great Wall, this amazing feat of construction stretching almost 4,000 miles from the Pacific Ocean to the sands of Central Asia.
It's not difficult to appreciate why it was named one of the ten wonders of the modern world, with a rich history of blood and sweat from the lives of people who built it. We spent about 2 hours climbing the Juyongguan section with its cobbled walk ways and almost vertical staircases.
Overall, China is a culture shock, but a fantastic place to experience some unique culture and learn about local Chinese cuisine, history and shopping. I would definitely go back one day.
Looking for more information on China holidays?  Contact a Flight Centre travel expert – 130 stores nationwide. Phone 0800 24 35 44.
Other Travel Articles You Might Like...