Fri, 28/11/2014 - 6:53pm
The first time traveller to India is often drawn to the North, with Delhi, the Taj Mahal and the exotic nature of Rajasthan being irresistible attractions.  But to visit India without heading south is allowing but a glimpse of the wonders of this hugely diverse country. Read on below to find out more about Southern India.
For a start Southern India's climate is so different, being tropical territory with gorgeous beaches, forests, hill stations, rivers and thriving cities. The best time to go can be between October and March when temperatures are lower and there is generally less rain.  If you'd rather visit outside of this peak time, many believe the region is also fascinating between June and August, when the monsoon is in full swing (in the southern states of Tamil Nadu and Kerala, the monsoon can be much less apparent than in Goa and Kerala during these months).
The gems of the South include its myriad of religions, its unique cultures, its delicious cuisine, and of course its friendly natured people – typical of a sunny environment!  People in the south are largely descendants of Dravidians, quite distinct from the Aryans of the North, with their own unique music, architecture, dress, food and language. And despite the influences of Muslims, Dutch, Portuguese, French and British, traditions remain.  You'll find not only Hinduism, but also Islam, Buddhism, Christianity, Jains and even the remains a Jewish community in Cochin. However, much to the delight of the traveller to Southern India, you will find that most people speak English.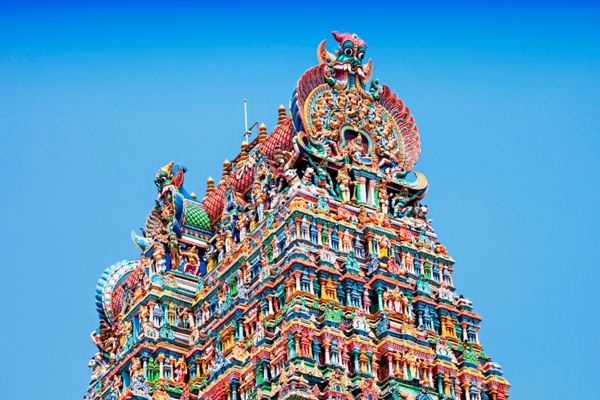 As for what to see, here is our top three things to do when visiting Southern India.
Cruise the still backwaters of Kerala on a Kettuvallam – There's no better way to discover the scenic backwaters of Kerala than cruising on a traditional Kettuvallam. Kettuvallam or rice barges used as a means of transport through the canals and backwaters, and today they travel these waterways as houseboats on which you can stay, visiting craft and spice producers along the way.
Explore Pondicherry, the largest French colony in India – Pondicherry [also referred to as Puducherry] offers a flourishing array of richly ornamented Catholic churches, French road names and old colonial buildings. Stroll through the cities old quarters, stumbling across boulevards lined with Mediterranean-style houses and bakeries.
UNESCO World Heritage Site of Mamallapuram - Located an hour south of Chennai, the small seaside town and UNESCO World Heritage Site of Mamallapuram. This area was founded by the Pallava kings, where they carved temples, cave sanctuaries and giant open-air reliefs out of rock along the coast in the 7th and 8th centuries.
To fully appreciate the rich and cultural mix that is India today, head south!
For more information on travel to India or Adventure World, contact a Flight Centre travel expert - – 130 stores nationwide. Phone 0800 24 35 44.
Other Travel Articles You Might Like...