Tue, 06/09/2016 - 4:35pm
Ancient traditions, untouched landscapes and a local culture still largely unspoilt by tourism makes the Land of a Million Elephants a favourite stop on any Southeast Asian itinerary. Here are our top ways to make the most of your Laotian visit.
The golden reclining Buddha near Pha That Luang, Vientiane. Photo: iStock
Stroll through Vientiane
The easy-going Laotian capital fuses traditional culture and French colonial style, with a few architectural examples from the country's more recent Communist era thrown in for good measure. With its wide boulevards and some of the most important wats (temples) in the country, Vientiane is a wonderful place to simply wander around. When you've had enough exercise, take a break and watch the world go by in one of its surprisingly good cafes (try Le Trio).
Vientiane is a foodie's dream, where fantastic street food meets French flair. Fresh tropical fruits and juices go down well in the steamy capital and the Gallic influence shows up in authentic French bakeries like Le Banneton, where they serve up excellent croissants, baguette sandwiches and pastries.
For a view from above, climb Patuxai, Vientiane's replica of Paris's Arc de Triomphe. Another weird and wonderful experience is Xieng Khuan (Buddha Park), where an eccentric collection of huge concrete statues embody an array of gods, demons and animals from the Hindu and Buddhist traditions.
Don't miss ending your day at the Mekong Riverside Park. Grab a spicy green papaya salad and sticky rice from a street vendor, sip on some ice cold Beerlao lager and watch the sun set over Southeast Asia's greatest river.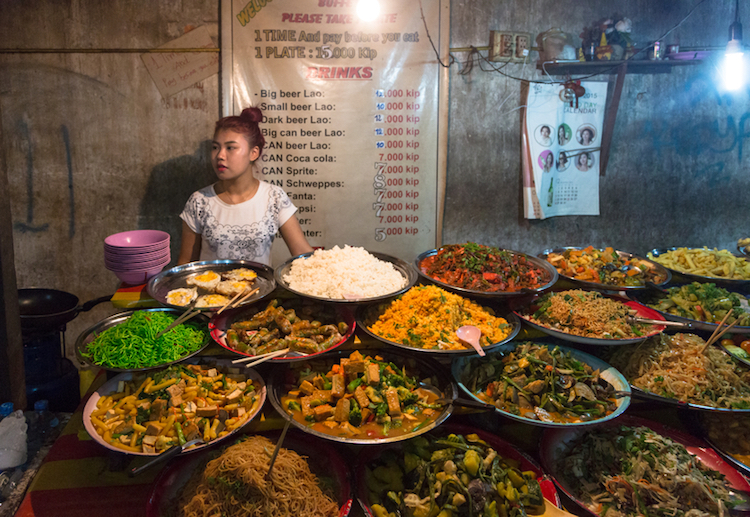 A food stall at the Luang Prabang night market, Laos. Photo: iStock
Be seduced by Luang Prabang
Intricately decorated Buddhist temples, the echoes of the French era and some of Laos' most beautiful scenery all converge in this enchanting World Heritage site. Luang Prabang is tucked in a narrow valley between two rivers and exudes a serene charm, perfect for discovering over a few days.
A former royal capital, Luang Prabang is still home to 33 elaborate, gold-painted wats (temples and monasteries) – evidence of an ancient and ongoing Buddhist tradition. Two particularly beautiful wats are Wat Xieng Thong, with its dazzling tile mosaics and gorgeous grounds, and Phu Si, perched on a hill in the old centre with sweeping views over the town.
A 25km long-tail boat trip takes you to the confluence of the Mekong and Nam Ou rivers, past dramatic limestone cliffs to the Pak Ou Caves, the final resting place for hundreds of Buddha statues. Back in the old town, hit the night markets and snack on spring rolls while shopping for textiles, silver and handicrafts, or head to the wonderful L'Etranger Books and Tea for a movie screening and a taste of Indochine (French colonial) style.
Don't miss getting up at dawn to witness the procession of saffron-clad monks receiving morning alms in the quiet palm-lined streets.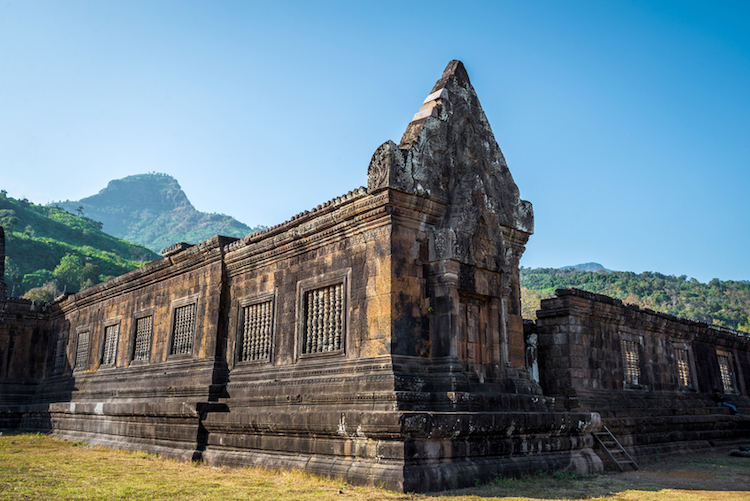 Vat Phou ruins, Champasak. Photo: iStock
Relax riverside in Champasak Province
Laos' southern province, bordering both Thailand and Cambodia and dominated by the Mekong River, is an ideal place to do not much of anything. Getting there via bus and long-tail boat is half the fun – if you are coming from the north, consider breaking your trip in the laid back town of Tad Lo, famous for its waterfalls and deep swimming holes.
The Mekong's journey through Laos culminates in a series of waterfalls, then winds around a collection of sandy islands known as Si Phan Don (Four Thousand Islands), where the rare Irrawaddy dolphins dwell. Despite the name, only three of the islands are significant enough to attract tourists. The largest, and most sleepy, is Don Khon; turn up the pace ever so slightly on the twin islands of Don Det and Don Khon, where you can choose to explore by bike, kayak or on foot. There are plenty of riverside bars here in which to close out the day.
Don't miss the Vat Phou (or Wat Phu) ruins. This impressive UNESCO-listed site, a remnant of the Khmer Empire which once ruled Southeast Asia, is an atmospheric place to spend a day – and unlike other Khmer landmarks like Cambodia's Angkor Wat, it's likely you'll have the place almost all to yourself.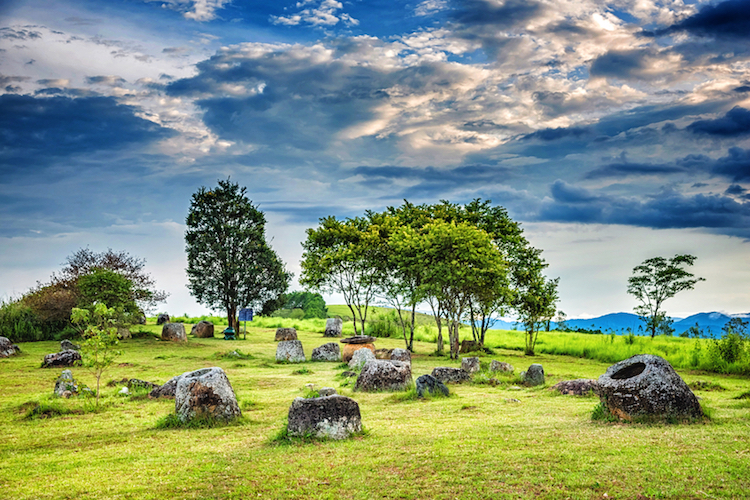 The Plain of Jars, northern Laos. Photo: iStock
Get off the beaten track in Northeastern Laos
The largely rural northeastern region is a land of spectacular karsts, glistening rice paddies, peaceful lakes – and some fascinating history, both ancient and modern. This is the area for long hikes and stepping out of your comfort zone and into traditional village life.
The Xieng Khouang area is home to the Plain of Jars, puzzling collections of huge limestone funerary urns of unknown origin. There are three main sites, all of which combine easy hiking and a dash of discovery.
The quiet little town of Vieng Xai, with its idyllic water wheels, mist-draped lake and dramatic mountain crags, boasts over 450 limestone caves which served as sanctuary for 23,000 people during the Laotian Civil War. Book a guided tour at the Visitor Centre and head underground for an insight into the lived experience of those who sheltered there for close to nine years.
Don't miss a chance to go local with a warming, steaming bowl of pho for breakfast at the market. This signature noodle dish can be tailored to your taste as you stir in your own seasoning, including fish sauce, chilli, and herbs – simply delicious!
Other Travel Articles You Might Like...