Fri, 25/10/2013 - 8:17pm
Returning from a mind-blowing 7 day trip, Jen McAllister from Flight Centre Auckland shares her experiences in the spice capital of the world - India.
My trip began with a 12 hour stopover in Singapore Airport before my onward flight to Delhi, so I decided to explore all the gems Singapore Airport had to offer, including hitting the rooftop swimming pool in Terminal One.  This was a slightly surreal highlight – there is something about lying outside on a sun lounger in the heat of Singapore with the blue waters of the pool at your feet, looking over the planes waiting patiently at the gates.
I landed in Delhi at 9.40pm local time and met my Intrepid tour guide who drove me through the chaos to the hotel.  As soon as you leave the airport the heat just hits you full force, as does the beginning of the chaos.  Every vehicle you see is dented or scraped in some way... a sign of things to come.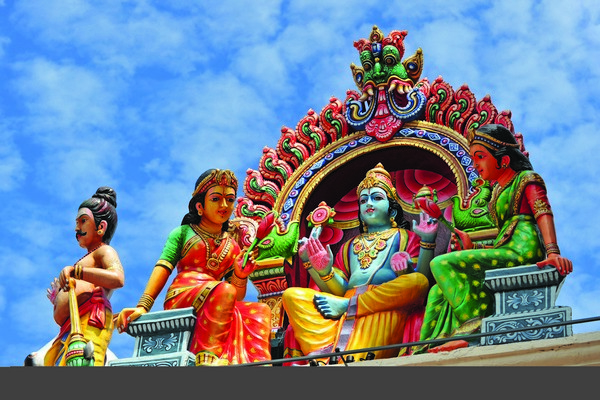 On our drive to the hotel I couldn't stop peering out the window – my guide was talking about our India holidays and I was doing my best to listen to him but I was absolutely mesmerised. Every truck we passed was decorated top to tail in bright colours, flowers, streamers, paintings and ornaments - they were stunning!
I managed to catch that trucks are only allowed to drive through the city at night when there is less traffic. He also explained the noise – 1 toot means I'm here, two toots means I'm passing, one long toot means MOVE, GET OUT THE WAY!
It's truly a harrowing experience coming from New Zealand where we only use the horn if something is wrong – really wakes you up!  I saw people sleeping absolutely everywhere – on the medians, on the street corners, footpaths, on bikes, everywhere. There must be some seriously heavy sleepers to sleep through the noise!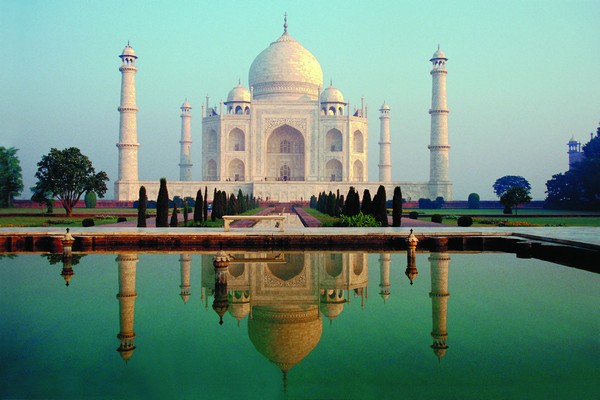 The next morning of our India tour I had to be up and ready at 4.30am to meet the group and leave the hotel for the train station.  It seems like half of Delhi are asleep on the train station floors as we pick our way between them to the platform.  Next stop is Jaipur, after a 4 hour train ride.
As we set off and the sun came up, the views were incredible.  The shanty towns and slums built next to the train tracks; the open fields and bright green crops; the women in bright orange saris working in the fields, their heads barely visible; people toileting next to the tracks in plain sight of the train; others showering, cooking and going about life with nothing to hide.
Once arriving in Jaipur our guide negotiated several rickshaws to take our group of 10 to the hotel. This was an experience in itself, with yelling from both sides and us holding on to both our luggage and any hand holds we can find. We're racing through the city at what seems like breakneck speeds, weaving in and out of the traffic (none of which is sticking to a lane) and squeezing between vehicles with just millimetres to spare.
Being a passenger is exhilarating though; you're hanging on for dear life while bouncing over potholes and looking ahead at this tiny gap before realising we're not slowing down and the driver is fully intending on driving straight through that tiny gap. You unconsciously breath in and try to make yourself smaller in the hopes it will help you fit... then you pop out the other side and do it again.  All the while there's tooting going on from every which way. It's certainly an experience to behold.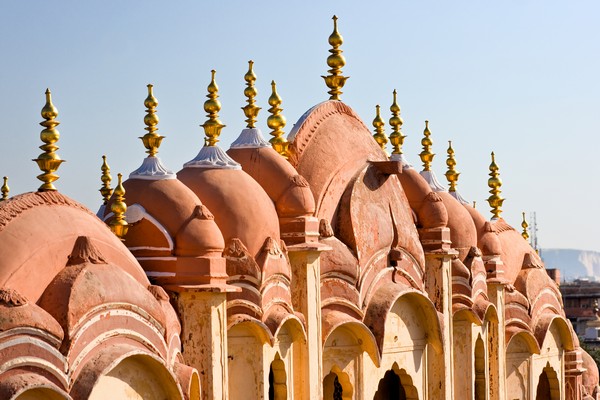 We arrived at the hotel and grabbed an absolutely delicious lunch, including spinach and potato curry with naan bread – the best $1 I ever spent!  Next up we had an afternoon of sightseeing at the Amber Fort and Jaipur Castle, built in the 15th century.  The castle is absolutely stunning; it looks out over the city of Amber and snakes its way up the hill.  It was built for the Maharaja, his 12 wives, 200 concubines and 1 eunuch, and would have been a truly magical place in its heyday.
Heading back to the hotel we stopped off at the Water Palace of Jaipur, a palace located in the middle of a lake.  Driving back to the hotel there were cows wandering everywhere, traffic in all directions,  people walking in the road, cyclists towing trailers laden with goods, motorcycles, cars, trucks, auto rickshaws and cycle rickshaws all on dilapidated roads with no street signs.  It's a wonder anyone gets anywhere!
The next day we walked the streets of the old city.  Jaipur is known as the Pink City as the city centre is painted pink/terracotta.  We did a walking tour to the stunning Wind Palace, before going to the City Palace and then the Observatory.  Finally we hit the markets and bartered our way into Indian dishes, bedspreads, vases, jewellery, scarves, pashminas, cushions – the list was endless, but oh what a bargain! That night we had dinner at a roof top restaurant and were entertained with a puppet show.
Part 2 of Jen's India blog is coming next week.
Looking for more information on India holidays?  Contact a Flight Centre travel expert – 135 stores nationwide. Phone 0800 24 35 44.
Other Travel Articles You Might Like...