Thu, 18/04/2013 - 7:33pm
There's so much to do on Gold Coast holidays that it may not be as relaxing a trip as expected, as Allison Fairless from Flight Centre Feilding found out.
The Gold Coast is a fun place to go for any age group; even older groups can go to enjoy the views and just relax. It can be a bit busy for couples wanting a completely quiet time, but choosing the right place to stay will help a lot with this.
Broadbeach has an awesome cafe and restaurant scene, as well as being close to the casino and Draculas just in case you fancy a bit of night life.
There are tons of activities and attractions to keep everyone entertained. Paradise Jet Boating was amazing and I'd recommend to people wanting to have a bit of fun. Note to self though: wear togs or lightweight clothes under raincoat next time, as you get drenched!
As well as the theme parks which Gold Coast are known for, the Currumbin Wildlife Sanctuary was really neat and Draculas was fun; the show is very well put together and the meals are very nice as well as staying within the theme (for example, a chocolate filled coffin for dessert). Be warned that it is over 18 though, as it can be a bit raunchy at times.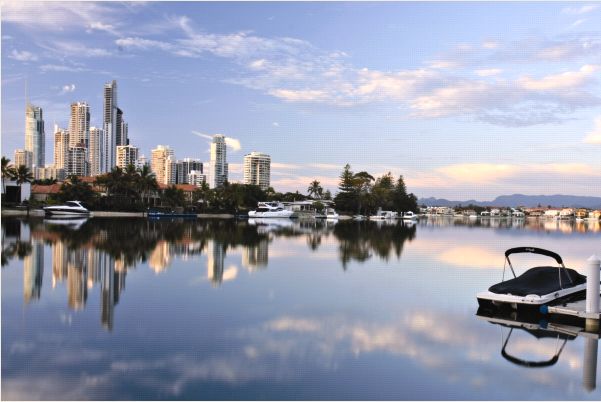 When you have some free time in between things to do on Gold Coast and need some retail therapy, there are a few options to tempt the shopaholics. Pacific Fare has 260 retailers, the popular Harbour Town has 220 shops, and Robina town centre is a real favourite with 300 shops there. There are also markets happening along the beach and 2 evenings a week they have a market in central Surfers along the beach.
In downtown Surfers there are a selection of chain restaurants, fast food and cultural dining establishments all at quite reasonable prices. The surf clubs can also offer excellent value for money for a good solid meal.
We enjoyed a divine dinner at the Sea Temple restaurant called "Seaduction". The food was presented beautifully amidst a real 5 star ambiance, and would make a lovely choice for a special occasion.
A light rail system is being developed around the centre of Surfers Paradise, which will be really beneficial for getting around. Taxis are reasonably priced for short distances, and the bus network is quite efficient for getting between Surfers, Broadbeach and the theme parks. You can also rent a car as most hotels have underground parking available.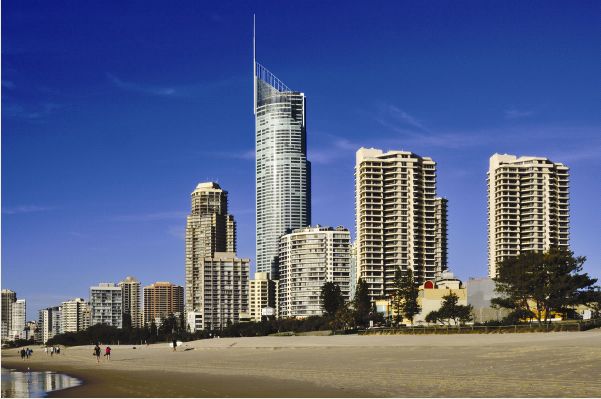 One of my top hotel picks on the Gold Coast would be Mantra Wings in Surfers Paradise; friendly staff, close to a lot of amenities, good facilities, and good value for money rooms.
The Mantra Circle on Cavill has rooms with an impressive layout, with one bedroom on either side with bathroom and living area in the middle. There are sweeping views from many of the rooms, as well as from the rooftop pool. It's very central to downtown Surfers and designed apartment-style with full kitchen, so would really tick all the boxes for couples and families.
The Peppers on Broadbeach is also apartment-style and very professionally run. There is a gym in each tower, ipod docks, pools, spa and plenty of restaurants close by.
The Sheraton on Main Beach is also worth considering, with stunning furnishings, wall art and layout. They have an amazing seafood buffet. It would be a top location for a wedding as the back of the property leads directly onto the beach.
We had a lot of fun on our 5 days on the Gold Coast, enjoying lovely accommodation and good food. The only downside was that we packed so much in that we came back pretty tired; maybe more relaxing needed next holiday...
Looking for more information on holidays in Gold Coast?  Contact a Flight Centre travel expert – 135 stores nationwide. Phone 0800 24 35 44.
Other Travel Articles You Might Like...