Wed, 03/04/2013 - 8:17pm
Hitting the open road is a wonderful way to explore on Australia holidays, as Fiona Laver from Flight Centre Christchurch found out.
The lovely warm 26 degrees that greeted us in Australia was a wonderful welcome so we all took layers off and made our way over to our hire van. Tropical North Queensland has a warm climate with average temperatures ranging from 26 degrees in winter months to 31 degrees in their summer months. The best time to visit is during May to October.
Cairns is a modern but relaxed tropical city and the gateway to the northern beaches, Great Barrier Reef, coral cay islands and rainforest of this area. While Cairns itself does not have a beach, the beaches north of the city offer all the ingredients of an idyllic tropical holiday - warm seas, comfortable accommodation, a range of dining options, all kinds of water sports and kilometres of uncrowded sand with a backdrop of rainforest-covered mountains.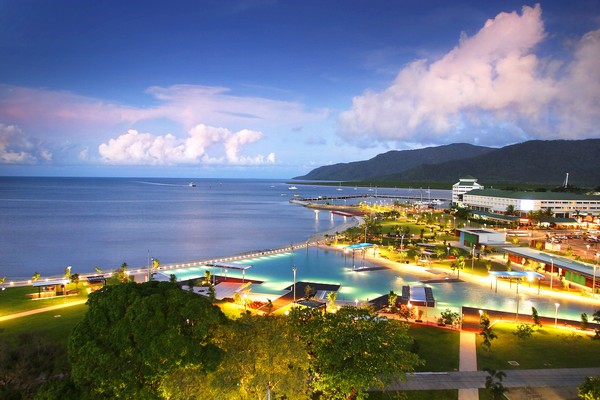 The 'simple' grid system and wide roads made driving and navigating very easy. Although not essential, I would always recommend that car hire is the best way to go to help access the wonderful places to explore across Australia.
We had a great meal out at Bush-Fire Restaurant, definitely one for the meat lovers. We were treated to an endless supply of different varieties of meat all carved beside us at the table so that we could choose how much and how well cooked we liked it. Then came the best part - slices of warm spicy pineapples and a selection of delicious deserts including warm donuts which we could squirt our favourite filling into the middle!! This was a wonderful experience with friendly service and needless to say we all 'rolled' home rather full!
I would recommend anyone staying in the Northern Beaches who have children to come here to Paradise Palms Resort for dinner during their stay. Mum and Dad can sit out on the terrace overlooking the rolling grounds of the golf course and watch their children play down in the adventure playground close by. They offer a wide selection of food including a kids menu; I had natural oysters followed by Queensland's famous barramundi fish. Simply delicious.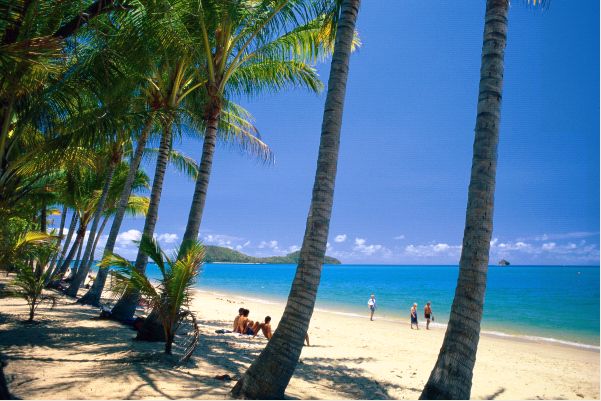 My top hotel and resort recommendations would be:
Palm Royale Cairns
This is a Mediterranean style property located about 6 kms from the city centre so a car would be recommended and parking is available. All rooms face onto one of their 3 pools, which include a lap pool, baby pool and attractive rock pool waterfall with spa pool. There is a supermarket and shops across the road, plus a pool table and internet 'pay as you go system' available on-site. This would be a good property for a young couple on their travels in Australia.
The Lakes Cairns Resort and Spa
This large Tuscan Style property is adorned with palm trees and 4 pools twisting and turning throughout the property. All rooms are apartment style with kitchen facilities for self catering and balconies overlooking one of their expansive pools. There is a small grocery store on site but a close drive to major supermarkets and shops. Other facilities include playground, gym and internet facilities available at the reception area. 
Mantra Esplanade Cairns
This hotel's central waterfront location on the Esplanade is ideal for travellers who want to be in the heart of the action. Close to shops, bars and restaurants, the hotel has a range of rooms and apartments overlooking the lagoon, plus a small pool, spa, gym and fitness centre.
Amaroo At Trinity
Trinity Beach is a good location for Kiwi travellers as it is cheaper than Palm Cove and Port Douglas, with a more laid back atmosphere. This hotel is located right on Trinity Beach, with a small pool, barbeque area and tennis court. There is direct access to the beach but it's also close to pubs and restaurants so a car is not essential.
Freestyle Resort
For travellers to Port Douglas, this resort is located across the road from the beach and is run by a very friendly husband and wife team. All rooms have a fully equipped kitchen, free internet and balconies overlooking a nice pool area. There are also lovely, well kept tropical gardens.
Peppers Beach Club
This 5 star resort is located just 2 minutes walk away from the beach. All rooms surround a wonderful pool with white sand beach.  This would certainly be recommended to honeymooners and any other travellers whose budget allows it!.
In summary I would heartily recommend Tropical North Queensland to anybody travelling to Australia, wanting either a relaxing holiday around the pool or on the beach, with a wide array of restaurants to choose from. The region offers so much to couples young and old plus families seeking warmth, relaxation and sightseeing.
Need more information on holidays in Australia? Contact a Flight Centre travel expert - 135 stores nationwide. Phone 0800 24 35 44.
Other Travel Articles You Might Like...