Fri, 08/03/2013 - 7:02pm
From budget to brilliant, Ellie van der Leij from Flight Centre Northlands shares her top hotel tips for travellers on Gold Coast holidays.
Having enjoyed a few holidays on the Gold Coast and stayed in a number of hotels, I thought I'd share my thoughts on the best among them and which travellers I'd recommend them to. These are ordered from the most affordable to the least!
Palazzo Colonades:
This hotel has slightly old furnishings but tons of facilities for families and is clean and tidy. The apartments are nice and roomy, and there is a lovely outdoor area with pool and bbq area and landscaped gardens. There is a games room in the basement carpark to keep kids entertained when there is bad weather, plus an express bus transports travellers to the theme parks every 10 minutes from behind the hotel.
Silvershore Apartments:
This property's two bedroom apartments are beautiful and clean, decorated in a white and blue colour scheme making it feel very crisp. Each has a large balcony with couch and table, with many having views looking straight out to the ocean in Biggara Waters. There is also a beautiful pool and bbq area down below.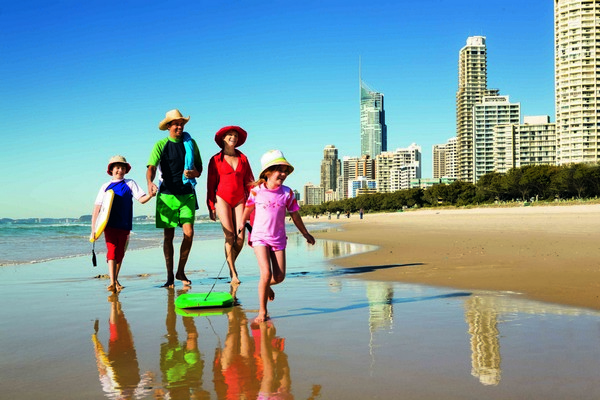 Beach Haven Resort:
This property is fully made up of two bedroom apartments with two bathrooms, Air conditioning in the lounge and fans in the bedrooms, plus balconies with nice wicker furniture. The lower levels all have ocean views or garden views. There is an indoor pool and spa that is heated all year round and an outdoor pool that is only heated in the winter, plus a tennis court and bbq area.
QT Resort:
This is a fairly new resort on the Gold Coast that only opened just over a year ago. It's promoted as fun, contemporary and accessible, designed to be a one stop shop where you can get everything you need so you never have to leave if you don't want to. It is a very quirky hotel; when they show you to your room they also show you how to make freshly squeezed lemonade, so you can enjoy a refreshing drink on your balcony.
There are two restaurants - Stingray and Bazaar. Stingray is an a la carte restaurant whereas Bazaar is a buffet where the chefs will cook anything to order or for any dietary preferences. There is also a funky bar downstairs filled with comfy chairs and big cushions where a DJ plays most nights.
We had lunch here and the food was so good that we booked in for dinner the following evening. The hotel is aimed at the young professional couple with a few quirky flairs such as the staff all having fun uniforms to wear rather than the traditional suit and tie.
Sea Temple Surfers Paradise:
Once inside this hotel is very lush and opulent, making you feel like you are somewhere fancy. The two and three bedroom apartments are very spacious and allow for one of the bedrooms to be shut off, which would appeal to families with kids or couples travelling together. There is a fine dining restaurant called seduction as well as a buffet breakfast every morning.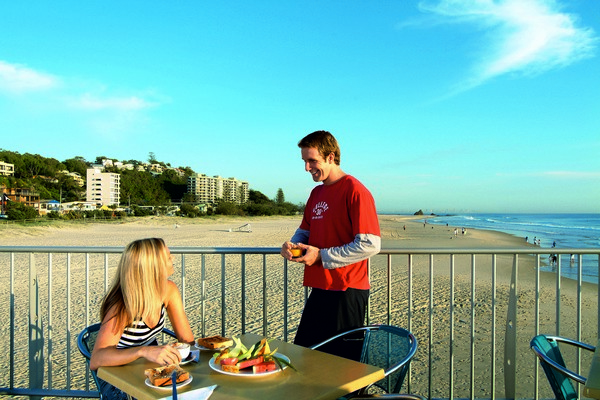 Sofitel Gold Coast:
Staying the night in this 5-star hotel means sleeping on the special Sofitel beds found in every Sofitel hotel around the world. Rooms are decorated in a neutral style to cater for all types of travellers. Level three is the main leisure area of the hotel, with a bbq area, heated pool and an area where breakfast is served every morning.
Palazzo Versace:
This pricey establishment is the world's first fashion branded hotel. There is intricate marble tiling in the lobby and a chandelier that is reinforced in the ceiling so that it's never in danger of falling down. The hotel pumps their own mix of incense through the air conditioning so that the entire hotel smells the same.
All the rooms had a lovely decadent feel to them, and the whole hotel is about the overall experience rather than just somewhere to stay. Guests can have high tea in the lobby or organise little party favours to make your travelling companions feel welcome.
Looking for more information on holidays in Gold Coast?  Contact a Flight Centre travel expert – 135 stores nationwide. Phone 0800 24 35 44.
Other Travel Articles You Might Like...