Wed, 13/02/2013 - 8:21pm
Sun-seekers hitting the Gold Coast are spoilt for choice with where to rest their head after a day on the beach or in the shops. Fortunately Helen Itere from Flight Centre Auckland Airport is here with her top hotel tips for Gold Coast holidays.
You won't have to go far before you come across a hotel on the Gold Coast, so choosing one at which to stay can be a bit of a minefield. These are my top picks whether you're travelling as a couple, family or part of a group.
QT RESORT: Funky, fresh, and chic are only a few works to describe this property. The views from the rooms and lobby are amazing. They have their own Japanese-themed restaurant area and and are expanding their resort by introducing rooms based on main cities of Australia. The food is delectable, and the kitchen where chefs cook are open-plan so you can see what's being cooked and served. They have their own shop downstairs so most items used in the room (lamps, robes, slippers etc.) can be purchased. The rooms are fresh and their décor says "simple and modern…but very relaxing".
SHERATON MIRAGE RESORT & SPA: The Ocean-view room is elegant, and the décor is fabulous. The room and the hotel itself is clean, modern and relaxing. The hotel has full Wi-Fi and readily available computers. All their rooms appear large in comparison to many other hotels, and they have a spa bath in all rooms. The pool is huge and the grounds area spacious and very peaceful (great for people who may want to go for a stroll in the mornings).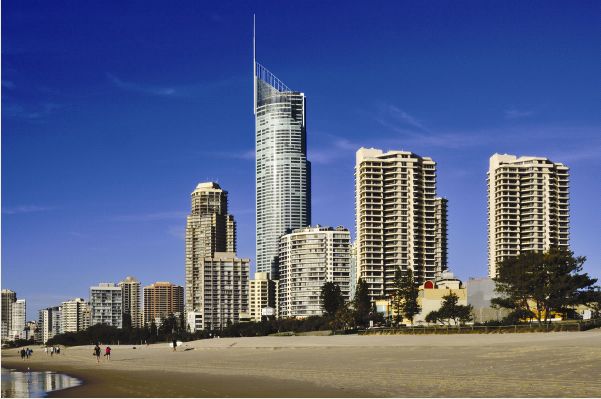 TURTLE BEACH RESORT: This is a great option on the Gold Coast for families, and especially for kids, with lots of facilities. It has 3 swimming pools, tennis courts, games room, mini-golf course, cinemas, adult-pool area and a BBQ area. The hotel is very family orientated, and even from the lobby area you can definitely see that it was made for kids in mind. The rooms are fully self-contained and each have balconies. The one downside is that there are no lifts up to each level, so keep in mind that you may have to walk up several flights of steps depending on which room you've booked.
MARRAKESH RESORT: The 1-bedroom units are garden view only, however the gardens are definitely the feature of this property. You can get access to the rooftop where there are a few tables and chairs if you feel like relaxing and enjoying the view. All units are fully self-contained and all windows are slightly tinted so that guests can look out and soak up the sun without getting burnt. The units have air-con and the 2-bedroom executive rooms also have 2 separate bathrooms, ideal for families or couples travelling together.
SEA TEMPLE SURFERS PARADISE: This hotel is a elegant gem that only opened its doors in November 2011. It's designed for travellers that want to stay right by the beach and in town amongst all the shops. The décor is light, fresh and welcoming, and the views from the rooms are amazing. You are literally across the road from the beach staying at this property, maybe on your private balcony relaxing on the comfortable wicker furniture.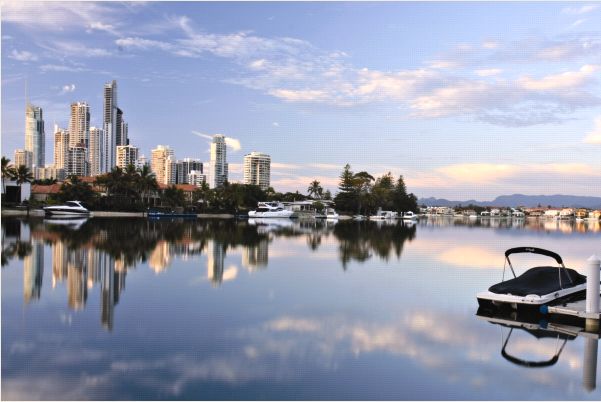 PALAZZO VERSACE GOLD COAST: For those with an eye for glamour (or just deeper pockets), this is the world's first fashion hotel – immediately recognisable by the amazing 750kg chandelier hanging in the main entrance. It has a huge swimming pool measuring 65m and an essence of lavender runs throughout the lobby and rooms. The Palazzo has a very classical feel to it, and even anyone who isn't staying that wants to experience the "Versace Experience" can pop in for drinks, high tea or cocktails. The rooms are colourful and tastefully decorated, and although classical is still very much current with gold trimmed tables and chairs and modern technology.  There is also a Versace Shop on the property, and just in case you felt like arriving on your own boat these can actually be parked right outside the hotel!
Looking for more information on holidays in Gold Coast?  Contact a Flight Centre travel expert – 135 stores nationwide. Phone 0800 24 35 44.
Other Travel Articles You Might Like...