Mon, 04/02/2013 - 8:33pm
Seeking fun in the sun across the Tasman, Peter Molesworth from Flight Centre Central City shares his favourite North Queensland activities.
Hartley's Crocodile Adventures
This was a great activity and a must do for travellers who are interested in wildlife and those who would be keen to see crocodiles and koalas up close. The entry fee means you can enjoy the park at your own pace, and you can go on the boat cruise where crocodiles get fed right up close by one of their humorous guides. You can also see a snake show and a crocodile feeding show.
There is a great cafe deck with crocodiles that swim right up close. You could easily enjoy about 3 hours here if you chose to have a sit down lunch. Great for all ages.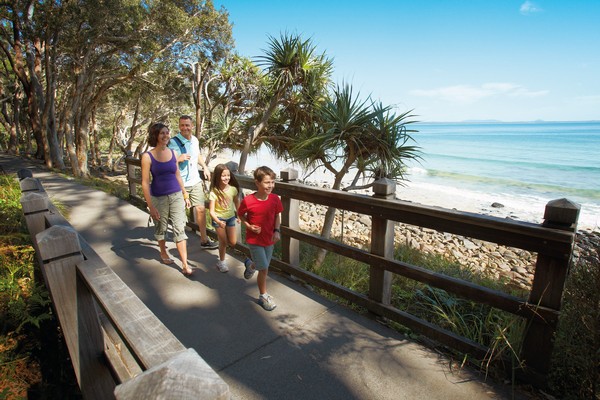 Flames of the Forest
This is a great idea to have that special night out with either a group, family or just as a couple. When you book a Flames of the Forest package you get picked up from your resort by coach and taken on a 20 minute drive into the rainforest. When I arrived, the first thing I noticed was all these flames in the middle of the road. You then disembark from the coach and walk on a torchlit pathway to a huge marquee.
We were then seated and served a 6 course dinner with wines and beers of our choice. There was a guy on stage singing old classics and playing the guitar as a nice background entertainment. On Tuesdays, Thursdays and Fridays are cultural nights where there is an aboriginal performance included.
It was a great night out which I would recommend as a novel surprise for someone. Don't tell them where you are going, just say that you are going out for dinner and a coach will pick you up. That way you can really surprise someone by the whole experience.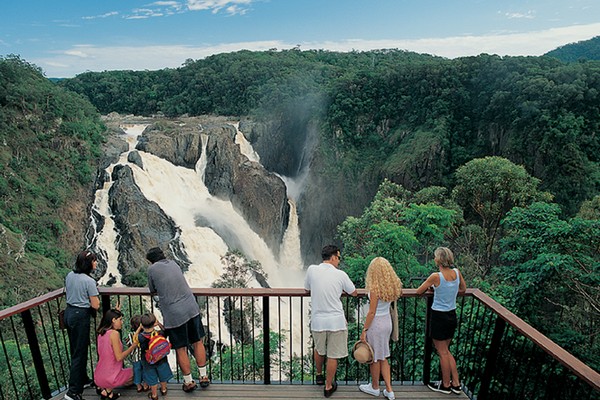 Kuranda Scenic Rail & Skyrail 
Young or old, this is a great day out. Whether you are staying in Cairns, Port Douglas, Palm Cove or Trinity Beach, this is equidistant from all, and the tour buses will pick up from all these locations.  I really enjoyed this day out. It started with a comfortable air-conditioned coach pick-up from our Cairns hotel and then picked up several other tourists from the other Cairns hotels.
There is a scenic rail that winds its way up through the rainforest to the scenic town of Kuranda. There is also a Gondola that takes you through the rainforest and also arrives at Kuranda. You have the option of either travelling up to Kuranda by rail and then returning by gondola, or vice versa. I definitely recommend travelling up by rail and then back by gondola.
The rail journey is fantastic and could be enjoyed by all - couples, families with young kids, right up to Grandma and Grandpa. You are in an old wooden carriage with open windows for the fresh breeze to roll through. You get amazing views of the rainforest in its natural state with great photo opportunities of huge rocky cliffs and massive waterfalls. There is some commentary and the train also stops at one point where you can get off and take photos of a huge waterfall.
After about an hour you arrive in the scenic village of Kuranda. This is all set up for tourists, with cafes and souvenir shops selling authentic Australian clothes and products. It is very enjoyable just strolling around and buying gifts. We had lunch at a local Kuranda pub that has a massive outdoor deck with great views of the forest.
We then returned on the Gondola. One advantage of taking the gondola back is that you are not bound by a strict departure time such as the train, as you can jump on the gondola at any time once you are finished at Kuranda. The gondola ride was just amazing. It takes you above the rainforest canopy all the way back to where you started with amazing views of the forest, Cairns and the Cairns hinterland. Great photo opportunities all the way!
Need more information on North Queensland holidays? Contact a Flight Centre travel expert - 135 stores nationwide. Phone 0800 24 35 44.
Other Travel Articles You Might Like...