Mon, 27/05/2013 - 7:28pm
Exchanging winter jumpers for summer singlets, Marijke Willemen from Flight Centre Hamilton East took a holiday in Tropical North Queensland. She shares her top attractions and places to stay with us.
Quick Silver Outer Barrier Reef Day Trip
We were collected in a modern air conditioned coach and taken to Port Douglas marina where we boarded a large cameraman to travel out to the Great Barrier Reef.  It took one and a half hours to reach our destination and in this time it is important to organise any additional activities like scuba diving, helmet diving, helicopter rides or guided snorkelling.
For the diving enthusiasts the scuba diving was incredible, it is a reasonably shallow 14m dive and the sea life was up there with some of the best.  The water was a warm 27 degrees and in winter or the cooler months I would recommend a wetsuit.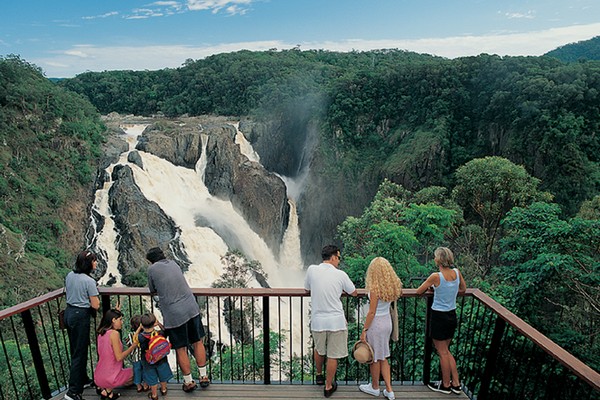 Kuranda scenic rail and Sky rail
After a very scenic, pretty and informative hour and a half by train we made it to Kuranda.  The town was very touristy and had several small animal parks where you could see reptiles and hold koalas along with purchasing all the ubiquitous souvenirs.
The 7.5km sky rail gondola back down was very impressive cruising over the tree tops of the rainforest.  There were two stops on the way where you could disembark and walk to the lookout towers that were stunning.
Hartley's Crocodile Adventures
Hartley's is situated on the Captain Cook Highway south of Port Douglas.  It is a unique up close and personal experience with nature and the park is not extremely large so it makes walking around it a pleasure.
There are hands on encounters with crocodiles and snakes as well as wallabies.  There is also good bird life and koalas lazing about in the trees.  The best part about Hartley's is travelling out in the boat to watch the crocodiles eat the chicken heads!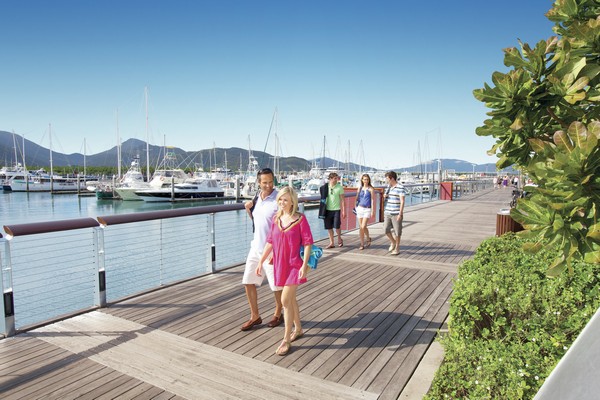 When you're taking your Australia holidays in Tropical North Queensland, my top picks for accommodation in the different destinations in Tropical North Queensland are as follows.
Shangri La - Cairns
The Shangri La in Cairns is a large property designed to capture the best views of the waterfront and marina.  They have a great early arrival/late departure lounge with internet, tea and coffee making facilities and loungers for guests to rest on.  The rooms are very spacious, modern and tidy.  The internet is free and all room types have balconies.  Shops and restaurants are also located on the ground floor of the Shangri La.
I would recommend the Shangri La to travellers who would like a 5 star short break and be based close to the shops and restaurants.
Peppers Beach Club & Spa - Palm Cove
The Peppers is a true 5 star property and luxurious in all its offerings.  The lagoon spa was very spacious and had a lovely spa bath that overlooked the pool area from its balcony. The apartment style rooms were all very modern and spacious with full kitchens and balconies that overlooked either the pool or the ocean.
Peppers also offered a serenity pool that is dedicated to quiet time so children if using this area must refrain from noise.  There is also a large lagoon pool for general use that is great for children and families and a day spa for some pampering.
I would recommend this property especially to honeymooners or busy couples that want a classy property to relax in, in style.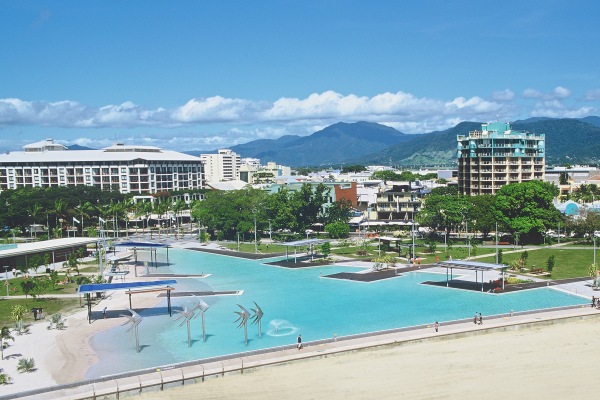 Amaroo at Trinity - Trinity Beach
My personal favourite, Amaroo is a small, homely apartment style complex and all rooms have the most incredible, private balconies with amazing views of Trinity Beach.  The property has a small pool area and a tennis court at the front and is a short walk from all the local shops and restaurants.
I would recommend this property to couples who don't like large resort-style complexes and just want to get away to spend time together relaxing.
Mantra Heritage - Port Douglas
The Heritage is all about location - you wouldn't even know this property is nestled right in the centre of town, privately hidden amongst its gardens.  It boasts great pools and is a stone's throw away from all local restaurants and the marina.  The rooms have private balconies and I would certainly recommend the upgrade to a 1 bedroom apartment for additional space.
I would recommend the Heritage to couples and families who want to get out and explore on foot and dine in all the local restaurants.
Need more information on North Queensland holidays? Contact a Flight Centre travel expert - 135 stores nationwide. Phone 0800 24 35 44.
Other Travel Articles You Might Like...