Wed, 18/07/2018 - 3:22pm
Our 8 night Pacific Island cruise with Pacific Jewel was fantastically stress free. Our Flight Centre cruise specialist agent had pre-booked our transfers with the cruise line so we were met at Sydney airport by the P&O reps. Our luggage was put on the bus and the next time we saw it was outside our cabin. Thank goodness we booked the transfers as our ship was delayed coming in it allowed us to go into the city without the worry of what to do with our cases. A God send if you have a family or are a little older in years.
Onboard we had a spacious balcony cabin on Deck 10. Our cabin steward, Richard, was very attentive throughout our cruise and nothing was too much trouble for him. He kept us well entertained with the numerous animals made from folded towels. The same could be said for all crew members who constantly had smiles on their faces. The service was immaculate.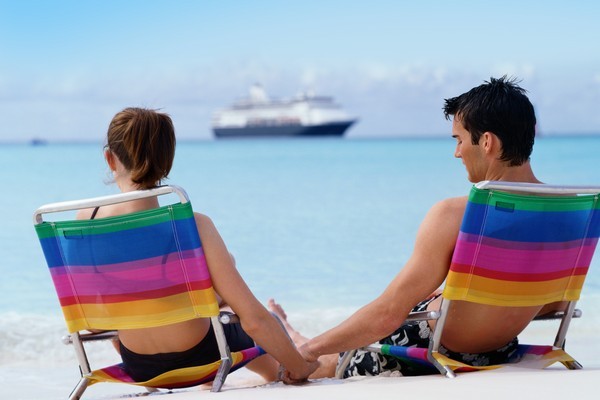 Dining
The food onboard is very varied. You have the buffet option in the Plantation restaurant; the Waterfront is waiter service and is slightly more formal. Then there are two cover charge restaurants at la Luna and my favourite, The Salt Grill by Luke Mangan. We enjoyed the food there so much we had to go twice. Anyone wishing to try it out would be wise to order the Licorice parfait for dessert. Stunning!
Fitness/Recreation
My wife and I signed up for the Aqua Spa on the first day. Passes are limited to 40 couples and give you access to the sauna (with a sea view!!), steam rooms and a private area to relax and read in peace. We used this every day after a work out in the ample gym and it was a great way to start the evening before dinner. You also get a glass of champers every day with the pass.
Entertainment Activities
There is always something to do on the sea days. More often than not we would relax in the "kid free zone" at the back of the ship – OASIS. For those wanting to be kept busy there are guided tours around the ship, competitions, chances to meet the staff, bingo… The list goes on. In the evenings we went to see a couple of the shows. The Pacific Cirque was awesome. We also had cocktail evenings, pirate shows and standup comedy and even a film under the stars on the big screen.
P&O Cruises certainly caters very well for all ages and interests and its no wonder that they have been entertaining the cruise holiday market for the last 80 years.
Looking for more information on Cruise Holidays? Contact a Flight Centre cruise specialist at 0800 22 11 00
Other Travel Articles You Might Like...