Thu, 20/08/2020 - 12:28pm
Explore Dunners like a local thanks to our travel mate George from Flight Centre Dunedin, who shares all the best things to do in Dunedin, the best places to stay, the best spots to eat and drink, and more!
Best place in Dunedin to get your morning coffee fix
The recently opened Catalyst (286 Princes Street), near the Exchange whips up a mean brew. I've had my fair share of flat whites in NZ and around the world and I can't put my finger on a better one! I'm not saying they do the best coffee in the world, but hey, we all know New Zealand certainly does some of the best coffee, and Dunedin is up there with Wellington for the best in the country, and if this is the best in Dunedin, well then maybe it is the best in the world!!
They use real, organic, free range, and local ingredients in all of their dishes and coffees and you can definitely tell the difference. Keeping with this, they send their food scraps, coffee grinds, napkins and paper towels away to be turned into bio-active compost! Chic interior décor and mood lit outdoor seating fits the vibe perfectly.

Best bars in Dunedin
• The brand new Mr Fox Lounge and Tapas Bar underground in the heart of Dunedin's Octagon. I highly suggest the Bay Roadie foxtail (cocktail!) made with vanilla vodka, Frangelico, white crème de cacao, cream and Dunedin's own Bay Road peanut butter - delicious!

• Emerson's Brewery (70 Anzac Avenue) delivers without a doubt the best pint in Dunedin and our craft beer scene is dominated by the local Emerson's drops. Speight's is the Pride of the South and will always have my heart for putting Dunedin on the beer map of New Zealand, but Emerson's brings the European style to the surface. Locally brewed in the very building, my personal favourites include the Orange Roughy hazy pale ale, 1812 or the London Porter. It's also a great spot for a pre-match pint and feed before heading down to the nearby Forsyth Barr Stadium to watch the mighty Highlanders under the roof. Plus, you can book a brewery tour to see how it's all done too.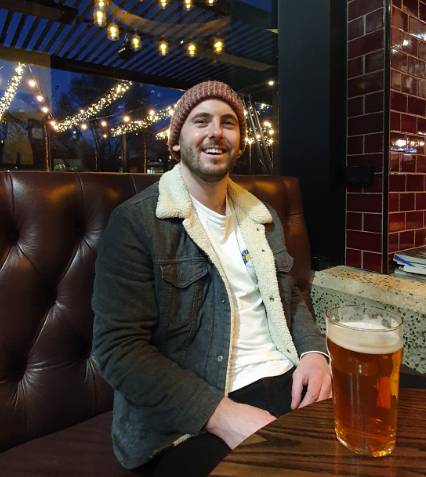 Head to Emerson's Brewery for the best pint in Dunedin.
•
Vault 21
(21 The Octagon): Central city restaurant, bar and nightclub in the Octagon. They offer one of the most unique tasting options in Dunedin with their fried crickets! We can't currently fly to Thailand to try out their scorpion, so it's worth popping in here to munch down on a locally farmed crunchy grasshopper! And from about Thursday night onwards, they move the tables to the back of the restaurant to make way for a dancefloor.
Best weekend brunch spot in Dunedin
I think most Dunedinites will agree when I say The Vogel Street Kitchen (76 Vogel Street) is the best place for brunch in Dunedin. I could give you so many others but I couldn't go past Vogel Street being the absolute first place that popped into my head. Located right in the heart of Dunedin's re-vitalised warehouse precinct district, this café is a great place to stop while taking a tour of Dunedin's street art.

Top 3 dinner spots in Dunedin - $ / $$ / $$$
• Jizo Japanese Cafe & Bar (56 Princes Street): Awesome Japanese restaurant serving unreal ramen and Japanese curry! They've also got a full keto and vegan menu with loads of options which is pretty cool.
• Zucchini Bros (286 Princes Street): Italian restaurant with the best pizza and pasta in town with great soups and breads to start. I highly suggest the number 13 pizza with mushroom, pepperoni, bacon and olives or the chicken and mushroom penne. I may be a little biased as I did used to work here and make these pizzas myself, so I'll have to say that the pizza and pasta is hotly contested by Esplanade Italian Restaurant in St Clair. This place offers a truly unique dining experience looking out over the surfers at St Clair beach. Oh and I also have to give a shout out to Spirit House in St Clair too for their incredible Vietnamese fried fish steak!

•
Bacchus Wine Bar and Restaurant
(1st floor, 12 The Octagon): If you're after a fine dining experience, then Bacchus is the place to go. They have a great hoisin pork belly or you could try their fillet steak on mustard mash which is really nice too.
Best places to stay in Dunedin
• Kingsgate Hotel Dunedin (10 Smith Street): Good central location - the Otago Museum is a short walk away. All rooms have balconies, and are north facing. They have free Wi-Fi and they have a restaurant on site as well.

• Hotel St Clair (24 Esplanade, St. Clair Beach): This is a nice boutique hotel with only 26 suites, and located right on the beach front and close to the St Clair Hot Salt Water Pool. The Esplanade is a great location to be at too, with lots of cafes and restaurants and a really nice spot to walk along by the ocean. They offer free Wi-Fi and free parking. Plus, Sir Elton John stayed there when he played in Dunedin so need I say more?!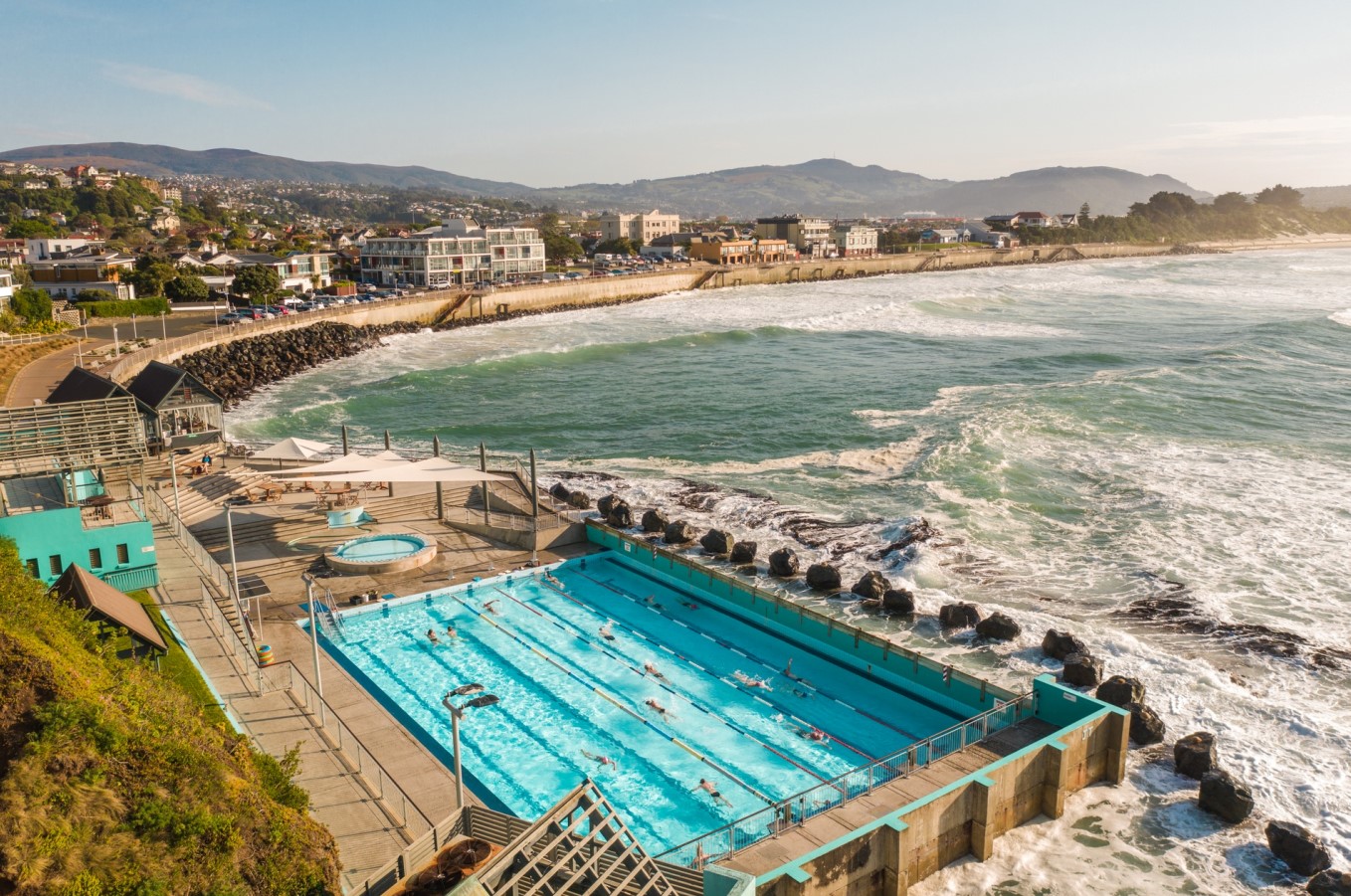 St Clair Hot Salt Water Pool with the St Clair Hotel in the background. Image credit: DunedinNZ
•
Larnach Lodge at Larnach Castle
(145 Camp Road, Larnach Castle): Larnach Castle is New Zealand's only castle, built in 1871 right on the Otago Peninsula. The castle itself is definitely worth a visit and the grounds are spectacular. Larnach Lodge is an awesome place to stay, built beside the original historic stables and offering amazing ocean views. The lodge has 12 themed rooms - like Scottish, Victorian, or Enchanted Forest to name a few! Plus, as a guest you'll get the opportunity to dine in the castle if you wish (at an additional cost).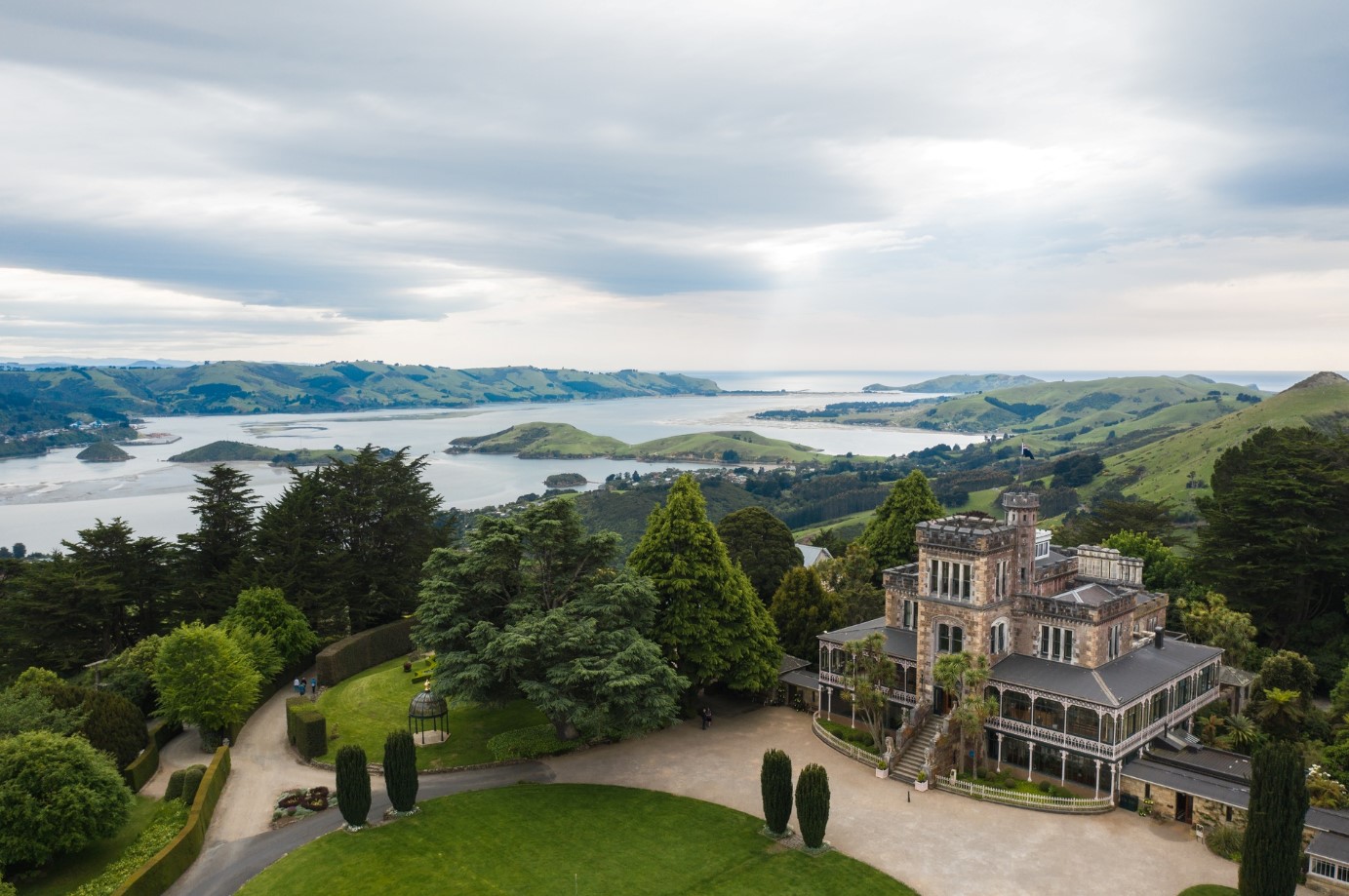 Larnach Castle. Image credit: DunedinNZ
Top things to do in Dunedin
• Explore the street art scene with the Dunedin Street Art Map. This self-guided art trail takes about 90 minutes to complete and will take you to about 30 different artworks by local and international artists - a great free activity to discover the city.

• See some New Zealand wildlife: As the wildlife capital of New Zealand, head out on a wildlife photography mission to Aramoana or Sandfly Bay to try and capture penguins, sea lions, seals and maybe an Albatross if you're lucky. There are some organised guided day trips that we can book for you at Flight Centre like the Peninsula Encounter tour which will take you to private conservation areas where you can hopefully see some penguins, fur seals, sea lions, albatross, and another 25+ species of seabirds and waders so just ask us when you're planning your Dunedin trip.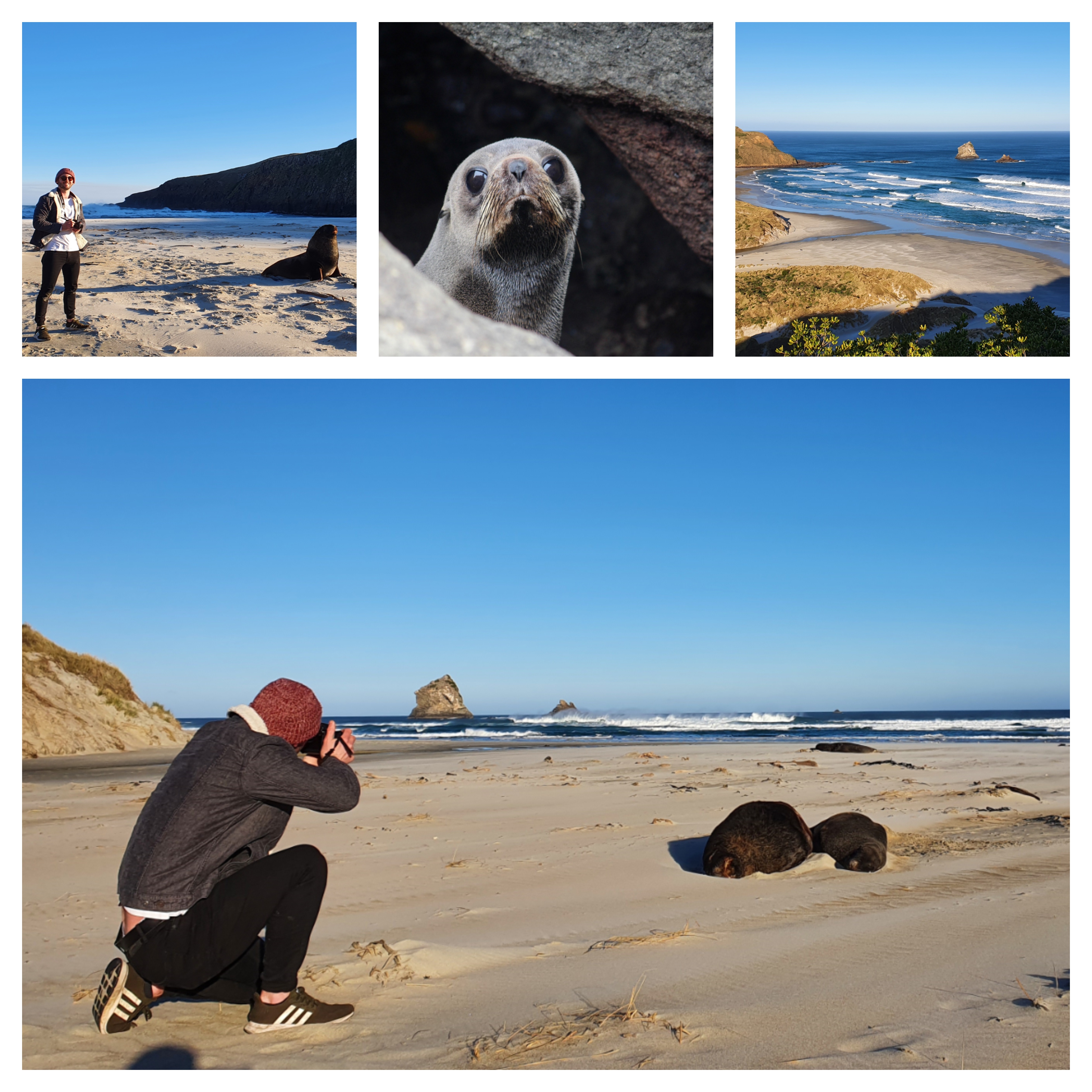 Got lucky enough that day to see about 20 New Zealand Sea Lions taking their afternoon naps on Sandfly Bay.
•
Baldwin Street:
Test your fitness by heading up the world's steepest street! To the city's dismay, the record was taken off us and given to a street in Wales in 2019. But thanks to the heroics of a local Dunedin surveyor who proved the Welsh recording was inaccurate, the record was returned to Baldwin Street not long after!
• You can't come down to Dunedin without going to the
Speight's Brewery
! They have some tours you can do there to learn about their 141 years of brewing history. And of course the tour ends with a tasting of their famous beer! We can book this for you at Flight Centre as well, so make sure to ask more details on that one!
• Larnach Castle: If you're not staying there it's still definitely worth going to New Zealand's only castle. Pre-book a tour to get an insight into some of Dunedin's deep and dark history! The castle has featured on TV shows such as American show, Ghost Hunters International as there are multiple reports that William Larnach's ghost has been spotted in the rooms! Make of that what you will...but don't worry the ghost doesn't visit the Larnach Lodge where you might be staying of course!!

• Tunnel Beach: A hand-dug tunnel built by John Cargill in the 1870s down to a secluded private beach so his daughter could swim. ALSO apparently haunted as there are reports his daughter drowning at the beach. Dunedin is largely based on the designs of Edinburgh, supposedly one of the most haunted cities in the world, so it's no surprise that the ghostly culture carried over as well. The beach itself is really nice so definitely worth a visit - just don't think about ghosts while you're there!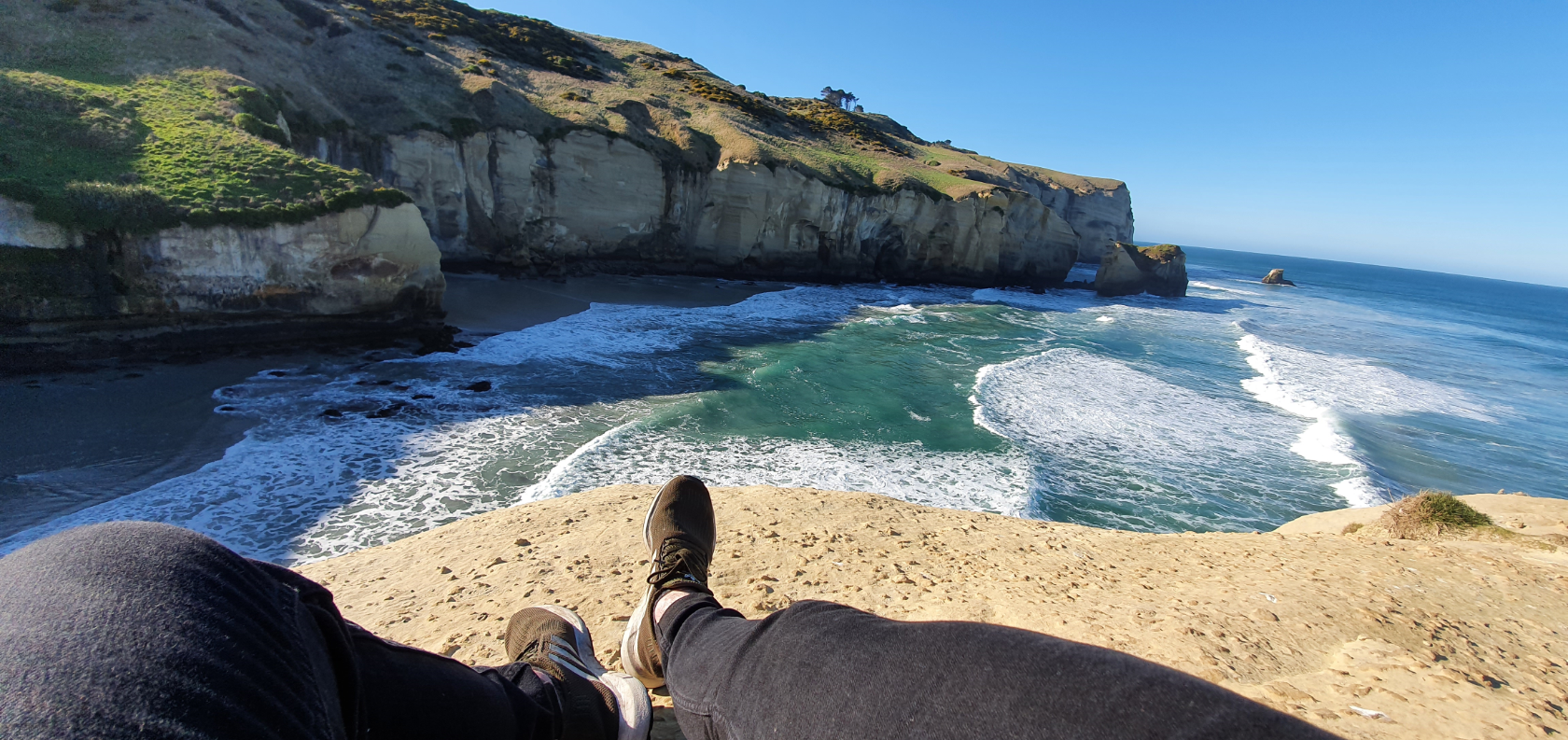 On top of the natural sandstone bridge over the ocean at Tunnel Beach.
•
Dunedin Railway Station
: Built in 1904, it's the 2nd most photographed building in the southern hemisphere (only behind the Sydney Opera House) and the most photographed train station in the world!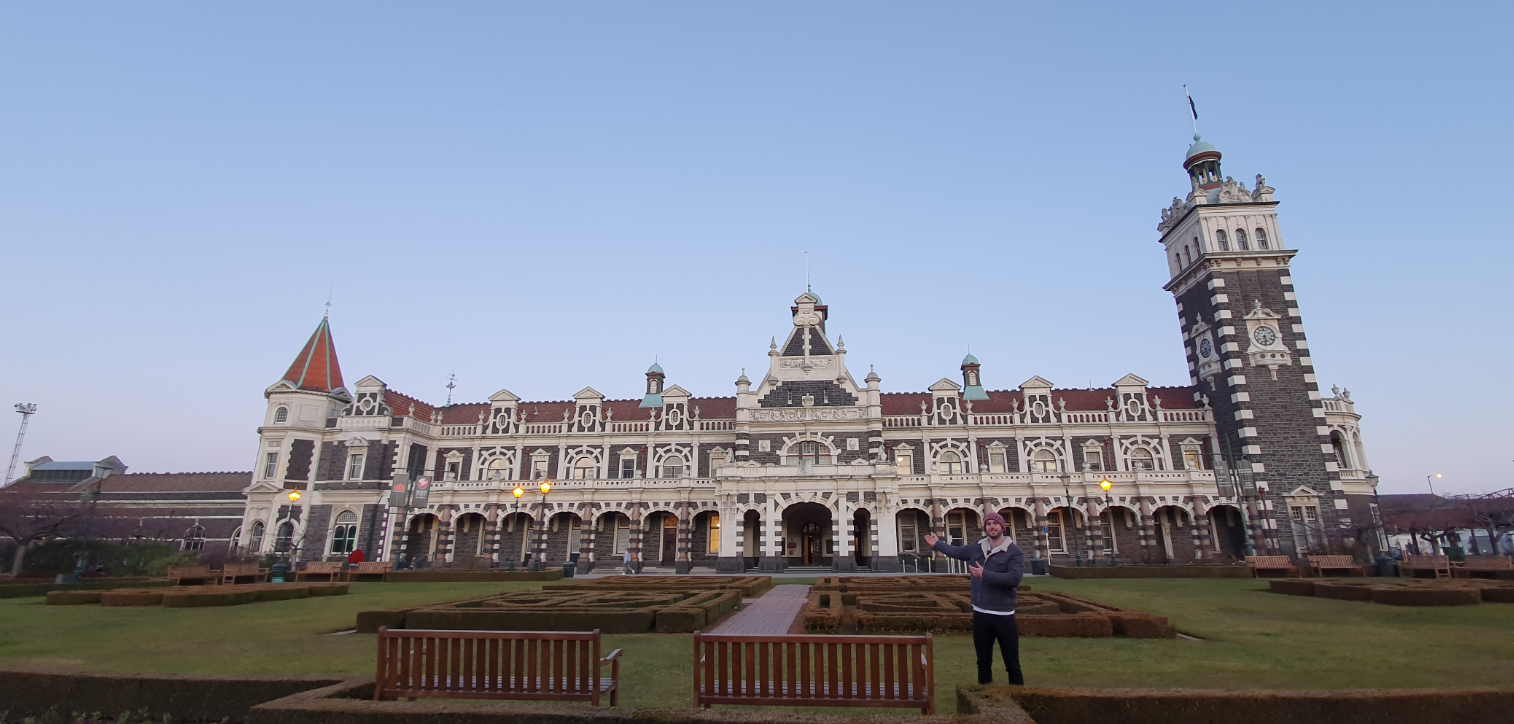 •
Surfing
: Get in your wetsuit for a surf at St Clair, St Kilda or Aramoana Beach. Legendary surfers, such as the late Andy Irons, have been reported to have surfed at Aramoana Beach. Oh and trust me, definitely get in your wetsuit - this stretch of coast is beautiful but the water temperature barely gets above 15 degrees in the height of summer!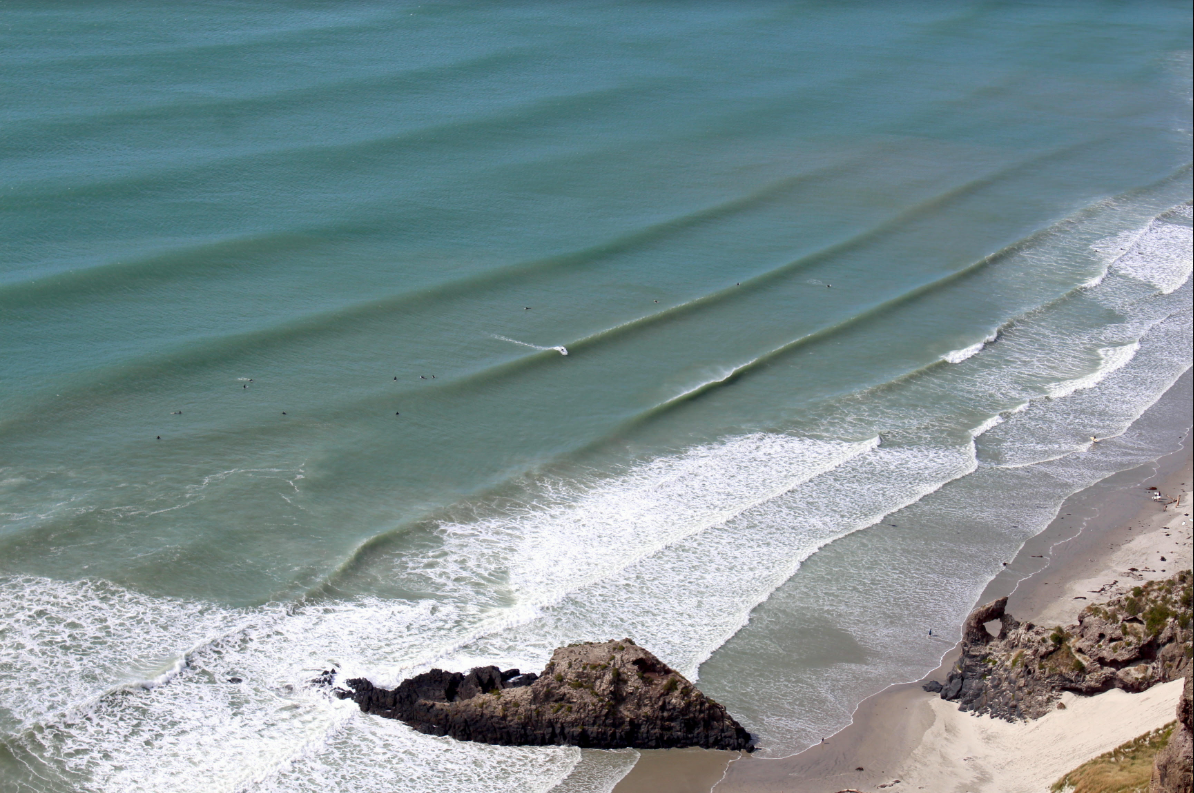 Surfers scatter the water in Aramoana.

Best spots to get the best views in Dunedin and surrounds
• St Kilda Beach with some fish and chips from the nearby Tahuna Camp Store to watch the summertime sunset. I've read blogs in the past detailing the most beautiful sunsets in the world, and never have I seen one that mentions the sunset from St Kilda Beach in Dunedin but trust me it's up there! Pair that with a crispy blue cod from the Tahuna camp store and you've got yourself a winning kiwi combo.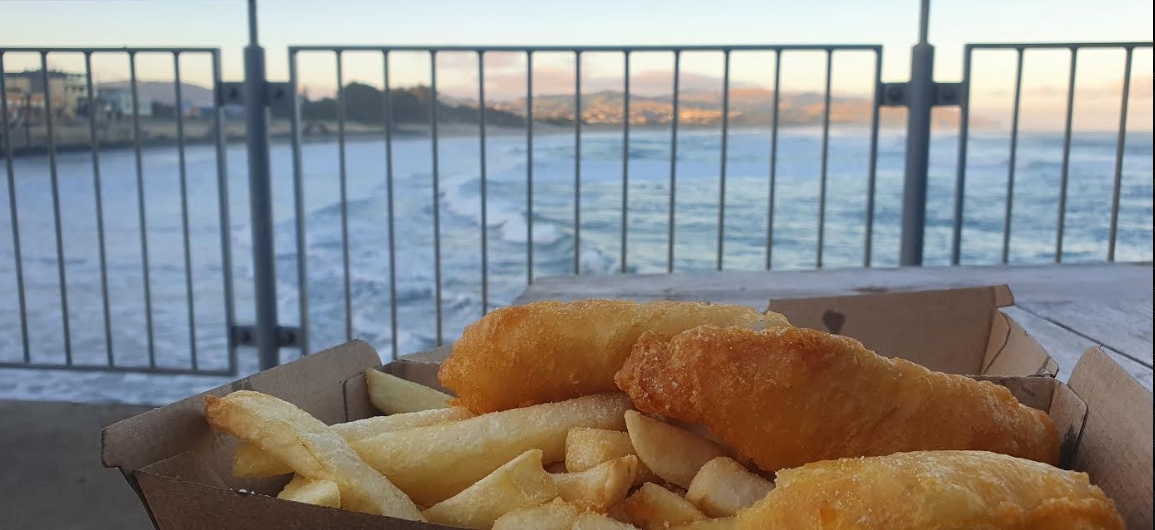 The best fish and chips in Dunners from the Tahuna camp store.
•
Top of Signal Hill:
If your fitness levels are up to scratch, try biking up the "Big Easy" track to the top of Signal Hill to get stunning views right across the city. If you then fancy a hit of adrenaline, bike back down again. Or you can also drive all the way to the top for an easier option.
• Drive down Highcliff Road on the peninsula towards Portobello for views right down the harbour on a clear day. I fondly remember seeing the view as a young kid and thinking that it has to be one of the best views in the country.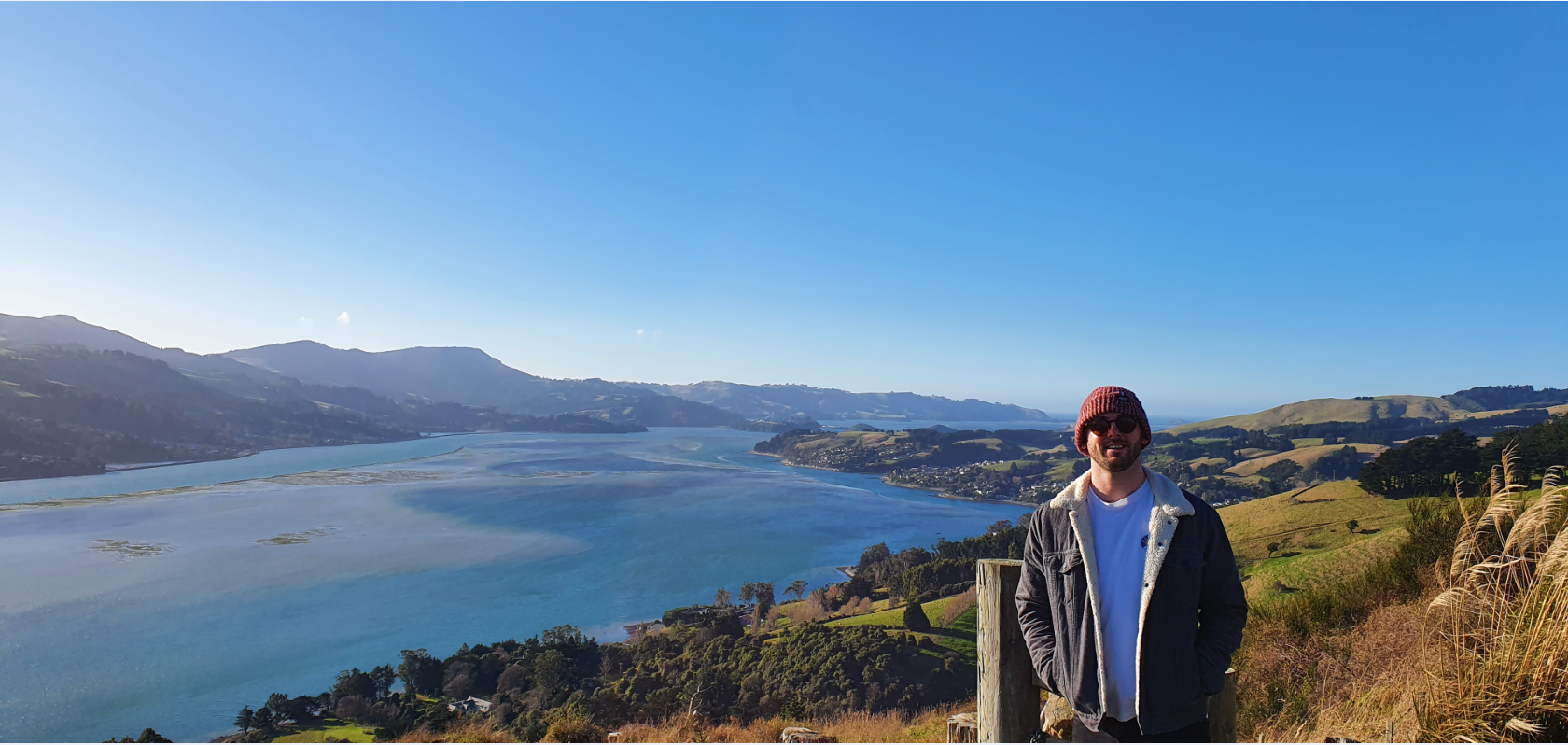 Beautiful views down Otago Harbour whist driving along Highcliff Road.

Best day trips from Dunedin
• Day trip to the Catlins and Purakaunui Falls: The Catlins is a rugged sparsely populated area home to many endangered New Zealand wildlife. Here you can find the Petrified Forest and Slope Point, the southernmost point on New Zealand's mainland. The Nugget Point Lighthouse is also worth checking out, with amazing views along the walk taking you to the lighthouse. When I was in central Italy, I was in a petrol station that had a large mural of a waterfall. I thought I recognised it only to realise it was the Purakaunui Falls in the Catlins - even the Italians recognise its beauty!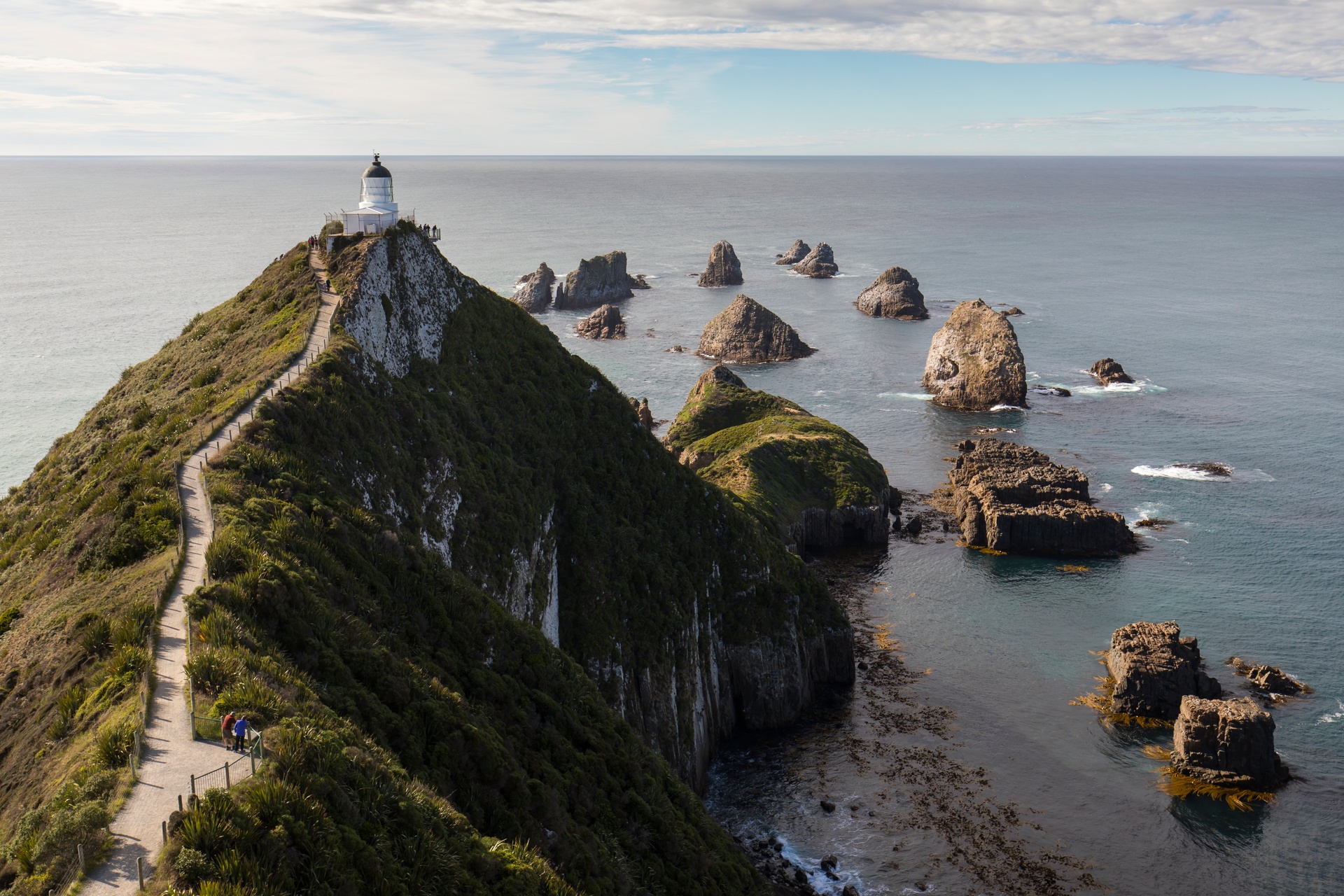 Nugget Point Lighthouse, The Catlins. Image Credit: Graeme Murray
•
Taieri Gorge railway
trip departing from Dunedin Railway Station. At the moment due to COVID-19 the services have stopped but we really hope that they will start again as this is definitely a must do. The journey itself is truly spectacular - one of the world's most famous train journeys!
Other Travel Articles You Might Like...