Mon, 22/04/2013 - 5:03pm
While her trip ended up a little more extravagant than planned, Jen McAllister from Flight Centre Auckland shares some tips on saving money on a Hawaii holiday.
Our game plan was simple: 7 nights in Hawaii, the first 2 nights of which we would spend in Waikiki, then hire a car and head up the East coast to the North Shore for 4 nights, then back to Waikiki for the last night. What could go wrong? On our 'to do list' was take a surfing lesson, eat local, visit Pipeline, do some shopping and see as much as possible for as little money as possible.
We flew to Hawaii with Air New Zealand on their Works fare. This is a must, as the flight was 8.5 hours and there is no way I'd travel longer than 3 hours without entertainment and food! The flight was excellent; it left at 10.40am Saturday morning and arrived into Hawaii on Friday the day prior at 8pm. Excellent flight times and meaning we would be in Waikiki with plenty of time to party. Sadly we then got stuck at Immigration for 1.5 hours; there's nothing like travelling to the US to test your patience after a long flight!
We then caught the number 19 bus from outside the terminal into Waikiki. All bus travel anywhere on the island, regardless of distance, is just $2.50USD - a bargain! We arrived at the Seaside Hawaiian Hostel and got a private room with shared facilities for $70USD per night, and this included a free breakfast of toast and jam, with the option of purchasing eggs for 35c each. It was nice and clean with a really social vibe.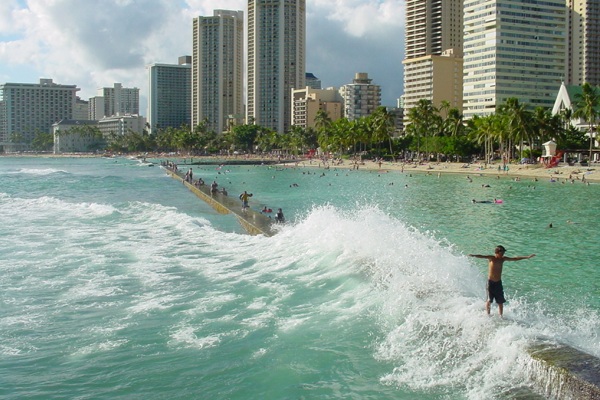 Next stop on our Hawaii adventure was heading out for a few cheap but rather weak strawberry margaritas at Cha Cha Cha Mexican restaurant. They were delicious but you quickly learn that Hawaii is not the place for potent cocktails; stick to beer and wine, that way you know the value and alcohol percentage you're getting.
Also worth noting is that many bars and restaurants provide you with free food while you're drinking. At Cha Cha Cha they gave us corn chips and salsa, The Cheesecake Factory give you free bread and butter, Dukes give you free corn chips and salsa… so if you're travelling on a budget this definitely helps!
The next morning we grabbed breakfast and headed through the international markets and the Royal Hawaiian centre (an upmarket shopping centre on the beachfront). We then took the bus from Kuhoi street to the Ala Moana Centre, a huge shopping mall with 430 shops.
After some shopping we decided to hit the beach. We followed some people quite clearly heading to the beach (that old Kiwi ad undies-undies-togs really needs to apply in Hawaii) and wandered through the Sheraton Waikiki foyer, past the shops and to their pool area, where the most magnificent views opened before us. Their infinity pool looks right out over the water of Waikiki Beach and is just spectacular.
To the right of the Sheraton is a small beach where the popular Mai Tai Cruise leaves from. This is an all you can drink sunset cruise but you have to pre-book as it's sold out almost every night. We purchased two tickets for Thursday night at $39USD each, then hit the beach for a much-needed swim along with thousands of other people. Watch your belongings here.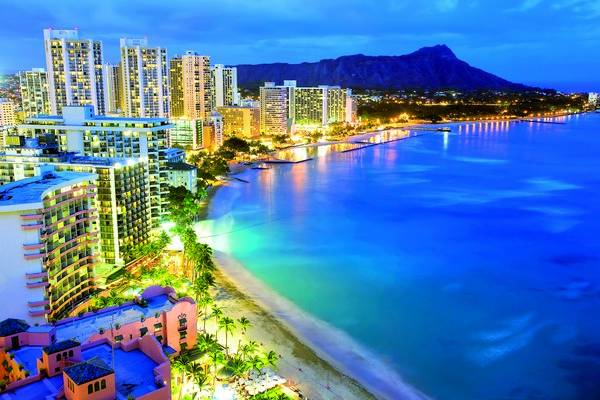 That night we visited the nightlife on Kalakaua Ave, which after dark is full of street artists, performers and musicians, with a fun atmosphere great to walk along and enjoy.
On Sunday morning we hired a car from Paradise Rentals to make it easier to visit things to do in Hawaii. If you book online and in advance you can get much cheaper rates so I recommend being organised and booking ahead of time. Another piece of advice: make sure you know your conversions (km to miles, litres to gallons etc).
We decided to drive to the North Shore via the East coast route and take our time, exploring all the beaches on the way. Our first stop was the Diamond Head Crater, which we were totally unprepared for and failed in our research. We turned up in jandals and then proceeded to climb the crater's 45 minute walk to the peak without any water or sunblock… not ideal. Definitely be prepared and wear strong footwear, as it is a bit of a climb but completely worth it, the views from the top all over Honolulu are spectacular, and it only costs $1USD per person.
Part 2 of Jen's Hawaii blog is coming tomorrow.
Looking for more information on holidays in Hawaii?  Contact a Flight Centre travel expert – 135 stores nationwide. Phone 0800 24 35 44.
Other Travel Articles You Might Like...