Mon, 03/02/2020 - 3:26pm
The southern United States is a region known for its culture, history and hospitality, but in an area so vast – the combined landmass of Texas, Tennessee and Louisiana alone is more than three times the size of New Zealand – it's easy to feel intimidated. To take a bit of the uncertainty out of your first visit to this part of the world (or to add a little extra flavour to your return trip) we've put together a helpful guide on what to do, eat and look out for in some of the South's most iconic cities.
Houston, Texas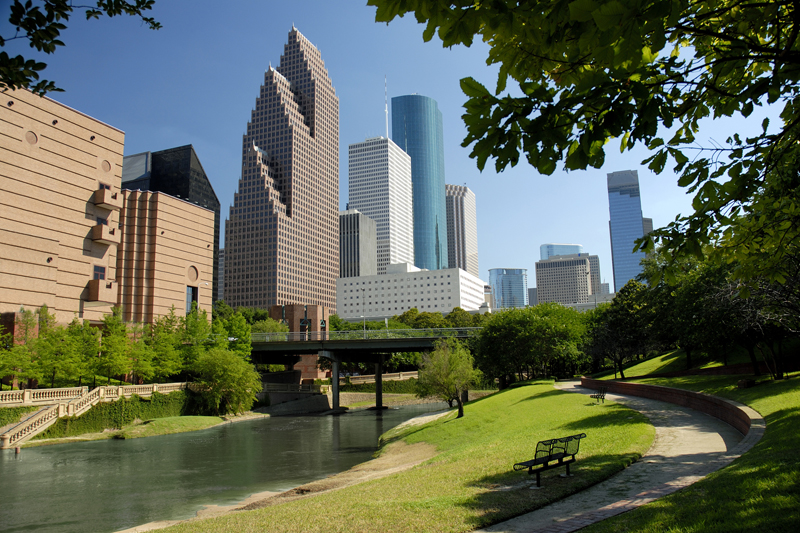 Houston skyline from Buffalo Bayou Park.
With direct flights available on Air New Zealand, Texas' most populous city is a great place to start your southern odyssey. The first item on any dedicated traveller's list should be to seek a little sustenance, so we recommend you start off your visit with a piled-high plate of genuine Houston barbeque. With worthy spots all over town, there's little chance you'll leave disappointed, but if you want to be absolutely sure that you're tucking in to the city's best, check out Gatlin's in Oak Forest or Corkscrew in Old Town Spring – both have dedicated local followings, and both have become fixtures on 'best BBQ' lists over the last few years.
Once you're done filling the tank, the city's got something for pretty much everyone. Art museums like the Menil Collection and Contemporary Arts Museum Houston are renowned for their world-class collections of American and international works, while the Houston Museum of Natural Science houses a family-friendly range of hands-on and prehistoric exhibits. Precincts like Downtown and the Houston Heights neighbourhood boast fantastic shopping experiences, and green areas like Buffalo Bayou Park offer an ideal respite from the city's all-go atmosphere.

San Antonio, Texas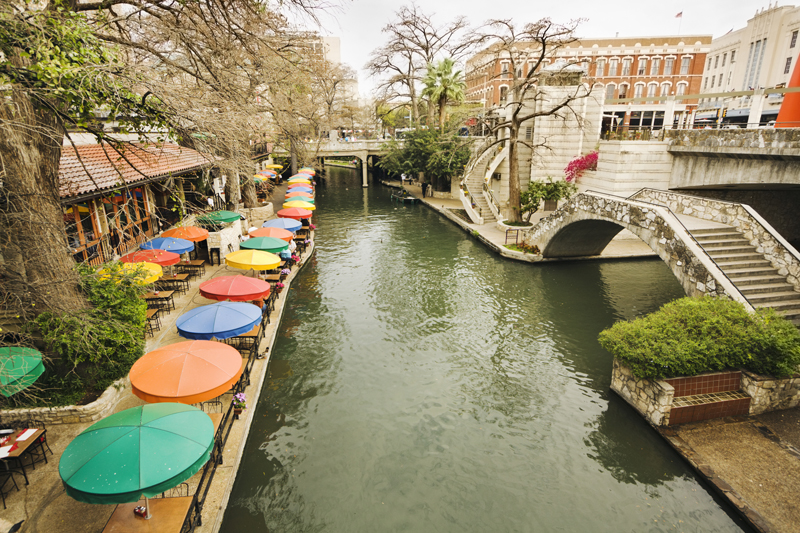 River Walk, San Antonio. Photo: Getty
Around three hours drive from Houston, San Antonio's inland setting offers an entirely different landscape to its more coastal neighbour. Situated on the edge of the state's breathtaking Hill Country, the city is a great place to base yourself if you like your holidays outdoors and active, with a range of great walks, tramps (or hikes, in the local parlance) and scenic spots within easy reach.
It's also home to some of Texas' most notable historic locations, among them the Alamo (the site of a famous 19th century siege) and the San Antonio Missions National Historical Park. Remarkably preserved since their construction in the 1700s, these sites offer a vivid view of the Spanish influence that helped build the city. For the perfect way to end your day, head to the downtown River Walk with riverboat cruises and restaurants catering for everything from family outings to romantic evenings. It's the perfect place to enjoy a quiet dinner and a drink while you watch the world go by.
Austin, Texas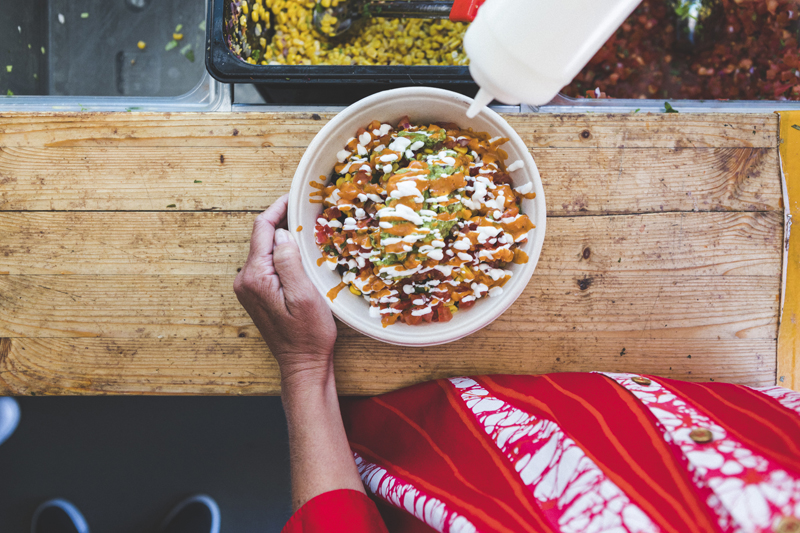 Tex-Mex cuisine. Photo: Getty
'Keep Austin Weird' may seem like a strange slogan, but it won't take you long to realise that for the residents of this distinctive city, they mean it in the most affectionate way possible. Famous for hosting the annual music, film and thought-leadership conference South by Southwest and the Austin City Limits music festival, Austin's well and truly embraced its role as an American cultural capital. With iconic venues like Emo's, Stubb's BBQ and The Continental Club hosting everything from honky tonks to hipster favourites basically every night of the year, keen concert-goers definitely won't leave disappointed.
There's more to Austin than just all-night hoedowns, though. The city's legendary Tex-Mex cuisine is worth the trip alone, and diners looking for something a little more upscale will be well-served too – Hill Country vineyards like Becker and Westcave Cellars are reputed as some of the best in the country, and wine bars like the uniquely monikered Infinite Monkey Theorem offer a great way to experience the best in local boutique and natural wine varieties, without leaving the city.

New Orleans, Louisiana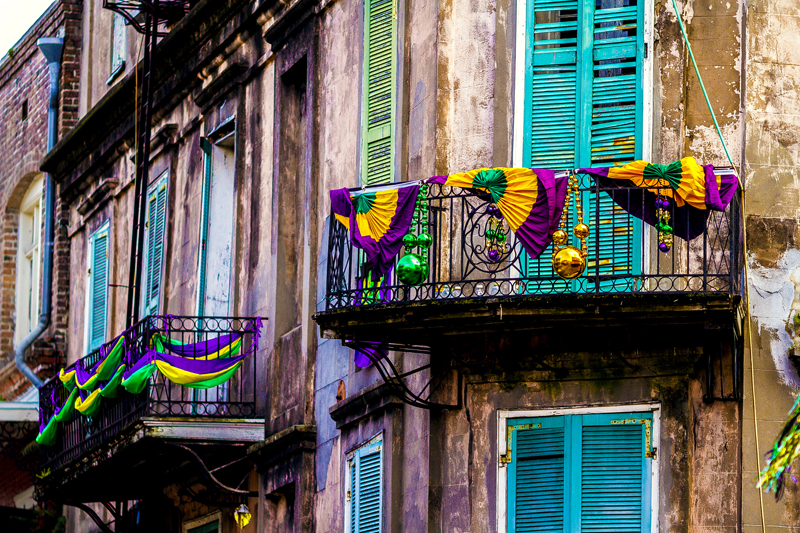 French Quarter decorated for Mardi Gras, New Orleans. Photo: Getty
Home to a truly unique culture that boasts the kind of vibrancy rarely seen in modern cities, New Orleans is a destination that truly has to be experienced to be believed. The annual Mardi Gras carnival is probably New Orleans' best-known attraction, drawing huge visitor numbers each February. But if you happen to be visiting a little later, don't despair – the town they call NOLA hosts more than 130 festivals each year, ranging from major events like the New Orleans Jazz & Heritage Festival and the Louisiana Seafood Festival, to more niche affairs like the Oak Street Po-Boy Fest – a whole day dedicated to an iconic (and, admittedly, delicious) local sandwich – while the 7th Ward Arts & Culture Festival is a weekend spent celebrating the art, culture and people of the historic Tremé neighbourhood.
The beautiful historic architecture and always-bustling bars of the city's famous French Quarter makes it a great place to spend an afternoon or an evening, and you'll be spoiled for choice when it comes to accommodation options. The emphasis here is definitely on the carefully restored rustic over the hyper-modern, but CBD spots like the Catahoula and Ace Hotels offer an artful blend of both for a stay that promises both luxury comfort and old-world style.

Memphis, Tennessee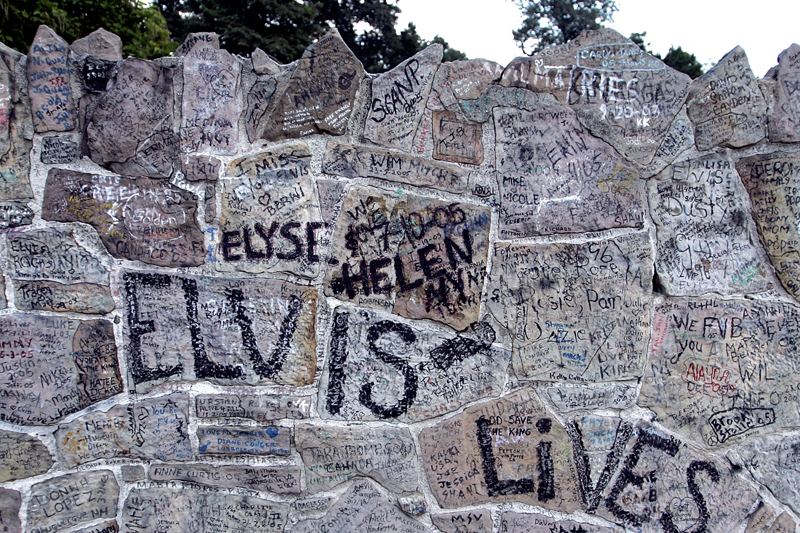 Graceland, Memphis. Photo: Getty.
For the better part of half a century, Memphis has been known as one of the world's great music cities, and it only takes a short stroll down Beale Street to understand why. Officially designated by the US government as Home of the Blues, this bustling and tourist-friendly street is packed end-to-end with great bars and restaurants of all shapes and styles. Try the Rum Boogie Café or B.B. King's Blues Club for a night out that's sure to stick in your memory. Just around the corner you can also find Sun Studio, responsible for legendary recordings by Elvis and Johnny Cash, among others. If you want to explore a little further, there's a handy shuttle tour that takes in Beale Street and Graceland, the iconic shrine to the life of the late Mr Presley.
As one of the more significant cities in the American civil rights journey, it's also a great place to take in some more serious history – the National Civil Rights Museum is a must-visit for anyone interested in how the country was built and how it's changed, with exhibits dedicated to pioneers and cultural ground-breakers including Rosa Parks and Martin Luther King Jr.

Nashville, Tennessee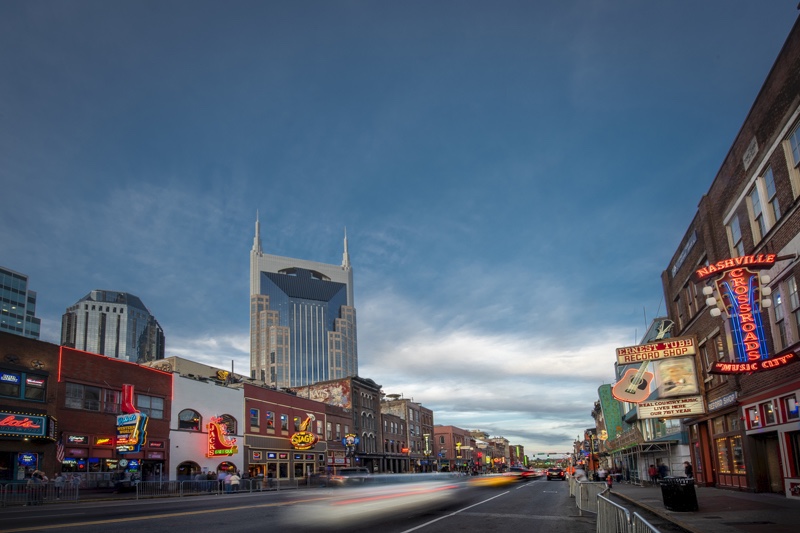 Broadway Street, Nashville. Photo: Getty
For anyone not from the South, Nashville's probably best known as the home of country music, and while it's true the city remains a mecca for fans and proponents of this massively popular genre, the Tennessee capital has taken on a significantly more cosmopolitan bent in recent years. Iconic theatres like the Grand Ole Opry House and Ryman Auditorium remain just as popular as ever with locals and visitors alike, but the city's downtown now rivals its coastal counterparts for sophisticated dining, retail, accommodation and entertainment options. If your tastes are more high-brow than honky tonk, spend your days shopping the unique and quirky boutiques of East Nashville and your nights downtown at restaurants like the award-winning Henrietta Red and stylish bars like Pinewood and Pearl Diver.
Of course, the classics usually get their reputations for a reason, so if you want a memorable taste of Nashville that's a little less fancy, Prince's Chicken is about as good as fast food gets – in case you're wondering, that's extremely good.

Other Travel Articles You Might Like...