Tue, 02/08/2016 - 3:57pm
Some people come for the sun and sand; others for the world-famous architecture or the legendary party scene. They all agree: there's nowhere quite like South Beach, Miami.
Ocean Five Hotel on Ocean Drive, South Beach. Photo: iStock
For more than a century, Miami has been one of the United States' favourite sunshine destinations. Little wonder: even in the depths of winter, when most of the country is blanketed in snow, this part of southern Florida remains warm and dry, with the warmest ocean temperatures on the US mainland.
One drizzly day late last year, I left New York around noon; by late afternoon I was dipping my toes in the water at South Beach, Miami's famous beachfront neighbourhood. Like so many things in America, South Beach is super-sized. In its entirety, the island of Miami Beach (South Beach is just the southern end) runs 14km north to south – a wide, dead-straight stretch of sand buttressing the Atlantic Ocean.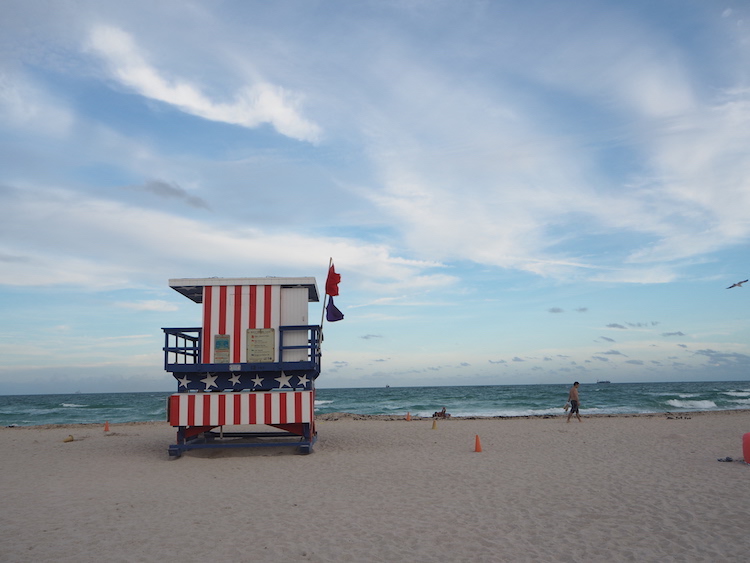 Lifeguard station, Miami Beach. Photo: Catherine McGregor
With so much acreage to explore, it's best to go by bike. I rented one from the Miami Beach Bicycle Center, one of many bike rental outfits in the area, and spent a couple of hours cycling the boardwalk. It starts at the island's southern point and stretches northward for around 40 blocks, offering a peaceful, car-free introduction to the area.
After all that exertation, it was time to eat. For a quick and affordable bite that isn't greasy fast food, it pays to explore the side streets. Locals regularly recommend La Sandwicherie, an outdoor stand serving enormous sandwiches and fresh fruit smoothies. As I chowed down on a 'tropical' (a cross-cultural mix of ham, mozarella, and fresh pineapple and mango) I fell into conversation with Sally, a Miami native. She grew up on the mainland, but would come to the island every weekend to hit the beach and party. "This was the early 1980s, before the tourists. It was still pretty sketchy here. Have you seen the [drug cartel] movie Scarface? That's what Miami was like."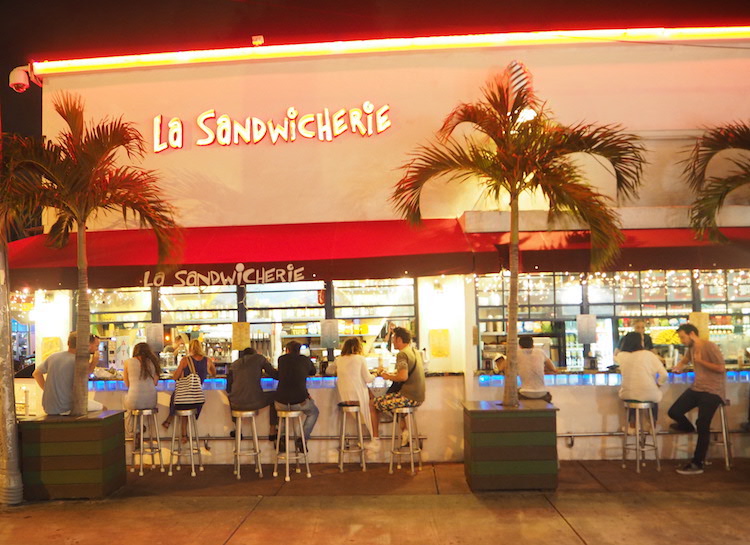 La Sandwicherie sandwich stand at night. Photo: Catherine McGregor
In 1984, the first episode of Miami Vice screened on television and the real-life district slowly began to change. When it debuted, the show's depiction of South Beach – glamourous, sexy and effortlessly cool – was still a fantasy; by the end of the decade it had become a self-fulfilling prophecy. The gorgeous Deco architecture that featured so prominently in Miami Vice is still there, but many of the old businesses were forced out by rising rents.
One that stayed is Mac's Club Deuce, South Beach's last remaining dive bar, located across the street from La Sandwicherie. It's been serving cheap beer since 1964 and owner Mac Klein recently celebrated his 101st birthday; he still comes into work most days.
The Miami Vice era also helped usher in a renewed appreciation for South Beach's Art Deco treasures. The area's first golden age began in the 1920s, when northerners started flocking to Miami for a dose of winter sun in huge numbers. Hotels quickly sprung up along Ocean Drive and Collins Ave, nearly all of them built in the then ultra-fashionable Art Deco style.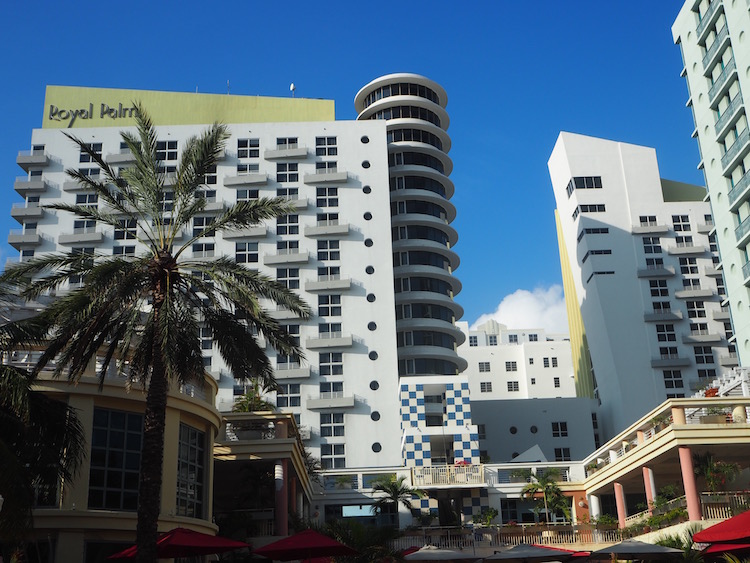 The Royal Palm Hotel on Ocean Drive. Photo: Catherine McGregor
Some 1920s buildings survive in South Beach, but most date from the later part of the Deco era when the Streamline Moderne movement was gaining ground. Recognisable by their rounded corners and strong horizontal lines, examples of Streamline Moderne (or Tropical Moderne, as the candy-coloured Miami version is sometimes called) abound in South Beach; the best include The McAlpin, Delano and Carlyle hotels. Two great places to learn more about the area's architectural history are the Art Deco Museum, which also offers architectural walking tours, and the Wolfsonian-FIU, a fascinating design museum which is itself housed in a historic Deco building.
Among all the clean lines, pastel hues and retro-fabulous neon, Española Way stands out. Built in 1925 as an upmarket dining district with a bohemian twist, it still retains the feel of a Mediterranean village square, especially at night when the pedestrianised street is filled with al fresco diners and the sound of Latin guitars. Nearby Lincoln Road Mall is also a popular outdoor dining destination, but one with a lot less soul. While you're on Española Way, poke your head into the Clay Hotel, a favourite hangout of Al Capone and the birthplace of the 1930s rumba craze.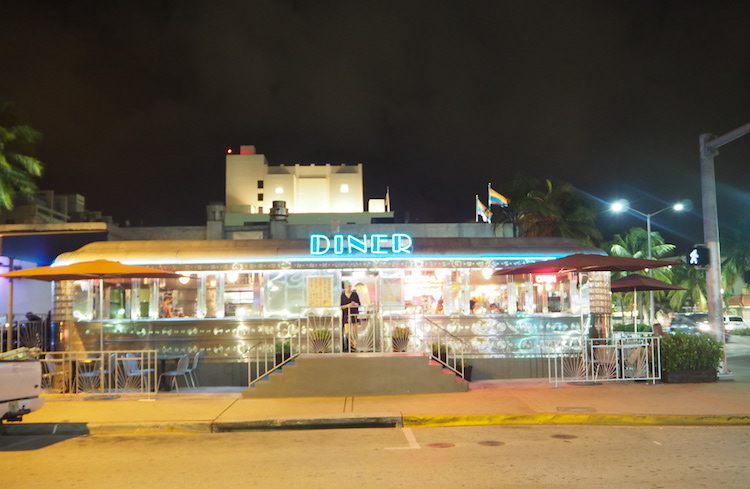 The 11th Street Diner, South Beach. Photo: Catherine McGregor
Miami may be a proud part of the United States, but its heart belongs to the Caribbean. More than 70% of the city's population is Latino; even in touristy South Beach, the sights, sounds and tastes of South and Latin America (particularly Cuba) are commonplace. Don't leave without ordering a cafe con leche (a Cuban latte) and a pastelito (pastry), from one of South Beach's Cuban cafes. Las Olas, a few minutes' walk from the main drag, is one of the most popular. If you're looking for lunch – a ham and cheese "Cuban" sandwich perhaps, or a plate of roast pork – there's seating inside, but I joined the locals at the walk-up counter. A few sips of coffee, a couple of bites of empanada, and I was off. The beach was waiting.
Other Travel Articles You Might Like...