Fri, 15/02/2019 - 3:52pm
Air New Zealand's gateway to the southern United States is a sprawling and cosmopolitan city. Follow our recommendations to make the most of a stopover there before moving on to other parts of Texas, to nearby American cities like Memphis, New Orleans and Nashville, or further afield to Mexico and Central America.
Where to Stay
The Museum District
Greenery might not be the first thing you think of when you hear 'Houston', but there's actually plenty of it. From the Museum District, a surprisingly leafy and spacious precinct in the central city, it's an easy walk to the city's museums and art galleries – an astonishing 19 of them in total – and a short seven-stop ride on the Main St streetcar (part of Houston's extensive light rail system) to downtown. A quick taxi ride away are the good eating and drinking spots in the Montrose neighbourhood (see below).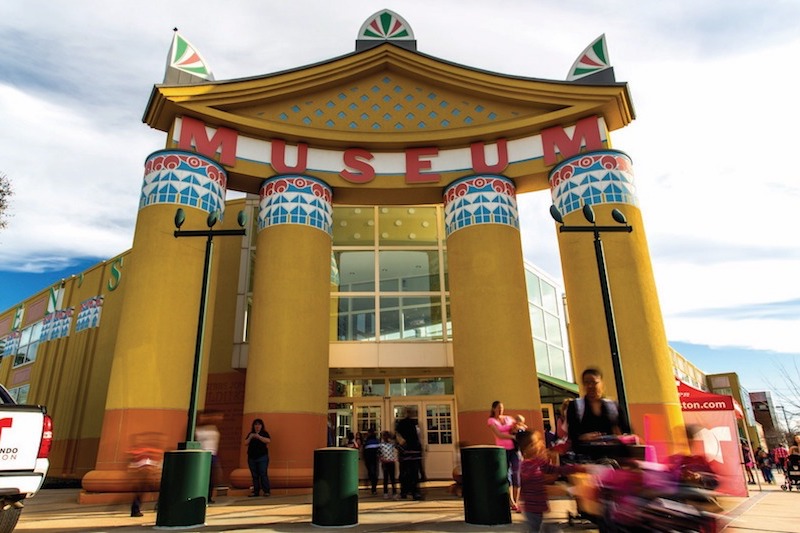 The Children's Museum of Houston. Photo: Visit Houston
What to do
Space Center Houston
At around 50 km south of the central city, getting to the NASA's Space Center Houston will cost you around US$30 each way by Uber (or take the bus, though be prepared for a long journey). Despite the distance, the Space Center is an essential destination for anyone with an interest in space exploration, and the kind of place it's easy to spend most of the day at. Your ticket includes a 90-minute tram tour of the enormous site, with a stop at NASA's still operational Mission Control, of "Houston, we have a problem" fame. You'll also get thrillingly close to a massive Saturn V rocket and have the chance to explore the nooks and crannies of a Space Shuttle. The excellent guides are often retired scientists and engineers who themselves once worked at NASA.
Museums & Galleries
Conveniently clustered in one area, Houston's excellent museums and galleries include something for every cultural interest. The Museum of Fine Arts has a stellar collection featuring Egyptian antiquities, French Impressionists, and 20th-century American heavyweights like Andy Warhol and Roy Lichtenstein. The Menil Collection is a must for any fan of modern art – don't miss the Rothko Chapel, an interfaith chapel housing 14 canvases by the American painter Mark Rothko. Nearby, the Houston Museum of Natural Science features massive dinosaur skeletons and Egyptian mummies.
Live Sport
Houston's a big sports town, and passionate locals pack out stadia to support pro teams like the Rockets (basketball), the Astros (baseball) and the Texans (American football). All the venues are central and easily reached on the city's Metro rail system. If you can't make it to a game in person, pull up a stool at almost any sports bar, order a beer and some chicken wings, and throw yourself into the on-screen action.
Where to eat and drink
Barbecue Texas-style
Barbecue is a big deal in Houston, but not in a throw-another-sausage-on-the-grill kind of way. Instead, Texas barbecue is all about meat, usually ranch-raised beef, cooked low and slow for up to 12 hours. Brisket and ribs are most popular, and usually served with simple sides of pickles, mac 'n' cheese and potato salad.
An easy walk from accommodation in Houston's Museum District, The Pit Room is a regular contender for the title 'best barbecue joint in Texas'. Don't forget to order a side of the pork and jalapeno sausages. During crawfish season – usually February to May – the crustaceans are steamed and served up outside the adjacent Patio bar.
Food Trucks
Houston is one of the United States' most cosmopolitan and ethnically diverse cities, and its Hispanic, south Asian and Vietnamese communities mean visitors are never far from good tacos, Bangladeshi curries or banh mi sandwiches. You'll find global flavours as well at the city's many food trucks, including those near the Museum of Fine Arts. Here's your chance to combine Mexican tacos al pastor with paintings by Picasso.
Craft Beer
Food trucks are also regular visitors to Houston's craft breweries. At the Axelrad Beer Garden in midtown, the big outdoor space features a rotating roster of food trucks and pop-up vendors, selling everything from New Orleans-style po' boy sandwiches to pupusa savouries from El Salvador. Beers from local breweries like Lone Pint, 8th Wonder and Spindletap are served from a retro Airstream caravan. Other great craft beer destinations in the central city include Saint Arnold Brewing Company, Australian-Texan collaboration Platypus Brewing, and 8th Wonder's own taproom on Dallas St.
Montrose
The hippest stretch of pavement in the city, Westheimer Road in Montrose combines great (and often cheap) eating with eclectic boutiques, cool bars, and vintage bookshops and record stores. After Mexican food at Hugo's or authentically mouth-numbing Sichuan dumplings at Mala, finish your night with cocktails and pinball at local favourite Poison Girl Lounge.
Other Travel Articles You Might Like...