Tue, 18/12/2012 - 8:43pm
Adelaide possibly isn't top of many travellers' bucket lists for Australia holidays but Jody Stephenson from Flight Centre Havelock North found plenty of reasons to consider the city.
Stepping off the plane in Adelaide after a 5 hour flight I felt excited and raring to go! The airport is large and easy to navigate around, so you won't start your holiday in Australia feeling lost and stressed.
My initial impressions of the city were the heat! While this can be a pleasant change from cooler New Zealand, I would avoid travelling with older family members or young children during the hotter summer months. Fortunately most buildings have good air-conditioning and, unlike humid Auckland summers, it's largely a dry heat.
For those planning to work on banishing their 'winter tans', there is a great beach in Glenelg with calm warm waters, gorgeous golden sand and an attractive promenade area. There are plenty of cafes, restaurants and pubs nearby to choose from when you need to hide from the heat or replenish some fluids.
Prices are generally in line with other cities in Australia and what we would pay in New Zealand, with a cup of coffee likely to set you back AUD $4.50, a glass of wine AUD $9, and dinners out around AUD $20-45.
The whole city has a very nice atmosphere; it feels safe and not as bustling as Sydney, Melbourne or Brisbane, plus it's largely litter-free. Plastic bags have been banned from supermarkets in the state in favour of reusable bags.
There is so much to see and do on Adelaide holidays, but the pace of life is very relaxed. The Adelaide Food Market is a foodies heaven and definitely worth a visit. There are all sorts of cheeses, fruit and veges, flowers, meat, cakes and pastries all under one roof. I'd particularly recommend shopping here for travellers staying in an apartment. The market is open 4 days a week (Tues, Thurs, Fri and Sat).
For a taste of Australian wildlife get along to Adelaide Zoo, where a diverse range of animals are well cared-for in good-sized enclosures - including a pair of Pandas!
Getting around is generally hassle-free. Adelaide has quite a few options for free transport, including a free tram that does a circuit around the city, a free bus that services the city centre, and free bikes from Hindmarsh Square, which even offers showers that can be used after your ride. There are also lots of public transport options which run regularly.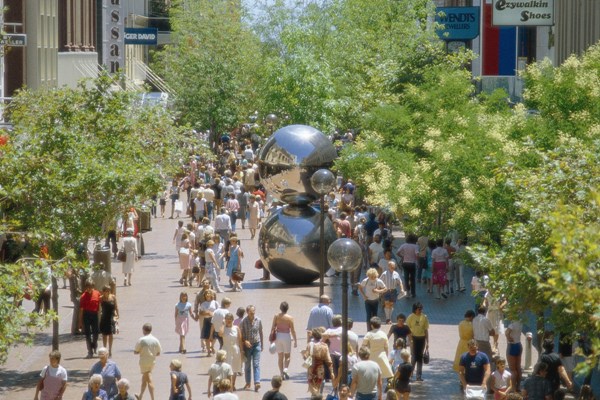 For somewhere to rest your head after a day sightseeing both the Majestic Roof Top and the Rockford hotels are rated 4 star plus with a modern feel to them. The Majestic also has a nice rooftop garden area where you can sit and have drinks while you admire the great views. The Rockford also has an amazing rooftop area, though this time with a pool that has an open roof so you can swim in the sunshine.
The Sebel Playford offers really beautiful decor in an old-fashioned British style, so you may feel as though you've checked into an older elegant hotel in England. For a cheaper option the Breakfree on Hindley has cheaper apartments and kitchen facilities suitable especially for families or those on a budget.
After having spent some time exploring I really felt that Adelaide is a city for all ages; there's something for everyone. The city has a more relaxed feel than the bigger cities of Melbourne, Sydney or Brisbane, but still offers good accommodation, restaurants, nightlife, shopping and attractions for sightseeing. All in all I loved Adelaide and would definitely recommend it to Kiwis planning a holiday in Australia.
Need more information on holidays in Adelaide? Contact a Flight Centre travel expert - 135 stores nationwide. Phone 0800 24 35 44.
Other Travel Articles You Might Like...