Wed, 12/09/2012 - 3:56pm
If you're travelling to China's Silk Road, here are some highlights from China holidays to the China Silk Road. 
Although termed the 'Silk Road' in 1877 by German geographer Ferdinand von Richthofen, silk wasn't the only item carried by the ancient camel trains that travelled here. From the 1st century BC until the 10th century AD, the range of items heading west also included fruit (apricots, pears and peaches), spices, porcelain, gunpowder, jade and paper, while wool, linen, horses, jewels, ivory, figs, grapes and wine-making returned to China – along with Buddhist and Islamic religions.
Few Chinese or western traders, if any, travelled the complete Silk Road; instead, merchants traded goods with middlemen at various oasis towns along the road. While many of these once-prosperous Silk Road towns have now vanished – buried under the encroaching sands of the vast Lop Nor and Taklamakan deserts – there are still many impressive sights to see, from the Terracotta Warriors at Xi'an, Buddhist artwork in the caves at Dunhuang and the Great Wall fort at Jiayu Guan to Labrang Monastery at Xia He, the lively Sunday market at Kashgar and the works of the jewellery craftsmen of Khotan.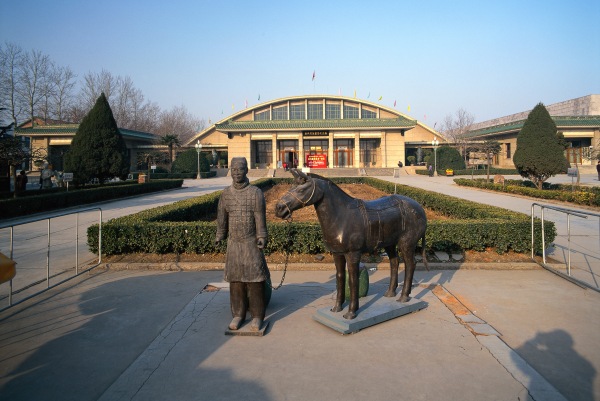 Highlights of China
Xi'an
For the great trade caravans of the Silk Road, Xi'an was the beginning or end of their journey. Today you can explore a wealth of historical remnants here, from the Terracotta Warriors and the Tomb of Emperor Jingdi to the Big Goose Pagoda and the old City Walls. Highlights of Xi'an include:
Terracotta Warriors – Discover well-preserved 2200-year-old life-size soldiers and horses arranged in battle formation to guard the tomb of China's first emperor, Qin Shihuang. Facing east in a rectangular battle array, every figure differs in facial features and expressions.
Shanxi History Museum – Take a stroll through Chinese history at this unrivalled museum packed with treasures from the Shang, Zhou, Han, Sui, Qin and Tang dynasties. Artefacts include bronze swords and crossbows, Buddhist art, Tang frescoes, terracotta figurines and expressive tomb guardians.
Great Goose Pagoda – Discover Xi'an's most famous landmark, completed in 652 AD to house a collection of Buddhist sutras collected by monk Xuan Zang during his travels in India.
Old City Walls – Explore on foot or by bicycle the largest and best-preserved city wall in China. Built in 1370 during the Ming dynasty, the walls are 12m high and up to 18m thick at the base and surrounded by a moat.
Great Mosque – Stroll covered alleyways past street vendors to one of China's largest mosques, founded in 742 AD during the Tang Dynasty. Discover tranquil courtyards with fine examples of Arabian and Chinese architectural styles.
Mogao Caves - Examine some of China's best-preserved Buddhist frescoes and statues at this UNESCO World Heritage Site, located south-east of Dunhuang at a once strategic crossroad of the Silk Road. Hire an English-speaking guide for a torch-lit tour through caves displaying giant Buddhist statues, wall paintings and a library of ancient scrolls. The caves reveal 1000 years of Buddhist art, starting from the 4th century and ending in the 14th century when the caves were sealed and abandoned. At the museum, learn more from an historic film and see reproductions of caves that are no longer open to the public. The museum also showcases surviving manuscripts and scrolls – others, looted by European explorer-archaeologists in the early 20th century, can be seen in the Louvre in Paris and in the British Museum.
Jiayu Guan Fort - Explore one of the great sights of north-west China at one of the defining waypoints of the Silk Road. Surrounded by desert and overlooked by snow-capped mountains lies the impressive Jiaya Guan Fort. Strategically positioned at the Jiayu Guan Pass in the narrow Hexi Corridor, this was the last fortress on the Great Wall of China, built in 1372 AD on what was then the extreme western edge of China. Walk in the footsteps of traders, explorers and banished intellectuals under the eastern Guanghua Men, one of two 17m-tall gate towers, to the outer 10m-high Great Wall, then pass through the western Jiayu Guan Gate – once known as the Gate of Sighs by those exiled into the wilderness beyond. Visit the Great Wall Museum to learn the intriguing legends and history behind the fort and to see a fascinating photo and model exhibition of the Great Wall.
Jiaohe Explore one of the largest, oldest and best-preserved earthen cities in the world. Stroll along narrow dirt streets past sun-bleached pagodas and under ancient archways into crumbling earthen ruins that lie scattered across an island plateau – including a Buddhist monastery, observation tower and a prison. Built in 108 BC on a protected clifftop 30m above the confluence of two rivers, Jiaohe was a garrison during the Han Dynasty and formed an important waypoint along the Silk Road until its destruction by Mongol hordes in the 14th century. Jiaohe is located 10km west of Turpan, which is known as the hottest spot in China and is famous for its pedestrian areas covered in grape trellises.
Urumqi Explore the Xinjiang Autonomous Region Museum to see an exhibition of perfectly preserved 4000-year-old mummies that were excavated from tombs in various parts of Xinjiang. Browse for Uyghur crafts such as decorated knives, carved jade and colourful silks; then take a three-hour drive to the Heavenly Lake – one of China's prettiest lakes. From early May to late October, watch as ethnic Kazakh families set up traditional felt tents along the pretty lakeshore, surrounded by their horses, sheep and goats. Ask to rent out a horse and take a guided tour of the lake. At other times, stroll along the shore and admire the lake's renowned scenic beauty, overlooked by Mount Bogda. Or climb to the top of Red Mountain Park (Hong Shan Gongyuan) for a picture-postcard view of the Heavenly Mountains.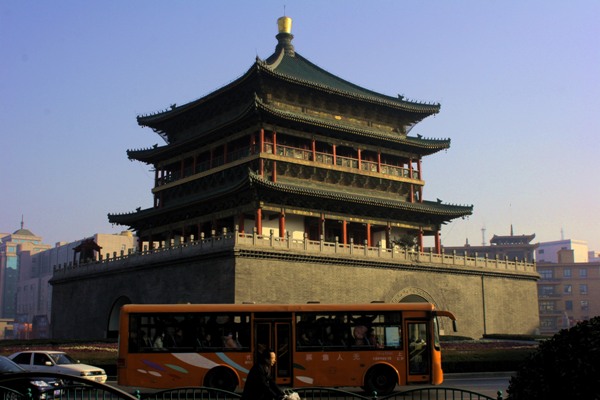 Kashgar Kashgar's strategic location at the junction of the northern and southern Silk Roads has seen it fought over by both Arab and Chinese rulers for centuries. Head to Kashgar's famous Sunday outdoor market, now relocated a few kilometres south of the city to Yuanfang Shichang. Watch up to 100,000 villagers, nomads and various ethnic minorities from the surrounding area descend to trade horses, sheep, cattle, goats, carpets, knives and clothes at this weekly event. Or head to the covered Yekshenba Bazaar (Sunday Bazaar – although actually open every day) to browse for carpets, Uighur knives and ethnic clothes and to watch locals buy pashminas, hats and boots. Later, get an education into local life by wandering the dusty narrow passageways of the old town, lined with mud-brick homes and street vendors making and selling everything from beads to pots and pans.
Khotan Admire the crenellated old city walls then head to the lively bazaar, which some people argue is better than Kashgar's Sunday Market, to watch craftsmen – from jewellers and tinsmiths to carpenters and blacksmiths – at work, while browsing for silk, carpets, leather jackets, fruit and spices. Watch local tribesmen test drive a horse and cart, then fossick the stony riverbed of the nearby Jade Dragon Kashgar River for jade rocks – Khotan has long been famed throughout China for white jade, as well as carpets and silk. Visit the town's Carpet Factory for bargains or learn about the production of silk at the Silk Research Centre and watch the resident silkworms feast on mulberry leaves.
Labrang Monastery From the nearby town of Lanzhou, explore the colourful Tibetan monastery town of Xia He. Meet friendly Tibetan pilgrims and watch Amdo monks wearing fuchsia-coloured robes as they roam the alleyways of the huge Labrang Monastery. Hire an English-speaking guide for a tour of the huge monastery, which was founded in 1709, or explore it independently. Watch monks spin prayer wheels, admire the golden roof of the Assembly Building, see the frozen butter sculptures and thangkhas (silk paintings) that decorate the monastery walls, then climb the nearby golden Gongtang Pagoda for fine views over the monastery. Later, hire a bike and cycle out of town to the grasslands of Sangke, which are perfect for horseback riding.
Thousand Buddha Temple Take a tour from Lanzhou to this famous temple and grotto packed with Buddhist paintings and statues, including an impressive 27m-tall Buddha carved into a cliff face.
Hua Shan Climb granite ridges past pine trees perched on rocky ledges to the summit of one of Taoism's five sacred mountains. Be rewarded with splendid mountain panoramas that stretch to the horizon. Hike past temples, meet friendly Daoist monks and breathe in the spectacular scenery. Choose from five main peaks and three routes, including a 'plank walk' up an almost vertical cliff face from the North Peak (1613m) to the South Peak (2160m). Stay overnight at one of the mountain guesthouses or, if time is short, ride the cable car: it only takes 10 minutes to reach Bei Feng, whereas on foot it will take you four or more hours.
Best time to visit: Any time, but probably best from early May to late October when the weather is warm. Peak season is generally in early May and from mid-July to mid-October.
Best buys: Carved jade, calligraphy and Shaanxi folk paintings.
Looking for more information on Asia Holidays or Cheap Flights toAsia? Contact a Flight Centre travel expert – 135 stores nationwide. Phone 0800 24 35 44  
Other Travel Articles You Might Like...