Tue, 23/04/2013 - 5:25pm
In part 2 of her Hawaii blog, Jen McAllister from Flight Centre Auckland camps at an air force base, sees humpback whales and takes in some culture.
Next stop on our Hawaii holiday was Hanuama Bay. This bay is considered one of the best on the island of Oahu and great for swimming and snorkelling. As we continued on our way up the East coast our lack of planning became obvious, as it was sun down and we had spent far too much time exploring and ended up in Kailua town.
This town has no hostel or hotel so we ended up backtracking to the Bellow's Beach Air Force Base. This camping spot is considered one of the safest on the island because it's located on the military base. One catch though – you have to be gone by 6am, which is a very early start on holiday! If you do decide to camp you will need a camping permit.
Monday morning we drove to Lanikai beach and watched the sun rise before continuing our drive north. We continued to stop at every available point and saw whales spouting off the coast, which was spectacular. We stopped in just past Turtle bay resort at the infamous Giovanni's Shrimp truck. These trucks are synonymous with Hawaii's North Shore with a shrimp truck every few hundred metres along a huge stretch of road.
All prices are $13USD for a plate of varied shrimp and 2 scoops of rice. We had garlic and lemon scampi from Giovanni's which was absolutely delicious, though incredibly messy and not slimming whatsoever. We washed it down with a cold coconut for $5USD; all in all, not a particularly cheap meal but very local.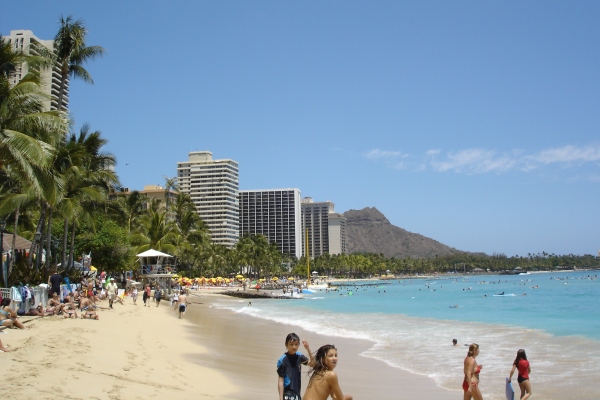 Next stop on our Hawaii adventure was watching the surfers at Sunset beach, before we continued on to the town of Waimea, and found the Plantation Village Backpackers hostel. We purchased a private room for $83/night USD in a house that featured shared facilities including a huge living area and great kitchen. The house was opposite the Three Tables Beach and you could see the massive waves from the balcony.
There aren't many restaurants in Waimea or Sunset beach, with the closest being in Haliewa about 15 minutes drive away, so as we were rather budget conscious we decided to make the most of the kitchen and do some cooking with ingredients from the supermarket a block from the hostel.
The next day we drove west to Haliewa and took a look around town. This is the spot to pick up a surf lesson or enjoy the historical North Shore. The town is built around the main street, a collection of old villa style stores selling everything from food, groceries, snow cones, glass, surf wear, antiques etc.
We continued on to the Moleukai Beach, to what's known as the end of the road for the North Shore, literally - the road just ends. We took a walk along the beach trying to find a swimming spot but as stunning as the water looked there was too much coral and the waves were too strong for us to even attempt a swim. Returning to our hostel we spent an hour swimming there, as this is the most popular swimming spot on the Shore complete with life guards, public toilets and parking.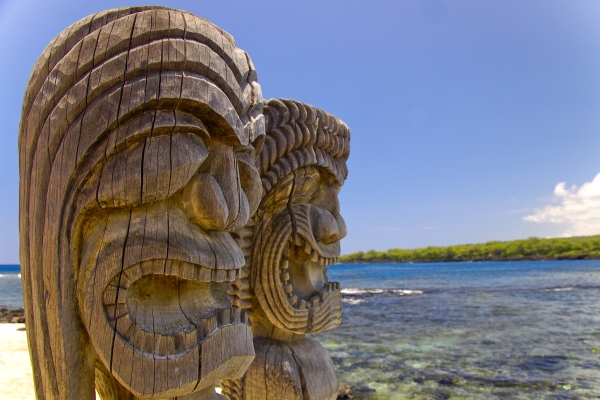 Wednesday morning started with a carving lesson which resulted in a hand carved Tiki, one of the fun things to do in Hawaii. Continuing on the cultural theme of the day, we explored the Pu'u o Mahuka Helau State Monument and old temple on the hill above our hostel, which dated back to the 16th century. From here the views of the North Shore are incredible and there are plenty of walking tracks so you can explore every possible vantage point.
The next morning we drove back to Waikiki and spent an hour gathering bargains at the Waikele Outlet shops, before heading on to Pearl Harbour for the cultural part of the holiday. It's free to enter the site, and we walked the shore front and read the information boards. Note that if you take any bags with you, you'll have to pay $3 to store them.
Later on we decided to spend our last night in luxury and checked into the Waikiki Mirimar Hotel in a Deluxe Ocean View Room, which was absolutely fantastic and a thoroughly spectacular view. For lunch we splurged and went to the Cheesecake Factory, where I took my raspberry and lemon cheesecake and sat on the balcony overlooking the ocean… bliss!
That night, we walked to the beach and joined our pre-booked Mai Tai sunset cruise. This was fantastic and we saw a humpback whale, which was just spectacular. Take a jumper though as it gets very cold out on the water. Next stop was the iconic Dukes bar on the waterfront for a few drinks and dinner.
As money was now at an all time low, we grabbed some breakfast at Denny's, and spent the rest of the day on the beach before catching the bus again to the airport. I really didn't want to leave and would have loved to stay longer. I'm totally in love with Hawaii!
Looking for more information on holidays in Hawaii?  Contact a Flight Centre travel expert – 135 stores nationwide. Phone 0800 24 35 44.
Other Travel Articles You Might Like...