Fri, 24/08/2012 - 1:37pm
One unmissable attraction in Australia is the Great Barrier Reef, and what better way to experience it than by tour! The Quicksilver Outer Barrier Reef Day Tour shows off what Tropical North Queensland has to offer. Peter Molesworth from our Central City store has recently tried the tour out and shares his amazing experience with us.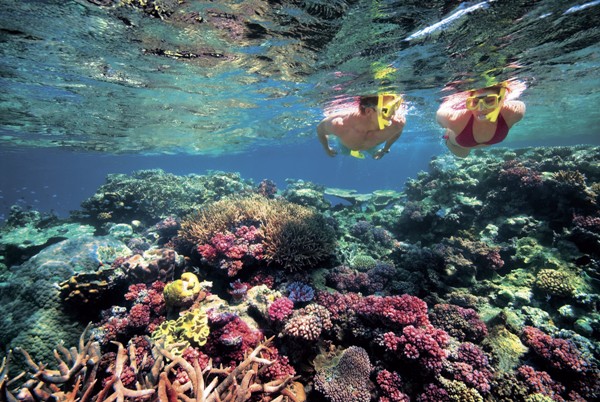 Along with the Kuranda Scenic Rail and Skyrail, this is the other must do for those visiting Tropical North Queensland!
What's included:
Buffet Lunch
Snorkelling equipment
Underwater observatory fish & coral viewing
Glass bottom boat submersible vessels
Port Douglas Accommodation Transfers
We were picked up by coach from our resort in Port Douglas, and taken to the Marina where the Quicksilver Catamaran departs for the Reef. The journey out to the reef was very enjoyable with plenty of staff to chat about what we had to look forward to. There are options to book all the activities ahead of time, such as snorkelling with a marine biologist, scuba diving and arranging a helicopter tour.
I decided to do the introductory scuba dive and the 10 minute helicopter tour over the reef. Those that choose snorkelling or scuba diving with a guide are all briefed with instructions while on the boat, so that when you arrive at the reef pontoon you are all ready to start. I was given instructions for the scuba dive and had to fill out a quiz, so I felt confident enough to give the scuba diving a go when we arrived.
On arrival to the reef, the catamaran ties up alongside a large reef activity platform. There are semi-submersibles, an underwater observatory, a glass bottom boat, protection suits for stingers and snorkelling equipment to use. Once you leave the catamaran, the staff convert it into a huge lunch buffet, so there is plenty of food and drink available when you get hungry.
It's a great day out where you can pretty much do whatever you want, so would be enjoyable for everyone, whether you are a swimmer or not!
The helicopter tour was really great fun and you get a great view of the size of the reef and the surroundings. You can see the amazing water colour of the reef, and get a real buzz flying around. The 10 minutes really went too fast, but is a memory that I will never forget!
Again, this is a must do tour!
Tip: Have a rough idea of what you'd like to do on the day before setting off, as time goes really fast and before you know it the catamaran is ready to depart back to the mainland!  Once you know what activities they would like to do, try plan out your day so you can fit them all in. While I was lucky to get in a scuba dive and helicopter tour, I missed out on the glass bottom boat, as there was no more time.
Need more information on Australia Holidays or cheap Flights to Australia? Contact Peter Molesworth from our Central City store or contact a Flight Centre travel expert – 135 stores nationwide. Phone 0800 24 35 44  
Other Travel Articles You Might Like...