Mon, 15/04/2013 - 6:33pm
Making time for both relaxing and rocking, Courtney Walters from Flight Centre Westgate finds much to write home about on Bali holidays.
A holiday to Bali offers the perfect combination of relaxation on sun-drenched shores to adventures exploring the islands, temples, markets and rocking nightspots.
Bali is divided into different areas, each offering a different type of holiday experience. Kuta is where many of the young travellers flock to as it has a long public beach – famous for its surfing and always busy – reasonable accommodation options, lots of bars, restaurants and shops as well as nightclubs. The area of Nusa Dua is quite different in that it is located within a separate area so the beaches are all private and pristine. The hotels in Nusa Dua are more resort orientated and feature lush gardens and long beaches.
A holiday on the island of Bali is not complete without a trip to the home of Balinese arts and crafts in Ubud. The town was influenced by the arrival of European artists in the early 20th century and blended their refined art training with traditional Balinese crafts. Ubud's extensive art market, known locally as Pasar Seni, offers a wide range of clothing, fabrics, masks and souvenirs. You can also find inexpensive silver, batiks and paintings in various styles.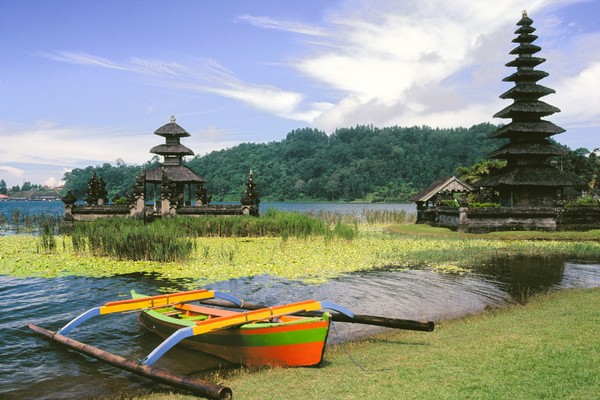 My top 5 hotels when you're needing somewhere to rest up after a day in Bali shopping or sightseeing are as follows.
Nikko Nusa Dua - An amazing resort overlooking its own virtually private beach on the sloping cliff sides of Nusa Dua. The resort is actually quite large but the way they have built the property it is quite spread out, so even if it was full you would feel like the only people in the resort.
They have 4 fantastic pool areas with slide and water activities to occupy the kids, a swim-up bar for the adults and private plunge areas for those who want the convenience right outside their rooms. The decor is fresh with a Mediterranean/Asian mixed feel to it. There are 3 different restaurant options and even a chapel overlooking the ocean for couples wanting a unique wedding experience.
Novotel Benoa Bali - This is a worthwhile mid-range family property situated right on the Tanjung Benoa coastline, which is famous for its water sports. The resort features a fantastic Balinese atmosphere, with a range of garden rooms and poolside villas. Families can take advantage of interconnecting villas for more space and their own private courtyard area. They also provide a daily activities board, kids club and babysitting facilities for the parents that would also like some time for themselves.
Note that the resort is split in half by the main road though, which could be a problem if you're not made aware of it, however there is a manned pedestrian crossing to help guests across the main road.
The Villas Bali & Spa - Right in the heart of Seminyak these villas offer a different way to experience Bali without the bustle of big resorts. Ideal for a group holiday or romantic getaway, the villas have a fantastic open plan design with private pools and outdoor bathrooms.
Guests are walking distance from great bars, restaurants and boutique shops. This property is serviced daily and even offers butler service where you place your breakfast order the night before, then staff come and cook your order in your villa, set your table and then do your dishes... AMAZING!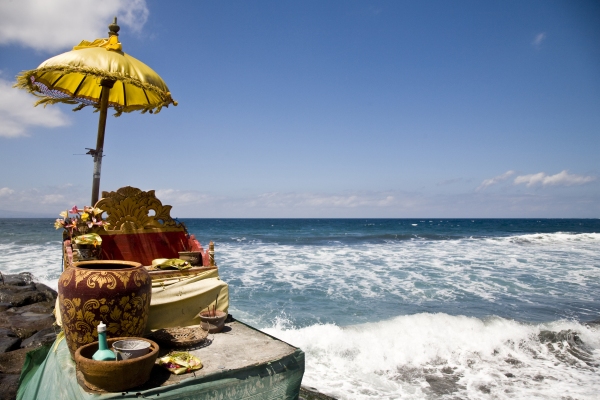 Champlung Sari Hotel - Nestled amongst the lush green jungle of Ubud, Champlung Sari again offers a completely different side to experience Bali. Being inland, this area is 1 ½ hours away from the main area of Kuta and definitely worth a couple of nights stay to escape the busy city.
This is a fantastic boutique-style property in a great location within walking distance of the main markets and famous Monkey Forest Sanctuary. The rooms are very spacious and family friendly with 2 pool areas and 2 restaurants to give plenty of options.
Hard Rock Hotel Kuta - As expected, this property lives up to the standards of Hard Rock Hotels worldwide and is quite refreshing compared to the similarities of the more traditional Balinese resorts. Situated right across the road from Kuta Beach, it's full-on from the second you walk in. In typical Hard Rock fashion, their Centrestage bar is one of the best nightspots in Kuta, the area that never sleeps.
The resort is massive and very secure with limited access to the rooms where key card is required just to get into the hallway of your rooms. They only have one pool but it is huge! There are sections for kids with waterslides, a swim-up bar for the adults and also a sand island in the middle where they put on events such as Zumba.
The facilities they offer families were the best I had seen at any of the resorts in Bali. They have a modern Lil' Rock club for 4-12 year olds (at an additional cost) but what really stood out is they have an area called TABU that accommodates 'young adults' aged 13-17. TABU consists of a nightclub with DJ booth and dance floor, cinema complex, bar (no alcohol) and lounge area with Play Stations and Xbox to keep them entertained for hours!
Looking for more information on holidays in Bali?  Contact a Flight Centre travel expert – 135 stores nationwide. Phone 0800 24 35 44.
Other Travel Articles You Might Like...