Wed, 26/10/2016 - 4:56pm
In Croatia, grandiose heritage architecture – the remnants of historic city states and ancient civilisations – combines with the hearty pleasures of the country's excellent seafood and rustic wine. Opportunities to get active include negotiating a network of forest-clad lakes or kayaking around the scattered islands of the Adriatic Sea.
The beach and port at Dubrovnik's Old Town. Photo: Getty Images
Dubrovnik
Traverse the 15th-century walls of Dubrovnik's Old Town before exploring the city in more detail by negotiating a labyrinth of lanes, compact squares and the gleaming marble flagstones of the Stradun, the town's fabled 300 metre-long main thoroughfare. Ferries bob from Dubrovnik's compact fishing boat harbour to pine-covered Lokrum Island, and for fans of Games of Thrones, walking tours lead visitors to Old Town locations that featured as King's Landing, the capital of the Seven Kingdoms.
The Riva waterfront, Split. Photo: Getty Images
Split
Gleaming centuries-old marble thoroughfares also feature amid the sprawling coastal city of Split. Cafes fill walled squares in the city's harbourside labyrinth, while stately churches and chapels emerge at the end of narrow streets and sleepy laneways. From Split's Riva, a wide palm-fringed waterfront avenue, ferries leave regularly to Croatia's Adriatic islands, and the historical ruins of Diocletian's Palace, built by the Roman emperor in 295AD, are thoroughly intertwined with the everyday commercial and residential hubbub of one of the Mediterranean's most compelling cities.
Losinj Island, Croatia. Photo: Philippe Giraud/ Getty Images
Island hopping
Islands stud the serried coves and inlets of Croatia's Adriatic coastline, and a good way to travel between them is on local ferries or on a chartered sailing adventure. The country's insular highlights include lavender-scented Hvar – be sure to explore the laidback interior beyond the hip Eurocool bars and cafes of Hvar's main harbour – and the island of Korčula, reputedly the birthplace of explorer Marco Polo. Kayaking is also a brilliant way to explore Croatia's meandering network of islands, especially around the Kornati National Park.
Zlatni Rat Beach, Croatia. Photo: Konrad Wothe/Getty Images
Beaches
Croatia's Dalmatian coast islands also host some of Europe's best beaches. Often featuring in guidebooks and on tourist posters, Zlatni Rat ("Golden Cape") on the island of Brač is a slender pebbled arc extending into azure seas, while Grebisceon Hvar is a laidback alternative to the more energetic party scene elsewhere on the island. Also on Brač, Lovrečina combines golden sands with olive groves and the poignant ruins of a medieval church. Further north near the pretty walled town of Zadar, Kraljičina is the simple collection of beach bars and Mediterranean views you signed up for when you left home in the New Zealand winter!!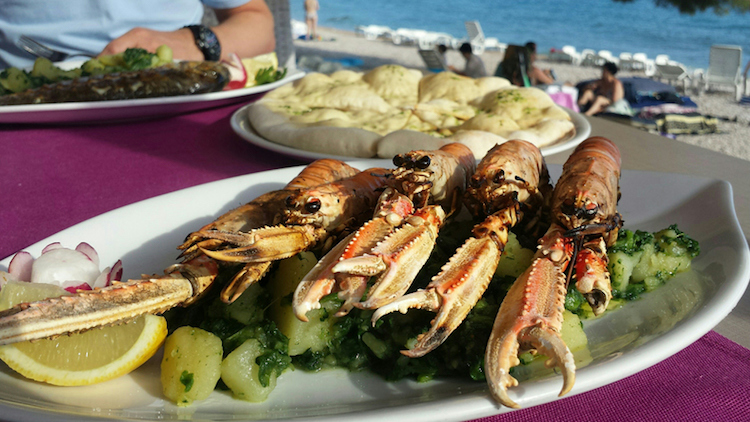 Seafood by the beach, Croatia. Photo: Getty Images
Food & Wine
Anchored firmly in the bold and healthy flavours of the Mediterranean, highlights of eating and drinking your way around Croatia include rustic squid ink risottos studded with fresh seafood, picking up local cheeses and thinly-sliced pršut (home-cured ham) in Zagreb's sprawling market, and grilled octopus, prawns and hearty fish stews in simple konoba restaurants along the coast. Croatian wine is also excellent, and many Kiwi wine pioneers including the families behind Villa Maria, Babich and Kumeu River have connections to Croatia's Dalmatian coast. While on Korčula, be sure to order grk, a flinty and fruity white wine from the Korčulan village of Lumbarda.
Plitvice Lakes National Park. Photo: James Ronan/Getty Images
Plitvice Lakes National Park
Granted UNESCO World Heritage status in 1979 when Croatia was part of a unified Yugoslavia, the Plitvice area comprises 16 crystalline lakes, all interconnected by cascading waterfalls, gentle brooks and more energetic rushing cataracts. Larger lakes segue to smaller pools, shaded in darker green hues from the surrounding forest, and a walking route on boardwalks and bridges can take up to six hours of exploring. A handy network of buses and boats is also available for the relatively time-poor traveller, enabling visitors to spend just a few hours amid Plitvice's surreal wilderness and still experience highlights like 78m-high Velki Slap, Croatia's highest waterfall.
Other Travel Articles You Might Like...