Wed, 11/07/2012 - 11:28am
Cuba, a beautiful island located in Central America. From the coastline, forests and architecture throughout the cities, Cuba is an island paradise with a difference. Peter Ingram from our Dukes Arcade store has visited Cuba and shares his amazing journey with us.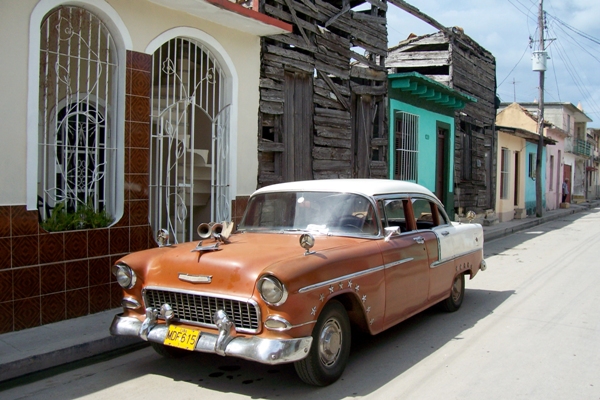 Varadero, this place is HOT! 9 in the morning and it already feels like I'm quickly heading down the road to dehydration and heat exhaustion.  There are great things to see and do in Varadero like snorkelling, visiting caves and eating!  A must see is the peninsula of Varadero. Hiring a moped would be the best way to get there, but I hopped on a bus which looked like it was going in the right direction.  I also found an art gallery in the area with some weird and wonderful sculptures outside.
Tip: Try and go in the Northern Hemisphere winter if you possibly can. Everything may be more expensive but you will get less thunder and oppressive, sticky heat.
I really wanted to hang with Cubans! So I made sure I hit the beach... And what a beach it was. I had checked it out the night before in the darkness, but I'm not prepared for this! Beautiful warm water, warm as I've never experienced before. Colours I didn't think could be real. Palm trees, warm ocean breezes, beautiful people, paradise.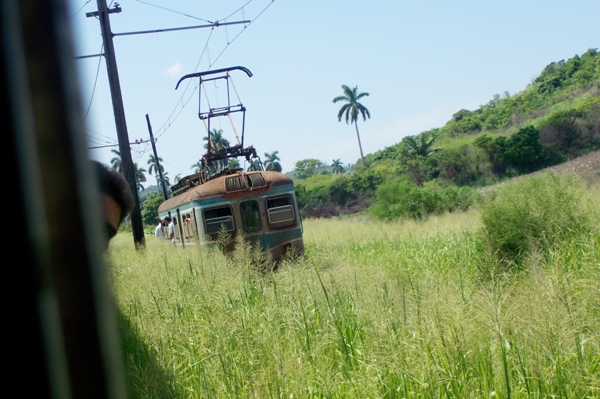 Tip: Make sure you take a Spanish-English phrasebook when you go to Cuba. Sure, you may look like a tourist whipping out your book every 5 seconds, but you will learn quickly and it will make communication a trillion times easier.
I leave the joys of Varadero with its cheap rum and surpisingly good espresso to ride the Hershey Train to Havana.  We shake, rattle and jolt our way through Cuba's rural heart, past banana trees, farm animals and the ubiquitous palms.  Slowly, subtly the heavens turn grey and lightning begins to strike. One bolt hits the ground mere meters away, sending up a huge shower of yellow sparks.  The storm rages on. Every so often a strike lights up the whole landscape like a huge camera flash.  
At Matanzas I set off for a Lonely Planet-recommended casa particular (hostel).   Robertos and Margarita's Casa in Matanzas is heavenly. While the streets were chaotic with endless jinteros (hustlers) hissing at me, the casa is a peaceful, beautiful colonial Spanish house surrounding an internal courtyard.  I stayed two nights and visited the market, a ruined iglesia (church) and an 18th century castle.
My last day in Cuba was spent on the beach in Varadero in the water and my hammock. I smoke cigars and drink rum... Perfection!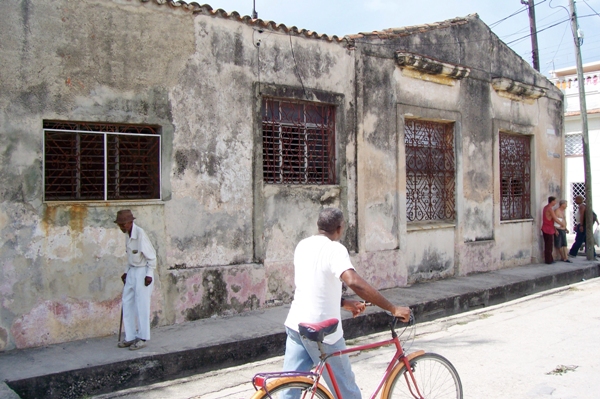 As with every holiday I've ever been on, I long for more time to explore and have adventures. I dream of going back to Cuba with a mountain bike or renting a car, exploring coffee and tobacco plantations and taking more photos of the architecture.
Looking for more information on Cuba or cheap Flights to Central America? Contact Flight Centre travel expert Peter Ingram at our  Dukes Arcade store or one of Flight Centre's 135 Stores nationwide. Phone 0800 24 35 44
Other Travel Articles You Might Like...