Fri, 07/01/2022 - 3:36pm
Time to discover the true flavours of the Pacific! If you're wondering where to eat in Samoa, and the best food in Samoa to try, we've tasted our way across the island country and have found the best restaurants in Samoa for you as well as what traditional foods you should try out.

Warning: I hope you've eaten, because your mouth will be watering after this delicious read!

Best Places to Eat in Samoa
Here are our top 5 picks when it comes to the best restaurants and cafés in Samoa.
1. Bistro Tatau, Apia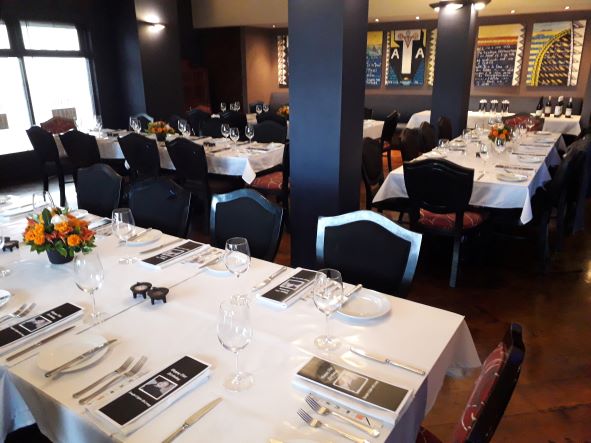 Bistro Tatau, Apia, Samoa. Image credit: Bistro Tatau.
One of Samoa's most innovative restaurants, this ultimate foodie spot embraces elements of European, Mediterranean and Australasian cuisines while capturing the essence of the South Pacific. Fusing local favourites such as palusami into soufflé and ravioli, the bistro also provides the very best and most extensive wine list available in Samoa, with most of the wines only available exclusively at Bistro Tatau!
Not to mention, they've received Certificates of Excellence from TripAdvisor every year since 2013 as well as numerous Bravo Awards and Rave Reviews! Definitely a must-try restaurant in Samoa.

2. Paddles Restaurant, Apia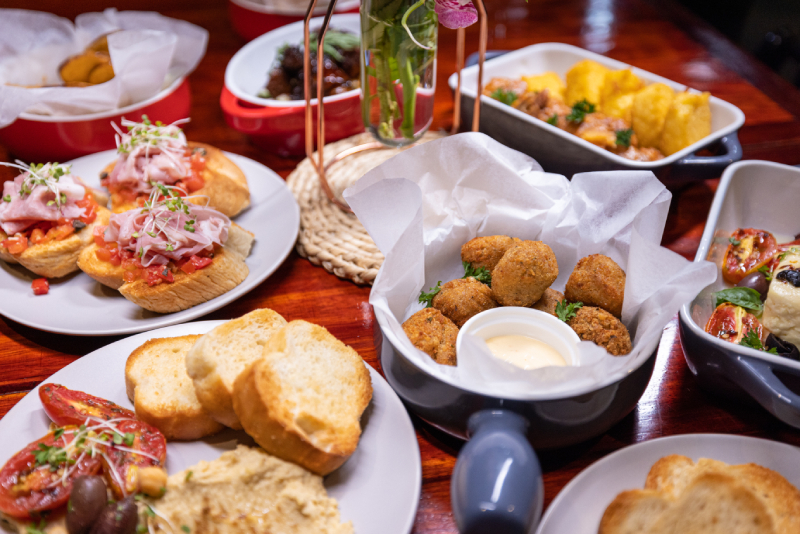 Italian tapas at Paddles Restaurant, Apia, Samoa. Image credit: Paddles Restaurant
If you're missing a home-cooked family meal while you're on holiday, this is the place to go! A little piece of Italy in the South Pacific, this beachfront restaurant is run by a delightful Italian-Samoan family with a focus on cuisines from the northern regions of Italy as well as selected Samoan favourites which means a LOT of fresh seafood. We also love their delicious Italian tapas, which is a great way to try a few different things on the menu.
Plus, Paddles Restaurant is also vegetarian friendly and has vegan options available and they can accommodate gluten-free needs too. Amazing value, affordable meals, great service and atmosphere (did we mention the free Wi-Fi too?) – make sure you check it out!
3. Amoa Resort Restaurant, Savai'i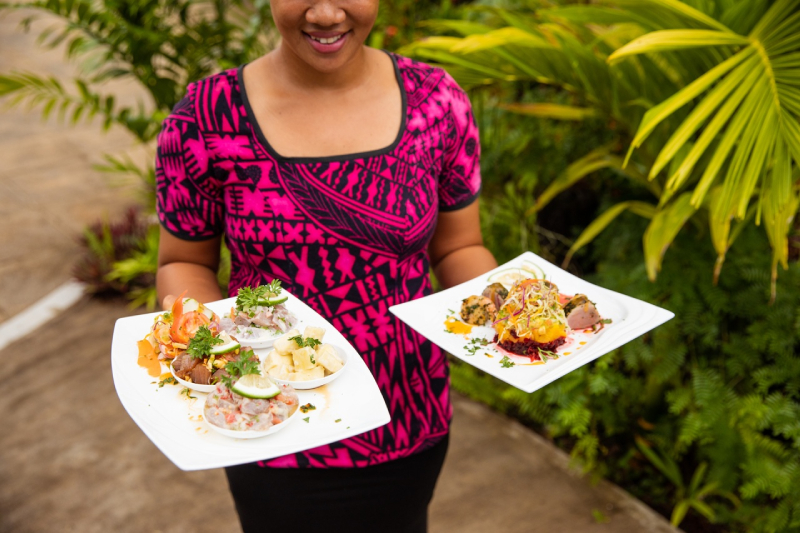 Food served at the Amoa Resort Restaurant, Tuasivi, Savai'i. Image credit: Amoa Resort and Samoa Tourism Authority.
Get ready for a culinary experience you won't forget! Using organic and locally sourced produce, this restaurant specialises in delivering nouveau Samoan/Pacific cuisine with an innovative selection of dishes including Popo (Coconut) Crusted Chicken, Palusami Risotto Balls, Pulled Pork & Papaya Salad, Double Koko Samoa Cake and more.
Your tastebuds will be tingling after a meal at Amoa Restaurant! For something special, opt-in for a private jetty dinner on the Lagoon Deck including a Samoan Siva (dance) serenade.
4. Krush Juice Lounge, Apia (Vegan)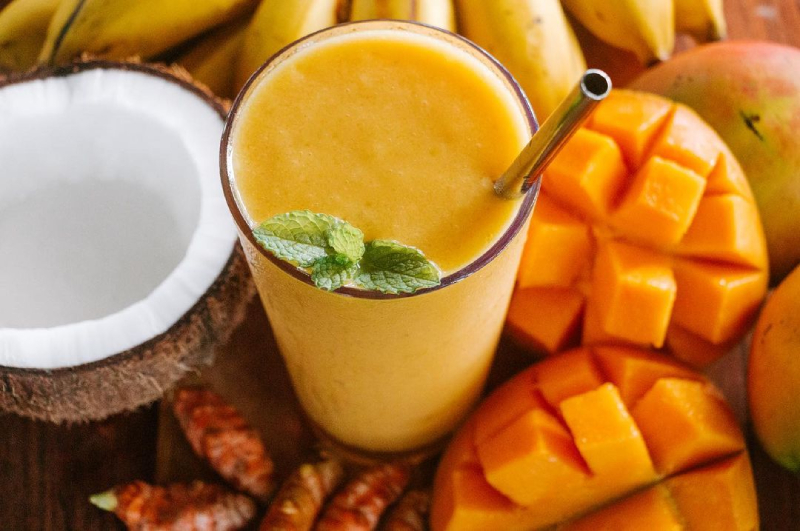 Fresh mango smoothie at Krush Juice Lounge, Apia, Samoa. Image credit: Krush Juice Lounge
Don't be deceived by the name! Not only does Krush make lush fresh juices and smoothies, the eatery also makes some satisfyingly delicious food. All Krush food is meat-free, dairy-free and egg-free, making it completely worry-free for our plant-based friends.
Some of our fave items on the menu include pizza, rice paper rolls, sushi, burgers and tasty, nutritious bowls! Vegan or not, you won't be disappointed.
5. Seafood Gourmet, Apia
We get it – you want to wine and dine some nights, but you still have a budget to stick to! For some cheap eats that won't break the bank, make sure you check out this easy-going seafood haven with all the classics like divine gourmet fish burgers, lobster, seafood chowder, salt & pepper squid, fish & chips, traditional Samoan oka and much more!


Best Foods to Try in Samoa
What kind of food do they eat in Samoa? Here are some of the best and most traditional foods to try.
1. Palolo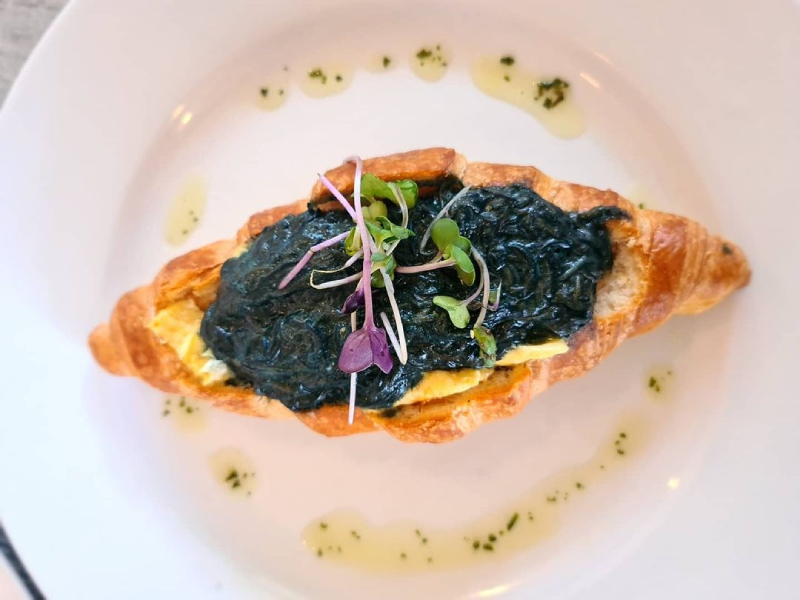 Palolo breakfast croissant by legendary Chef, Joe Lam of Scalinis Restaurant in Samoa. Image credit: Samoa Country Magazine (Instagram: @samoacountrymag)
This might be one of the most bizarre foods in Samoa, but the unique Samoan delicacy "palolo" is a marine worm that is deeply embedded in Samoan cultural and culinary history and is definitely one of Samoa's national foods to try. Palolo can only be collected a few nights a year, usually one week after the October full moon known as the "Palolo Rise", when Samoans get up before the sun rises to catch the worm spawn which floats to the surface.
Palolo can be eaten raw, fried with egg, cooked in coconut milk and onions or baked into bread.

2. Palusami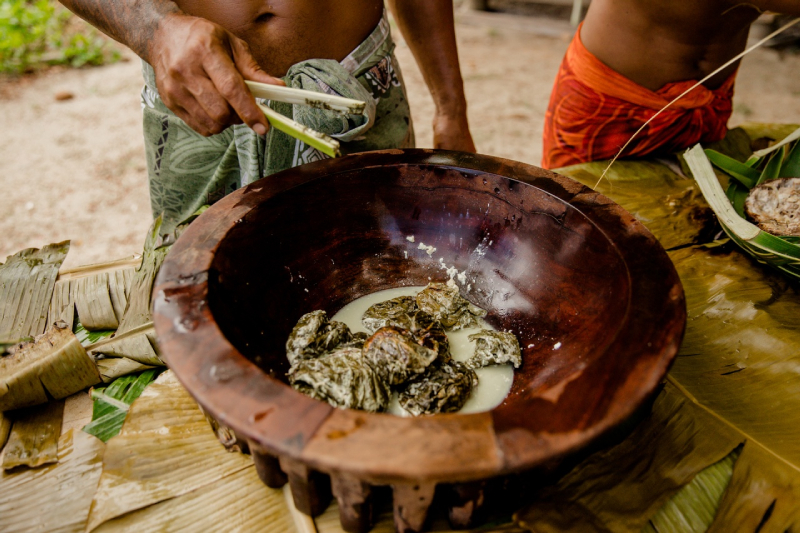 Palusami - traditional umu food ready to be served during cultural show at Coconuts Beach Club Resort, Upolu, Samoa. Image credit: Samoa Tourism Authority.
Simply made from taro leaves and coconut milk, this delicious local cuisine is traditionally baked in the umu (earth oven), and best paired with umu-baked taro. Yum!
Palusami can also be steamed on the stove with onion filling, and you can also add chicken or fish for flavour as well!
3. Oka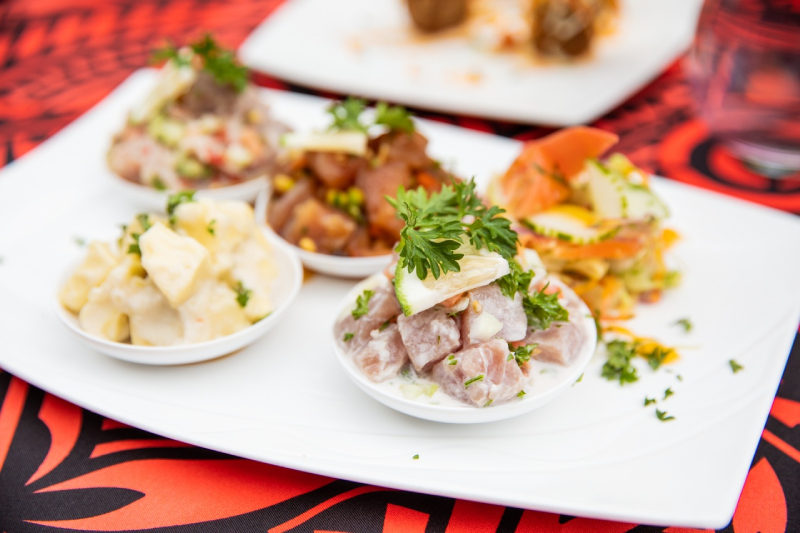 Food served at the Amoa Resort Restaurant with oka in the forefront, Tuasivi, Savai'i, Samoa. Image credit: Samoa Tourism Authority
This easy to make staple dish is the perfect treat for seafood lovers, consisting of raw fish marinated in coconut cream, lemon juice, chilli and onions! This flavoursome combo of fresh ingredients is ideal to cool you down in the Samoan heat, served as an appetiser or eaten by itself.
Plus, super tasty if you add cucumbers and tomatoes for texture!
4. Umu (Cooking food using the "earth oven")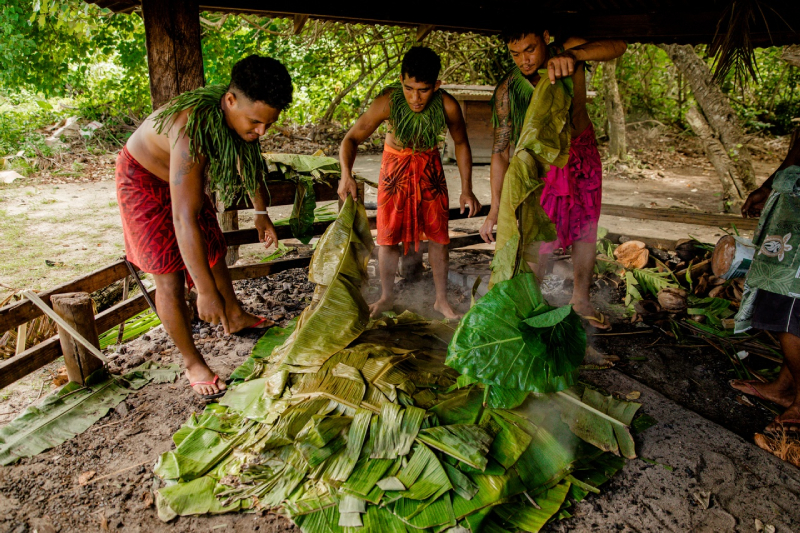 Samoan men take leaves off food cooking in umu at Coconuts Beach Club Resort in Upolu. Image credit: Samoa Tourism Authority
You will not be able to resist the delectable food made in an umu! Using the above-ground oven of hot volcanic stones is the most truly authentic method of cooking Samoan food, and has been around for as long as Samoan people have lived in on the islands (more than 3000 years!).
The stones are heated in a fire before the food is placed on top, which then gets covered by banana leaves. An umu may contain meats such as chicken and pork, seafood including different types of fish or octopus placed in half coconut shell with coconut cream, a variety of vegetables and fruit like taro, ulu (breadfruit) and unripe bananas (fa'i).
To aid the cooking process, flavour the food and prevent it from drying out, coconut cream is added – then voila! After half an hour to an hour of cooking, it's time to feast.
Please note that at the time of writing this blog (Jan 2022), travel between New Zealand and Samoa has not yet resumed.
Other Travel Articles You Might Like...