Mon, 10/11/2014 - 12:25pm
The Cook Islands are an easy escape from New Zealand - direct flights just 4 hours from Auckland, no visa requirements for Kiwi travellers and you can even use NZ dollars while you're there. Opportunities for relaxation or adventure are rife on this small island cluster; you can take it as easy or as extreme as you like, making for the perfect quick-trip destination. Check out our top tips to optimise your time in 'the best kept secret of the South Pacific'.
Getting around
Getting around is easy on the island. Buses are reliable and affordable, running clockwise and anti-clockwise around the island every hour. If you're after a bit more freedom to explore the island at your leisure, scooter and car hire is reasonably priced and readily available. You'll need to take a short and simple test for a drivers licence at the local police station before picking up your vehicle, but then you're away! To get your trip off to a quick start, pre-book a transfer to your hotel straight from the airport.
Relax
Rarotonga is the epitome of paradise. For the most perfect beach day, head to Muri Beach situated on the south-east corner of the island. If you're just staying for a couple of days, staying in a resort here is ideal, as you'll have the best of everything at your doorstep! The lagoon is beautiful and ideal for swimming, snorkelling or kayaking. With a cocktail in hand, you'll be in heaven in no time.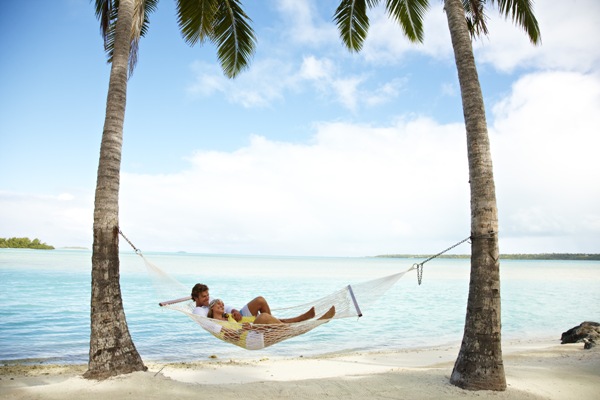 Get physical
For a good overview of the island in a short time, you need to experience Pa's Trek. Pa is a well known local guide who operates both cross-island treks and nature walks. He'll take you through canopies of native trees, up to the top of the 400 metre 'Needle', concluding at beautiful Wigmore's Waterfall. He's a nature connoisseur who will explain the different medicinal purposes and ancient herbal remedies for all the plants you encounter.
Shop like a local
Visiting the local market on a Saturday is a truly authentic experience. Purchase fresh and local produce from and alongside the locals and try every option of fresh fish and seafood available in The Pacific. Here you can find a unique souvenir; ukuleles, locally grown coffee or a coconut bra and enjoy the local music and island dancers.
Discover the Culture
At night, discover the Polynesian history, legends and beliefs during a tour and show at Te Vara Nui Village.  In a beautiful setting you'll meet locals who share their stories, knowledge and heritage and watch dancers and musicians perform by flaming torchlight on floating stages in the waterfall garden, while enjoying a delicious buffet of local cuisine.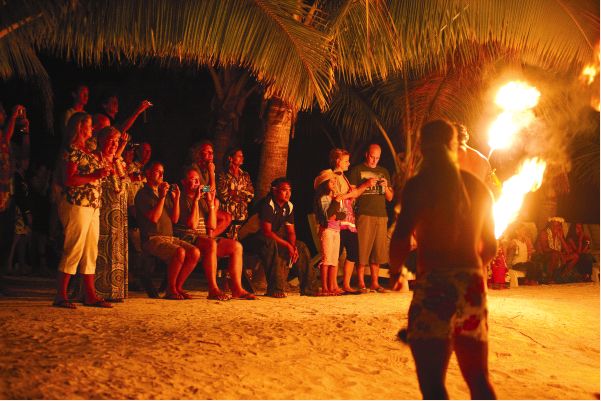 Cruise the lagoon
Captain Tama's Lagoon Cruise is world famous; this glass bottom boat is the best way to see the clear waters of the Muri Lagoon. From the comfort of the boat or snorkelling in the marine reserve, you'll see giant clams and hundreds of colourful varieties of fish. After a swim, enjoy a fresh fish BBQ lunch with fresh local fruits and salads. The hosts are informative and entertaining; a highlight of any Cook Island holiday!
Soak in the nightlife
Rarotonga may be small, but it comes to life at night. Most resorts organise nightly dinners and shows, but head to Avarua for a great Friday night out. Trader Jack's and Banana Court bars are guaranteed to provide great entertainment and drinks. If you're unsure of where to go or want to meet some new friends, jump aboard a popular Going Troppo Night Life Tour - a 6-hour-tour, bound to show you the best of the after-hours island life. It's a safe, low-cost, hassle-free way to see Rarotonga by night with a designated driver who will drop you home.
Spread your wings
With just a 40 minute flight from Rarotonga to Aitutaki, you can enjoy the island in a day with an early flight and arriving back in time for dinner. Take the Vaka Lagoon Cruise and soak in the pristine reef and wildlife. This is a particularly perfect location for a romantic honeymoon or even wedding alongside the uninhibited palm-lined beaches. If you're lucky enough to have a longer stay in the Cook Islands, enjoy a few days on this incredible island, at one of the most luxurious resorts with some of the most spectacular views on the planet.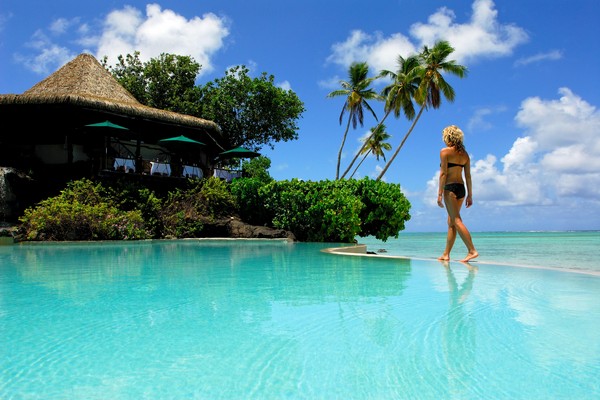 Need more information on planning your Cook Island escape? Contact a Flight Centre travel expert.  Phone 0800 24 35 44.
Other Travel Articles You Might Like...