Wed, 19/09/2012 - 6:36pm
Samoa has so much to offer from beautiful tropical scenery to an amazing culture and history. Robyn Thornley from our Blenheim store has recently travelled to this tropical paradise and shares her exciting getaway with us. 
As always the blast of Pacific heat and tropical smells blew over me as I disembarked from our flight. Once we cleared through the airport, we were met by Polynesian Explorer who welcomed us with a fresh flower ula, gathered us together and pointed us in the direction of our transfer to Aggie Greys Lagoon Beach Resort and Spa.  A few minutes later and we arrived (passing the new Golf Clubhouse in construction on the way).
The next morning I was waking up to a beautiful day in paradise and set for some amazing sightseeing with Tupu (our guide) and Joe (our driver) from Polynesian Explorer.  We set off for Apia and soon realised that here in Samoa, just because your itinerary says you're off to somewhere, it doesn't actually mean that's where you're going!!  We also realised that it doesn't matter, we'll get everywhere we need to go, all in good time, so time to sit back and enjoy the ride!!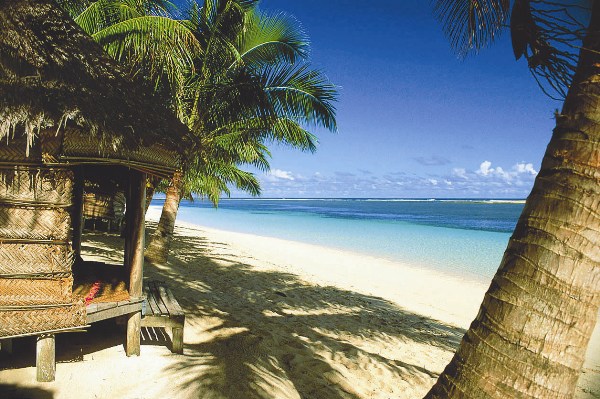 Robert Louis Stevenson's Museum
The house is beautiful and lovingly restored.  The tour was excellent with the guide, Margaret beautifully spoken, very knowledgeable and interesting.   I really enjoyed this tour and learnt a lot.  At $20WST per adult and $5WST for children I would highly recommend this to all visitors to Samoa.
Apia Markets
Busy and vibrant with colours and sounds.  The markets are as you would expect – full of fruit and veges I've never seen before, not to mention the bottles of fish bits in fluid that apparently makes a very nice sauce!!  Also available a wide range of sulus, fans, shell and wood products and the prices very depending I'm sure on how gullible you look!!  Great fun for a look and I invested wisely in a well-woven fan!!
Sliding Rocks
A million steps down to the river finds the Sliding Rocks – not for the faint hearted.  In fact it looked terrifying, however the one nervous rock slider we watched came up laughing at the bottom so must be fun after all!!!   Beautiful surroundings and nice experience…until you realise you have a million steps to climb to get back up!!!
Ferry ride to Savai'i - Lady Samoa III
60 minute ferry ride. Sea reasonably calm but boat fairly rocky.  Air conditioned indoor lounge with movie playing and kiosk to purchase food and drinks.  Quite pleasant and punctual!!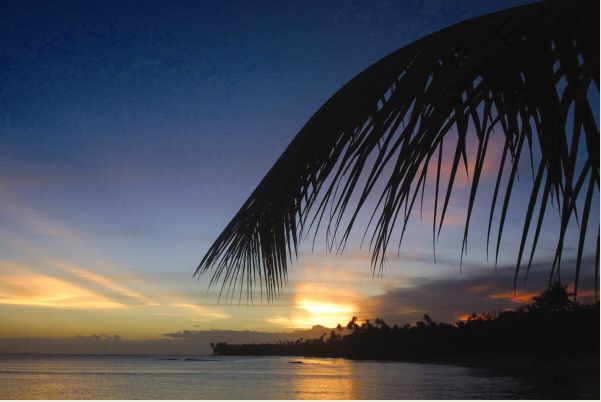 In Savai'i I enjoyed the best outdoor shower then headed over the road and sat on the beach watching the sun rising and then the village coming to life with kids heading off to school and the brightly coloured buses running backwards and forwards.  Everyone smiling and laughing.  The atmosphere here in Samoa makes you slow down and relax.  Nothing here happens quickly, but that's the point!  To come here and appreciate the experience to it's fullest, you need to leave your watch at home.  And not be in a hurry – for anything.  Anyway, it's far too hot for rushing!!!
Coconut Demonstration
Heading along the cross-island road towards the south coast we were treated to amazing scenery with waterfalls and lush tropical forest as far as the eye could see.  Volcanic peaks and rugged mountains.  Tupu stopped to give us all a coconut demonstration and impressed us all by scaling a coconut palm with relative ease (it was really high!) then peeling it, cracking it and turning the flesh into coconut cream – delicious!
Waking up on my last morning in Samoa, I was  definitely not ready to head home yet!  Samoa has an amazing charm all of its own.  The culture is strong and it's everywhere you look – not just at Fiafia nights!  The people are super-cheerful, friendly and fun.  Always laughing and happy to chat.
The scenery is varied and stunning - beaches, villages, volcanic rock, jungle. It's got great spots for swimming, snorkelling and fishing.  There is also a good range of accommodation options to suit all budgets and tastes... And  Eating and drinking is reasonably priced!
Need more information on Samoa Holidays or cheap Flights to the South Pacific? Contact Robyn Thornley from our Blenheim store or contact a Flight Centre travel expert – 135 stores nationwide. Phone 0800 24 35 44  
Other Travel Articles You Might Like...