Mon, 14/10/2013 - 6:18pm
Discover the sun-kissed water wonderland of the Mamanuca Islands, as Fearn Reid from Flight Centre Auckland did on her recent Fiji holiday.
Fiji's treasures have always been its crystal clear waters, colourful tropical fish, stunning corals and inviting warm weather year-round. It's also rated as one of the top 10 dive destinations in the world and has spectacular sights for divers at every skill level, with breathtaking hard and soft corals, wall dives, caves, grottos and shipwrecks all on offer.
The island chain is a diver's paradise where the range of diving experiences is so varied that it is sometimes difficult to believe you are in the same country from one dive to the next.
When you're looking for a great dive spot, or just somewhere to relax and enjoy the sparkling waters, there are plenty of Fiji resorts to choose from on the Mamanuca Islands.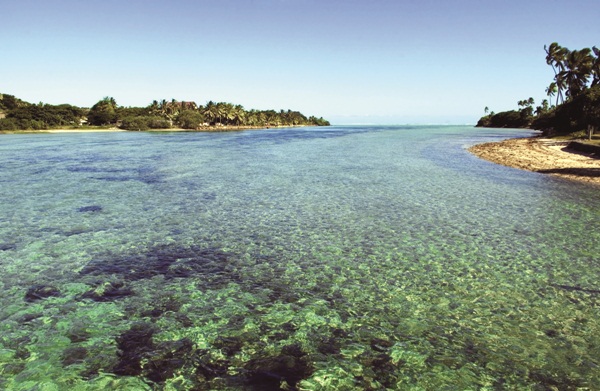 Tokoriki Island Resort
Located only 12 minutes by seaplane or helicopter from Nadi or a 1 hour catamaran ride from Port Denarau, this resort is beautiful. All the bures are free standing and with just 38 bures in total it makes for a quiet, romantic, adults only getaway. These are all very spacious and have that traditional Fijian feel while still maintaining a high standard.
There are plenty of things to do while on the island which include fishing, island hopping, diving, snorkeling and village visits. The tap water is safe to drink here and there is no walking track around the island as there are cliffs at each end. Romantic, private dining can be arranged for that special occasion at FJD130 per person for a 3 course meal. The beach is beautiful and the staff are great.
Castaway Island Resort
This property has plenty to do here to keep everyone in the family entertained. The bures are of a nice standard and the beach is white sand which can be snorkelled from. There is an adults only pool and a family pool, which are located next to each other but you can't hear the kids while in the adults pool as there is a wooden wall and trees in-between which seem to block the noise out.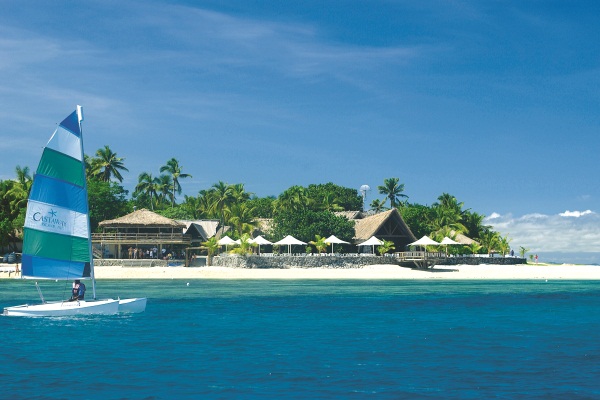 Mana Island Resort
This resort is spread out over 300 acres, located just a 15 minute flight from Nadi Airport or an hour and a half by catamaran from Port Denarau. Upon arrival, guests are taken to the main lounge for a welcome speech, tropical drink and to begin the check-in process.
The Oceanfront Suites are perfect for families as these are huge, with a mezzanine level for the main bedroom and a bathroom upstairs and downstairs.
Tadrai Resort
This is Fiji's newest 5 star resort, located on the other side of the island to Mana Island Resort and just over an hour from Port Denarau by catamaran. I would recommend this for couples looking for a high-end, quiet, all inclusive holiday. Tadrai Resort really looks after guests and will tailor certain details to suit each individual from pillow, music, alcohol preference etc. The resort takes just 10 people in total at any one time, accommodated in their 5 villas.
Although it is a quiet, secluded property, there is still plenty to do. They have kayaks, can take clients fishing (will even cook their catch for them to eat), to visit villages, picnicking on nuku-i-mana sandy quay or even have a massage out there surrounded by water. The villas are beautiful and guests get a butler for their every need. Each villa also gets an Ipad to use during their stay, personalised with their preferred genre of music, movies and all the main social networking apps. The food is gourmet and the menu changes daily.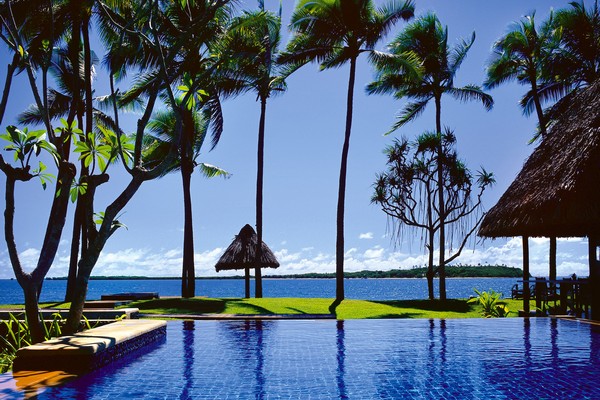 Plantation Island Resort
This property is great for families and located just 50 minutes by catamaran from Port Denarau. Between their Kids Club, water sports, off shore excursions and golf course there's plenty to keep all ages occupied. They even run evening activities for the kids until 9pm to keep them occupied while their parents have dinner. The resort is big, utilising 23 acres of land and most of the room types are spacious too.
Lomani Island Resort
Lomani means "Love" and this is the perfect resort for Honeymooners or couples. Only a 5 minute walk from Plantation Resort and 50 minutes by catamaran from Port Denarau, Lomani is a peaceful, adults only retreat. All rooms have ocean views, IPod docks, hard drive with movies, air-con and fans.
Guests can have massages along the waterfront, private dinners or relax by the pool where they have service buttons in their sun loungers so you don't have to leave your seat to order a cheeky cocktail or two. Nestled on 44 acres of land, the gardens are well manicured and the beach was nice and sheltered.
Musket Cove Resort
Again, located just a 50 minute catamaran ride from Port Denarau, Musket Cove Resort can cater for couples, groups, Honeymooners and older families. With 55 rooms in total, they have quite a Fijian feel especially with their high, bure style ceilings.
For those who require cooking facilities the 10 Armstrong Island Villas (2 bedroom, 2 bathroom) are perfect, located on their own manmade island surrounded by water where boats are also moored. There is a central pool that these villas share and I would only recommend them for families with older kids.
Need more information on your Fiji holiday? Contact a Flight Centre travel expert - 130 stores nationwide. Phone 0800 24 35 44.
Other Travel Articles You Might Like...