Mon, 13/01/2014 - 8:23pm
The helicopter tears through the watery haze above Victoria Falls on our Africa tour. Hovering over the gigantic waterfall, I breathe in the extravagant wonder below. The size and beauty engulf me. The locals call it Mosi-oa-Tunya - The Smoke that Thunders.
From the air the flat plateau is extremely vast, with land extending far into the horizon. Elephants graze between the dotted vegetation. Looking down it seems as if the glassy river of the Zambezi is interrupted by the titanic crack in the earth which is Victoria Falls. I watch gallons of water flow downstream, making the long journey from the calm waters at the top to the 110 metre fall to the sharp rocky floor.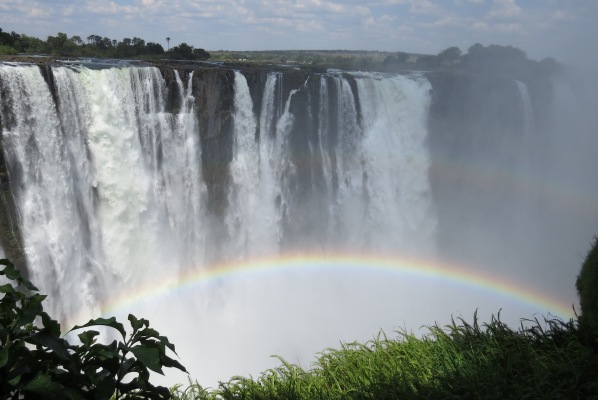 After seeing its grand beauty at cloud view, I had to experience it from the ground floor of The Falls. As soon as I arrived at the first view point the fresh water sprinkled onto my lips. The thunderous sound of the water smashing against the unforgiving rocks cancelled out the monkeys playing in the branches. A colourful rainbow illuminated out of the cloud of fog surrounding the gorge, offering a truly mesmerizing sight.
Victoria Falls township is the tourist hub of Zimbabwe, built to attract travellers, especially adrenaline addicts. The main activities include grade 5 white water rafting, jumping off The Victoria Falls Bridge and swinging into a 70 metre high gorge.
We walked to the border and entered the no man's land where the jump is situated, right in the middle of Zimbabwe and Zambia, the two countries which share Victoria Falls. It was here in limbo, in no country at all, I jumped off a 111 metre high bridge.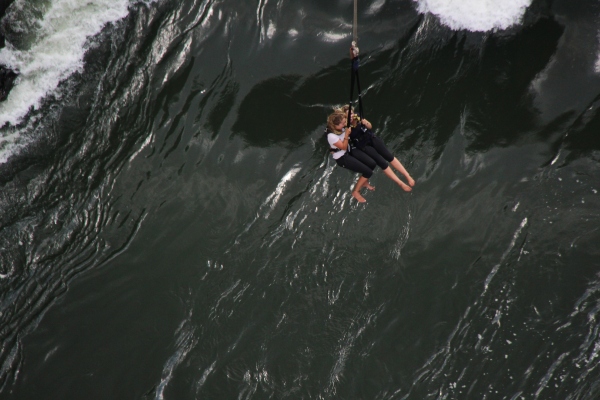 Standing on the edge with my toes overhanging the launch pad, I swallow deeply. "Any last words?" the cameraman asks me. "I love you Mali (my pet rabbit)," I laugh. "Three, two, one, bungy!" The words linger in my ears as I step off the platform and plunge rapidly towards the Zambezi River.
The first few moments are a blur. Loud air swallows me yet my thoughts are muted. My stomach tickles my throat and just before I splash into the fast flowing river, the rope pulls tight and I swing high near the cliff tops. My scream echoes through the valley. My pulsing heart smiles as I swing over bubbling white water swirling around slippery dark rocks, savouring this ultimate adrenaline hit.
Looking for more information on Africa tours?  Contact a Flight Centre travel expert – 130 stores nationwide. Phone 0800 24 35 44.